M A I N N E W S
Modi scraps ministerial groups
PMO says move will ensure swifter decisions with greater accountability
Tribune News Service


Role of EGoMs/GoMs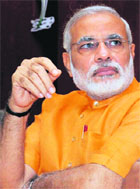 Empowered group of ministers and group of ministers were created to iron out differences between various ministries


They dealt with cases where the jurisdiction lay with an ally or when discussions were needed in a tighter format, instead of a full Cabinet


Nine EGoMs and 21 GoMs were currently in operation
What now
Ministries and departments concerned will process issues pending before EGoMs/GoMs and take decisions at their level. The Cabinet Secretariat and the Prime Minister's Office may step in if they faced difficulties
Cong defends groups
GoMs and EGoMs were constituted primarily because most issues these days are complex. The issues have inter-ministerial connotations and implications. Therefore by having an inter-ministerial group, empowered or otherwise, you would bring to the table in a cohesive manner expertise across different ministries
Manish Tewari, congress leader
New Delhi, May 31
Prime Minister Narendra Modi today struck down 30 existing Empowered Group of Ministers (EGoMs)/Group of Ministers (GoMs), the preferred route adopted by the previous coalition regimes. The move is aimed at making swifter decisions and bringing in greater accountability.
Five days after Modi took charge, the Prime Minister's Office announced it would empower the ministries and departments, expedite the process of decision-making and usher in greater accountability in the system.
Ministries and departments from now on will process the issues pending before EGoMs/GoMs and take appropriate decisions at the level of ministries/departments, an official announcement said.
"Wherever the ministries face any difficulties, the Cabinet Secretariat and the Prime Minister's Office will facilitate the decision-making process," the announcement said.
The Manmohan Singh government had nine EGoMs dealing with subjects such as deciding the price band and final price of sale of shares held by the Government of India in all central public sector enterprises; gas pricing and commercial utilisation of gas; matters concerning ultra mega power projects; mass rapid transit system; auction of 3G spectrum and allocation of spectrum in 2G band; drought; development of the North-East; strategic and electricity generation projects in Arunachal Pradesh; and matters relating to damage to standing crops in different states.
Similarly, 21 GoMs were functional as on March. These included those dealing with financial situation in the civil aviation sector; integrated strengthening of water management; report of the high-level committee on Commonwealth Games 2010; revival of public sector Bharat Sanchar Nigam Limted/Mahanagar Telephone Nigam Limited; and policy formulation for existing urea units, among others.
The EGoMs were empowered to take a decision whose approval by the Cabinet was then a formality. The idea of EGoMs/GoMs was to iron out differences between various ministries, especially when its jurisdiction lay with an ally or ensure that discussions were held in a tighter format instead of a full Cabinet.
With the BJP-led government having a majority of its own and the backing of the Prime Minister on speedier implementation, the process of decision-making has been given back to the ministry concerned. The PMO/Cabinet Secretariat can intervene as and when required, a practice that was followed earlier.
Arvind Kumar Sharma, a 1988 Gujarat-cadre IAS officer who was working as the Additional Private Secretary to Chief Minister Narendra Modi, has been posted to the Prime Minister's Office as a Joint Secretary, signalling the process of restructuring at the South Block office has begun.
PTI adds: The Congress defended the ministerial groups saying they were necessitated due to the complexities of issues having inter-ministerial connotations. Congress leader Manish Tewari, however, stopped short of criticising the decision.