Finally, childrenís films come of age
Aradhika Sharma
Directors and storytellers have become progressively conscious of the world as the kids view it. The result has been a slew of wonderful movies, the latest offering being Hawaa Hawaai. We look at how childrenís films are no longer peripheral to mainstream cinema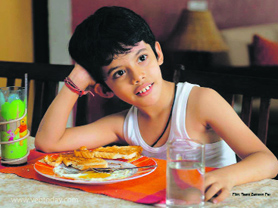 Darsheel in Taare Zameen Par

Children have, until recently, barring few films, been largely peripheral in Hindi cinema. Films have either had them in small roles where they complete a family or treated them as cute appendages.
Thankfully, over the past few years, things have changed, with kids getting increasing recognition in TV and in cinema. Children, in such films define the world that they inhabit, rather than an adult (far away from the realities of the child) trying to describe it for the audience. The result has been a slew of wonderful movies, the latest offering being Hawaa Hawaai, written and directed by Amole Gupte, who also directed the beautiful, warm and sad in parts film, Stanley ka Dabba. Both films had his son Partho playing the lead but Gupte gives space to so many children interacting with each other, forming that enchanted circle of friends, each distinct from the other in personality as regular children actually are not stereotypical cutouts of not even a recognisable or identifiable child.
Does it take a particular mind to visit the world that children inhabit? Do we get so far away from childhood, that the magic; the concerns and worries that were once ours just donít touch us or is it that the genre is so specialised that it requires a particular sensitivity to make the film work?
NoĎkidíding!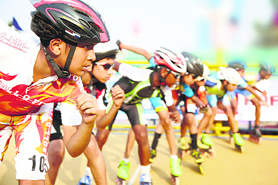 A scene from Hawaa Hawaai. Below: On the filmís set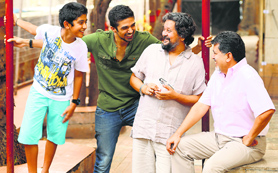 Itís not as if significant films have not been made with children playing key parts but you could count these on your fingertips. Shekhar Kapoorís Mr India child actors were fabulous as were the children of Masoom. Among the works in this decade have been Makdee (2002), in which Shabana Azmi plays the terrifying and wicked witch and the delightful Blue Umbrella, based on the story by Ruskin Bond. Both films, interestingly, have been made by Vishal Bhardwaj.
Amole Gupte has emerged as a director who excels in the childrenís films, the remarkable thing being that the films are not for children only, but for adult audience as well. In the past few years he has been associated with significant works like Taare Zameen Par (which he wrote), Stanley ka Dabba and Hawa Hawai. Gupte, along with a few more directors, is successfully mainstreaming films that have children playing defining roles. Incidentally, at present he is the Chairperson of the Children's Film Society, India.
A film thatís been creating waves internationally is the acclaimed Kush, directed by a young 22-year-old director, Subhashish Bhutiani. Eight-year-old Shayan Samir plays the title role in 'Kush' that revolves around the struggle of a school teacher trying to protect a 10-year-old Sikh boy on a school field trip, during the anti-Sikh riots in 1984.
Groups and workshops
Films that have a lot of kids interacting together, work very well if the dynamics are explored and allowed to ride with their own energy. Watch Chillar Party for the superb interaction between the kids that got the entire cast of children the National Award for the best Child artistes. Ironically, in a country parched of great childrenísí movies, 2011 also saw the release of Stanley ka Dabba, and Partho Gupte was also awarded the Best Child Artist, along with the Chillar Party kids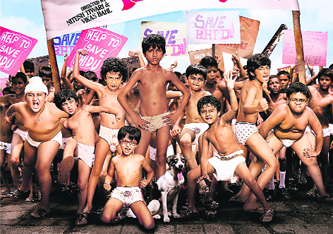 Chillar party vowed crowds

So is the case with Hawaa Hawaai, a triumph-of-the-underdog tale. The story is about Arjun, a boy displaced from the village to the town where he must work in a chai stall to help his mother make ends meet. Arjun dreams of becoming an ace skater, and giving him wings is not just his instructor, but a motely group of friends, poor children of Virar, all working to eke out a miserable living, yet so full of hope and joie de vivre, that it touches the heart.
Stanley ka Dabba was the result of a series of theatre workshops that Gupte had held in the Holy Family Highschool in Andheri. He shot it naturally with a digital camera. The children didn't even know that a film was being made on their action. In Hawaa Hawaai, all the child actors who played Gochi, Bhura, Abdul and Bindaas Murugan, are products of Gupteís workshops (Aseema) in Bandra.
Small bombs of talent
Family dramas have been a popular genre in a country so obsessed with kinfolk. A family cannot be complete without a child or two. So we had child stars like Master Alankaar, Master Bittoo, Baby Sarika, Sachin, Baby Naaz, Neetu Singh, Master Raju, Rishi Kapoor , whose job was basically to look cute, sprout some precocious lines, create a stage for adult melodrama and that was that! Master Raju is memorable because he was largely allowed to act his age and given suitable roles especially in Gulzarís sensitive films, Parichay and Kitaab.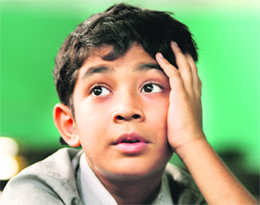 Partho in Stanley ka Dabba

However, the children on todayís aware filmmakersí radar are expected to do much more than be mere add-ons to complete a family. Actors like Shayan Samir, who plays Kush, are so talented that itís almost shocking. Namam Jain is another little actor who works magic in every role he plays. Recollect the little boy who played the little Kundan in Raanjhanaa? Heís the same boy who played Altaf in Vakratunda Mahakaaya and Balwan/Janghya in Chillar Party. Perhaps his most challenging role was the short story in Bombay Talkies ó Sheila Ki Jawaani, directed by Zoya Akhtar. He plays a 12-year-old boy who aspires to be a Bollywood dancer; is a Katrina Kaif fan and loves dancing to Sheila Ki Jawani. His father, however, wants him to be a football player. The last shot is of the little boy in drag, giving a performance to the local residents to his favourite song. And what a performance he gives! Darsheel Jaffery was perfect in his turn as a boy with a learning disability in Taare Zameen Par. For the first time the audiences were given a no-holds-barred look into the real world of a dyslexic child. Aamir Khanís treatment of the children ó Darsheel, Sachet Engineer and Tanay Chheda resulted in a path-breaking film.
National Awards for kidsí films
If the National Awards for the Childrenís Films category (instituted in 1954) and the National Award to the best child artist (instituted in 1968) have been given to Hindi films, they have most often been produced by Childrenís Film Society, and National Center of Films for Children and Young People. Only after mainstream filmmakers started taking the genre seriously, have they been given to films that are shown in regular theatres.
Itís about time that children were treated as serious artistes and given both a voice as well as a place in the celluloid sun. Let the little boys and girls tell it like it really is! After all, itís time we liked them for what they really are rather than what we adults would want them to be. Right!