Sho(r)t in the arm
The genre of short films is not easy. Yet more and more directors of Punjabi films are veering towards it. Some due to the inflated budgets of commercial films while a few for creative reasons...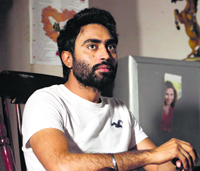 Nooran bags an entry in the Cannes Film Festival; Suhe Phull gets a special screening at International Film Festival in Canada and gets a space at South Asian Film Festival. Earlier, Aatu Khoji, a short film directed by Rajeev Sharma in 2011, won great reviews.


My friends were against the idea that I should work in an art kind of film or even a short film. They thought it would spoil my market. Since money is a huge factor, most actors have second thoughts before taking it up. — Nishawn Bhullar
Crop it right
The crop top is chic and sophisticated, but there are a few things that one needs to be careful about to avoid a fashion faux pas. Here's looking into them
The sight of a painfully tight cropped top on a rather well-endowed woman and the hurt that the sight caused was motivation enough to write on how to wear a cropped top — the fashion style that owes its origin to the pop culture of the late 80s and early 90s.
Star track
All for the sake of love...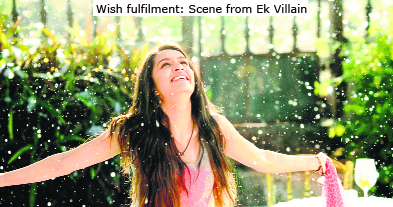 The unit of Ek Villain created snow for a romantic sequence in the Galliyan song from the film, and that too, at a bungalow on the outskirts of Mumbai. Sidharth Malhotra's character (Guru) expresses his love for Shraddha Kapoor's (Aisha) by fulfilling one of her wishes of wanting to enjoy snow-fall.
A helping hand…
Business houses all over the Globe carry out benevolent works to uplift economically backward classes. It is however, rare to see a small business taking on this Social responsibility. This has happened here in Chandigarh where students from underprivileged segments of society, are being given free vocational training by Tressed Up Academy, in association with Indola Professions. Chandigarh, which has emerged as a centre of training in education and other vocational fields had attracted Tressed Up Academy, in association with Indola Professions, last year. Accordingly an Academy was set up at Manimajra. Within a short span of time, Mehboob Khan, director, Tressed-Up Chain of Saloons, has taken the initiative towards social responsibility.
One-stop shop
Fiat Group Automobiles India Private Limited (FGAIPL), the fully owned subsidiary of Fiat Chrysler Automobiles has Punjab as a part of its K2K Passion Tour. Senior Company officials will be travelling with the Fiat team to multiple locations across the country as part of the K2K Passion Tour as a mark of commitment to every part of India.
Astro turf
ARIES: You draw 'Two of cups' that suggests relationships will be in the limelight today. There can be some conflicts due to stubbornness, ego, pride, envy or self-centeredness. Tarot message: Balance in all aspects is recommended. Lucky colour: Ebony. Magic number: 25.
The year ahead
If your birthday is June 1...
Being number 1, you are a natural leader; independent and individualistic. You are extremely ambitious, original and courageous. You employ new methods this year. You are an explorer and an innovator. Openness to too many peripheral influences limits and frustrates you. You are self-reliant, confident and energetic. You'll be favoured by the stars this year, especially if you work for yourself.
chatter box
Rock 'n' roll
In the upcoming special episode of DID Lil Masters Season 3, the undisputed queen of stand-up comedy Bharti Singh added tadka of her trademark humour. She brought the floor down with their funny antics, which made everyone roll on the floor with unstoppable laughter. From dressing up as a Punjabi lady and making master Marzi and Shaimak dance to her tunes to dressing as a trophy and asking the Lil Masters and judge Ahmed Khan to lift her, this bundle of talent thrilled and entertained everyone with her side splitting punches. Bharti never ceases to amaze even for a second as she surprised everyone by professing her love for Master Marzi.