M A I N N E W S

Punjab's Drug Menace - I


Hitting an alarming high
Experts reveal there has been a worrying spike in the number of Punjab youth getting hooked to easily available synthetic drugs. The Tribune surveys the damage
Varinder Singh
Tribune News Service

Chandigarh, June 1
While the Punjab Government has launched a major anti-drug campaign that has led to the arrest of scores of drug peddlers and addicts across several districts, the menace of synthetic drugs continues to consume the state.

Costly age-old contrabands such as opium and their derivatives are fast making way for cheap "rogue chemist-pushed" synthetic or regular opioid-based prescription drugs (see box).

These drugs, still readily available in the market, are being lapped up by a large number of frustrated unemployed youth and hordes of affluent people.

The age-old traditional drug trade based on opiates or opioids has allegedly been thriving under the patronage of certain political bigwigs for decades. A major chunk of the traditional contraband is flowing in from Pakistan or adjoining opium producing states such as Rajasthan and Madhya Pradesh.

But the synthetic, semi-synthetic drug or the emerging regular prescription drug "business" is proliferating right under the nose of the Punjab Police and the health authorities.

"If the national average for alcohol consumption is 26 per cent, it is as high as 46 per cent in Punjab. Similarly, abuse of synthetic drugs such as heroin and smack is 3.5 times more in Punjab than the national average. Party drugs have also sneaked in, making things worse," says Kaustabh Sharma, Chandigarh-based Zonal Director of the Narcotics Control Bureau (NCB).

Synthetic, semi-synthetic and regular prescription drugs are making major inroads into the new rural as well as urban pockets of Punjab. But due to lack of comprehensive surveys, the exact data of the number of synthetic or prescription drug abusers in the state is not available, he says.

"The drug abuse and trade is spreading its tentacles in Punjab," says Sharma.

The situation is so grim that psychiatrists estimate that an alarming percentage of college-going students, including girls, is allegedly hooked to at least one form of drug.

"The number of synthetic or prescription drug-dependent college-going students alone may well be way above 25 per cent and even close to 30 per cent. Punjab is on the brink of disaster," says Himanshu Sareen, a Jalandhar-based neuro-psychiatrist and de-addiction expert who examines 200 to 250 addicts every day at the outpatients department (OPD) of a de-addiction centre run at the Punjab Institute of Medical Sciences (PIMS).

What worries him and others like him is youngsters' sharply lowering age of initiation into drugs, increasing number of girls getting hooked and intravenous (IV) intake of deadly drugs such as heroin.

"If the average drug initiation age 10 years ago was 22-25 years, it is 14-16 years now. Earlier, we used to receive one or two young female addicts every week in the OPD, but their frequency is two to three cases every day now," says Dr Sareen.

Sareen says the major factor behind youths' initiation into drugs at a low age is peer pressure and easy availability of both synthetic and prescription drugs on the black market.

"Students even come to us in their school uniform to seek de-addiction advice," he says. Around 60-70 patients out of 200 examined at the OPD every day are youngsters aged between 16

and 30 years — an indicator to the extent of substance abuse in the state. "An estimated half of the population of the state consumes some kind of intoxicant. It is hard to say how many are addicts and how many consume it occasionally," says Prof Ranvinder Singh, a former teacher of Guru Nanak Dev University, and Professor Emeritus at Punjabi University, Patiala.

Singh, who has authored a book on drug addiction in Punjab, says his research shows 20-22 per cent of state's youth is hooked to synthetic drugs and 15-20 per cent to alcohol. That one out of five of Punjab's youth may be abusing drugs should send the alarm bells ringing.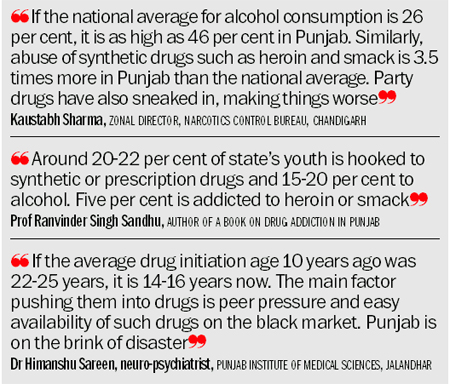 Synthetic abuse
Drugs commonly misused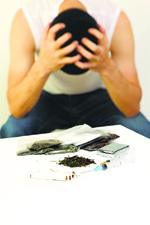 * Synthetic drugs fall into two categories — opiates (opium-based drugs such as heroin, smack; and prescription drugs such as pain killers, cough syrups and anti-spasmodics); and benzodiazepines (sedatives and relaxants)
* These are manufactured in laboratories by combining various chemicals
* Prescription drugs are mainly produced for medicinal purposes and are not meant to be sold for a 'kick'
How They work
* Opiates affect the central nervous system giving a 'kick' as feel-good dopamine hormone is released. As the brain gets stimulated, it develops the habit of 'getting rewarded'. As a person yearns for the pleasure repeatedly, he gets addicted
* Benzodiazepines or sedatives relax the mind. Those on anti-anxiety drugs tend to get addicted. These substances can cause euphoria and induce sleep
Withdrawal symptoms
Immobility, abnormal body temperature, cold sweats to severe depression. Drug overdose can lead to death. De-addiction is a long, painful and difficult process.