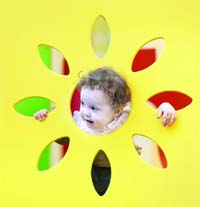 The present era seems to be the best of times if you are a baby or a parent. Gone are the days of uncertainties when mothers had to struggle to put a child to sleep or get up in the middle of the night to heat milk bottles or even wonder groggy-eyed why the baby was wailing the night away.
Gadgets have taken over the world of moms, dads and infants. Crib projectors send babies to their dreamland with soft music and twinkling lights. Once asleep, the baby is guarded by monitors, which have integrated cameras with night vision which pick up all sounds with their microphones and transmit them to parents.
Bedside heat-controlled bottles deliver milk at the exact temperature a baby likes and bluetooth-enabled analysers will tell you the reason why your little bundle of joy is crying — whether she or he is hungry, angry, stressed-out, tired or simply sleepy. There are also special apps that can be downloaded on smartphones that translate why the kiddo is howling.
Pre-natal gizmos
The nursery is going hi-tech. And how! Gizmos and gadgets have begun starting at birth and even before that! Devices like Lullabelly, Bellysonic, FirstSounds and BabyPlus — that expectant mothers wear under their growing abdomens — are a series of utero audio lessons that are specifically tailored to a child's growth during nine months in the womb. They provide specific stimulation to babies during gestation that have a positive and a calming effect once they are born.
With manufacturers of infant products responding to the needs of the fast-pacing digital world and incorporating technology into everything from baby cribs to diapers, parenting is turning into a fun chore. Leading diaper maker Huggies has launched 'TweePee,' a Twitter bird-shaped sensor that can be attached to the baby's diaper and linked to a parent's smartphone. Whenever the diaper is dirty the parent will receive a tweet that the infant needs a change.
Automated toys
Baby entertainment, too, is coming in for a makeover. Smartphone-synched toys are not just keeping babies happy but introducing them to the wired world. Even age-old conventional recreations are being ushered into the age of automaton. The cuddly bear, for example, has gone digital. Japanese toy manufacturing company Cube Works has launched the Cocolo Bear that talks and sings to children via an embedded electronic device when the parents are not around.
The age-old swing which used to be a simple way of gently swaying the baby back and forth to lull it to sleep now has a robotic version. Leading American company 4Moms, which produces gizmos for children, has transformed the simple swing into a futuristic multi-speed device that electronically rocks the baby to sleep with soft strains of music emanating from its built-in Mp3/iPod dock.
Indeed the next generation of nursery gadgets is aimed at making yours and your infant's lives safer, simpler and a lot more sweet. Though a stroll in the park with the little one in the pram was always something parents looked forward to, it now comes with a heightened sense of fun.
In the 21st century, the traditional baby carrier has been turned into an electronically folding gizmo that opens and shuts with the touch of a button and features generators in its rear wheels that make the ride super smooth for the child. Most of these strollers come with snooze shades to shield the baby from harsh sunlight and rain. Some are even equipped with temperature control devices.
Car protection
If your baby is likely to travel with you in the car, there are electronically activated carriers that get attached to the backseat of the car. The carrier will wirelessly transmit information to your smartphone about your child's backseat well-being and also alert you if the baby has unbuckled his or her seatbelt. Then there is the Carcoon baby car seat, which upon sensing any kind of impact, will immediately deploy a protective cover over the baby and become a kind of a cocoon to protect the little one from any impact or any flying objects and broken glass.
In this digital age, these high-tech gadgets not just have the potential of revolutionising the world of babies but are an amazing boon for parents. All they need to do is to be ready to be wired up with contraptions like smartphones and devices worn like an ornaments with small display screens. The end result is a happy baby which translates into a happy parenting experience.
Though many researchers have undertaken studies on how the increasing use of technology will affect parenting and child-rearing, experts say that as long as devices and gizmos are confined to making life easier for parents and secure for kids, it makes a lot of sense in taking the help of technology. Like it or not, the age of the robot nanny has arrived.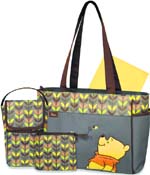 Winnie, the Pooh, diaper tote
This five-piece Disney diaper tote features an embroidered Winnie the Pooh and a honey bee with colourful leafy forest accents. The set includes a bottle bag with matching wipe case, a changer and a pouch. There are multiple external pockets and linings, which makes finding things very easy inside the bag.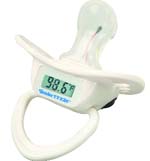 Digital pacifier thermometer
This innovative device has an orthodontic pacifier, which the baby sucks as the thermometer records the infant's temperature. It takes just 90 seconds — the time taken to change a diaper — to take accurate readings and the thermometer beeps when it reaches the correct temperature. A big display makes reading easy.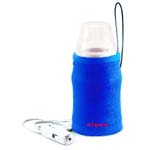 Travel bottle warmer
The Diono Warm 'n' Go is an insulated travel bottle warmer for babies. It is made from neoprene and heats up the bottle in less than 10 minutes using a 12V car socket. It features a power light and a thermal fuse to stop overheating. It can be stored in the cup holder or hung from the car's dashboard.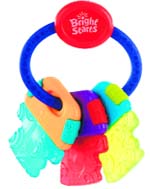 Teethers & soothers
These gel-filled innovative keys stay cooler longer and are great for teething babies and helps soothe baby gums. The colourful keys are easy for babies to grasp and hold. These have multiple textures all around and are flat so it's easy for a baby not just to grab and chew on them but also to play with them.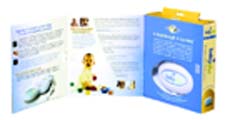 Teaching in the womb
BabyPlus is a series of audio lessons that are specifically tailored to every stage of a child's growth in the womb. These lessons comprise natural sounds similar to the comforting rhythm of the mother's heartbeat. The lessons help the baby to be more relaxed and alert at birth and have the ability to self-soothe.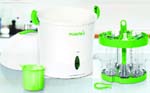 Electric bottle steamer
Protect your baby from harmful bacteria without harsh chemicals with the steam guard electric steriliser by Munchkin. With the push of one button, you can disinfect bottles, pacifiers or even small toys. It sterilises up to nine bottles at a time and has an adjustable tray to fit all sizes. It keeps bottles from falling.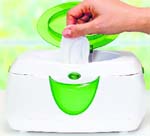 Hot wipes
The shock of being swiped across a dirty bum will fully awaken any drowsy baby at night. That's where the Munchkin Warm Glow Wipe Warmer comes in. It has a soft light for night-time diaper changes and is ideal for winter months as cold wipes or bright lights might keep both the baby and the parents awake.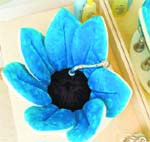 Bath time
The Blooming baby bath is a super soft, plush foam bather that moulds to fit into a sink. Made with foam with a soft, silky outer cover, it is a practical way to bathe the little one in a secure environment. It is a great alternative to hard plastic tubs and will keep the baby comfortable during bath time.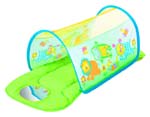 Learn-to-crawl tunnel
This tunnel encourages little ones to crawl and explore. It is a fun and colourful play thing with open netting at the top and a removable cushioned bottom pad with mirror. The mirror is a great reward at the end of the tunnel that encourages babies to discover their own reflection. Watch how the smiles grow.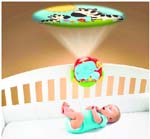 Projector soother
It's versatile, portable, and adorable. Attach the Fisher-Price Crib 'N Go Projector Soother to a baby's cot for soft music, nature sounds and a charming light show projected on the ceiling. Plays up to 10 minutes of music with three settings: classical, lullabies or nature sounds to put a baby to sound sleep.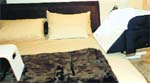 The baby bassinet
This baby bassinet by Italian company Culla Belly is an imaginative attachment to a bed. It opens from one side between the child and the mother creating a single space in which the mother can move easily in case the little one needs her. The co-sleeper can convert into a rocking cradle and high chair during day.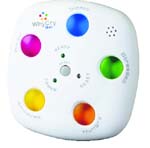 The cry analyser
During the first year of a baby's life, it is very difficult for new parents to understand why the baby is crying. Is the child hungry, angry, stressed out or plain bored? The Why Cry Mini Analyser can solve the riddle. It tells parents the reason for crying and displays the answer on an easy-to-read LCD screen.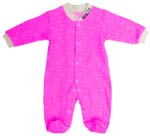 Temperature changing bodysuit
This is a cool babysuit. At first glance, it's just a regular cotton pink outfit. But there's much more to it. The suit changes colour according to the baby's body temperature. For example, if the child has fever the Babyglow Suit turns white to let a parent know that the infant needs care or even a visit to a paediatrician.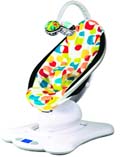 Infant rocking seat
The Mamaroo Baby Bouncer by American company 4Moms mimics all the ways a mother comforts her baby with its movements. It also has built-in Mp3/Ipod dock so parents can play any type of music to help relax the baby. It has two reversible toy balls and the seat can be reclined to any position.

Snooze shade
This is a unique blackout blind for prams and carrycots to shield the baby from harsh sunlight and rain. Snooze shade is an innovative baby sleep product that helps infants sleep comfortably in a pram without any extraneous disturbance. It attaches to the buggy's frame quickly and easily with the help of velcro straps.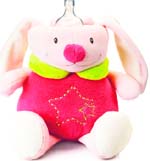 Bottle holder
MilkySnugz is a fun, cuddly bottle-holder that makes feeding time easier for mother and baby. Available in various characters, it provides comfort to the baby during feeding time and serves as a friend to snuggle up with in bed. It greatly helps a baby transition from breast-feeding to bottle-feeding.