The e-volution of reading
A look at how reading habits have changed now that there are many more ways than just books to understand and experience the world
Vibha Sharma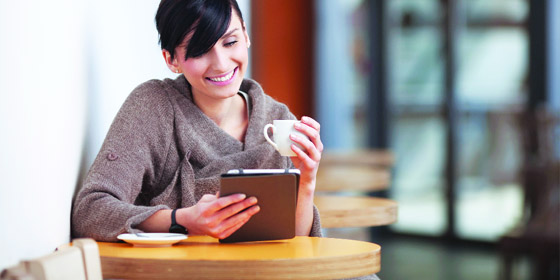 A famous American novelist and essayist, William Styron, once said: "A good book should leave you... slightly exhausted at the end. You live several lives while reading it". This conveys the power of the magical world that gets weaved between the cover pages of a book. Change being the only permanent thing in this world, the reading habit cannot escape getting metamorphosed over time.
---
'Art & Soul
Chandarvo: Textiles for goddesses
The book on sacred textiles helps us understand the rituals, production and iconography of the printed fabric of Gujarat
B.N.Goswamy
If one were to come upon suddenly a piece of paper with these lines scribbled on it, I wonder what one would be able to make of it, even if one knew some Gujarati:
Vadibhai 24.177
Chandarva navakhanda 72" pano 4 mitar lamba ek pania
Sara rang ma, saama modha ni banyo
Bakra 3, pada 3, sikotar 2
Pava 2, sandhani 2, bethak vihat 2, hadkai 1
Rupaya 31.20 baanaana
Chandarva nang ek no bhav rupaiya 103.
---
Fitness
good health
Workout at work
Despite a busy schedule, you must make time for some simple exercises that can be done while sitting even in your office
Nawaz Modi Singhania
It's hard prioritising. It's tough making the time to 'fit' everything into a day. We are often so many people all rolled into one. We juggle from managing a career, being a parent, a spouse, a son/ daughter, a home-maker, etc, etc. God, the list is unending!
Too much weight can bring you down to your knees
Dr Rajeev Sharma
Excessive weight is associated with many health problems, be it blood pressure, diabetes, and cardiovascular ailments. But one of less talked about implication of being overweight is the damage this can cause to your knees — the crucial body joints that carry our weight all our lives, making movement possible and easy.
---
Society
soul talk
Study says people fail when stakes are high
High stakes and financial bonanzas offered in sports or game shows actually drive participants to perform poorly because of the fear of losing their potentially lucrative reward, a new study says. After all, you would think that the more people are paid, the harder they will work, and the better they will do their jobs — until they reach the limits of their skills, the study adds.
---
Travel
A train to mountains
Declared as Unesco World Heritage sites, the three mountain railway trains of India are more than a century old and still retain the elegance of a bygone era
Kavita Kanan Chandra
Ever travelled in the narrow gauge trains of the mountain railways of India? The chugging steam engines bellowing big clouds of smoke that curls as it rises to create aerial artistry make the journey a lyrical experience. Darjeeling Himalayan Railway, Kalka-Shimla Railway and the Nilgiri Mountain Railway exude an old world charm that tugs your heart.
---
Entertainment
'For me, to act is simply to do'
Actor, playwright, environmentalist, Padma Bhushan Naseeruddin Shah talks about the contradiction of being an 'honest' actor
Shoma A. Chatterji
Naseeruddin Shah was recently in Kolkata to deliver the Satyajit Ray Memorial address recently and the subject of his speech was The Honest Actor. Over the years, he seems to have developed a strange cynicism about cinema, acting, Bollywood, and so on. But let's hear it from Naseeruddin himself.
A rare treat
Hollywood is scraping the bottom of the barrel despite its assembly-line productions
Ervell E. Menezes
Browsing through my spiral notebooks for past films (the titles are on the last page) is a pleasant pastime because time often dulls memory and titles may seem familiar but one often gets deceived. Often one ticks the good ones, but not always. Hence there's always a surprise.
---