Embark on a practical course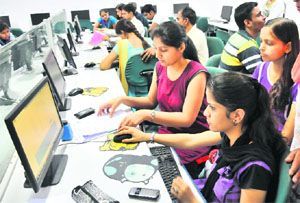 It is admission time for UG courses and this year students are lapping up courses on the basis of their employability quotient. In view of increasing popularity of job-oriented courses along with the mainstream ones, several colleges in Chandigarh have increased the number of seats in mainstream courses and introduced various job-oriented courses for the current academic session. Here are some of the latest additions in course options that will be available to students getting into undergraduate courses in Chandigarh colleges:
Career Hotline
Do foreign medical colleges hold entrance tests in India?
Q. Apart from state and national level entrances are there any foreign medical colleges that conduct their entrance exam in India? — Soumya
Digital media space brims with opportunities
With the rapid internet penetration, Indian Digital Media space is witnessing unprecedented growth over the last few years (More than 35 per cent y-o-y). Undoubtedly, this is a happening platform for brands to engage and interact with stakeholders in a more personalised way. This has resulted in creation of many job opportunities in this area. Marketeers have started using this medium very proactively in their brand promotions and marketing campaigns due to its immense power of engaging stakeholders.
news board
DU rejects CBSE request for review of marks deduction decision
Delhi University has rejected CBSE's request to review its decision to deduct 2.5 per cent from the aggregate marks of those aspirants of the four-year under graduate course who had opted for Informatics Practices as an elective subject in their Class XII exams. A top Delhi University official said it would not be possible to revise guidelines in the middle of the admission process and any review in the matter may be considered next year.
CareerCature
SANDEEP JOSHI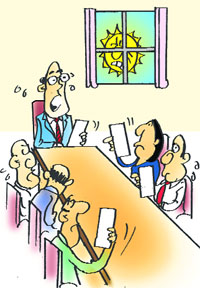 If we are done with discussing global warming and its impact on our lives, shall we get back to the sales report?
scholarship roundup
Rhodes scholarships
The Rhodes Trust is offering scholarships to international students. These scholarships are awarded to outstanding students for pursuing full-time postgraduate studies at the University of Oxford, UK. 83 Rhodes scholars are selected annually from 14 countries or groupings of countries around the world.
career compass: forensic accounting
The financial sixth sense
Do you remember famous Sherlock Holmes, the detective? Probably the most famous Forensic Chemist. More Indian version still was Kautilya who used to advise the famous Chandra Gupta Maurya on finance and business and enumerated several ways of embezzlement years ago. Little did we realize then he was laying the foundation of a rich career option - that of Forensic Accounting. Now the question arises - What is Forensic Accounting?
The tech advantage
A number of students with a technical bent of mind lose heart on not getting admission in a good engineering course in a reputed college and there are some others who find it difficult to go in for a four year degree course due to financial constraints or some other problems. There are a number of choices for those looking for a technical qualification which is not necessarily a BTech or BE degree.
course cruising
Aviation courses
JRN Institute of Aviation Technology, Mundka, Delhi is inviting applications for the three-year Aircraft Maintenance Engineering License course. The course is approved by Directorate General of Civil Aviation (DGCA). The institute has issued the forms for
course chat
TV and Film production course
The Centre for Advanced Media Studies (CAMS) of Punjabi University is starting an avant-garde five-year BTech.-MBA Integrated Course in TV and Film Production from the forthcoming academic session (2014-15). The course is being started to cater to the small-screen and Bollywood industry's demand for technical and creative talent.
business etiquette in cultures around the world
Manners that win the world
Etiquette is the essence of human existence and is the basic thread that binds societies and cultures across the globe. It defines the way, to make others feel at ease with you in every situation. Good etiquette underlines every successful relationship both in personal and professional spheres. Where in personal relations, one has the leeway to make up for one's mistakes later, but such liberties are rarely seen on the professional front. Thus, it leaves one with little room for any kind of misgivings and errors.
Tech jobs hold promise for B-school grads
MBAs and other business school graduates on the job market might do well to look beyond traditional sectors to fields such as technology, manufacturing, and healthcare. A global student exit survey taken by the Graduate Management Admission Council in February and March found job seekers in those sectors were more likely to have an early job offer than those searching in larger, more traditional fields such as finance/accounting, products & services and consulting.
hiring
Online hiring up
Online hiring in India increased by 11 per cent in April on a year-on-year basis, indicating that the positive trend for job opportunities will continue in the coming months.
Happiness @ work
Gems of ancient wisdom
Give free hand to good workers
It pays to show confidence in someone who has come up to your expectation so far. As a boss, guide and oversee, but with minimum interference.