M A I N N E W S
Holiday horror in Mandi

One more body recovered; dam management booked
Dharam Prakash Gupta
Tribune News Service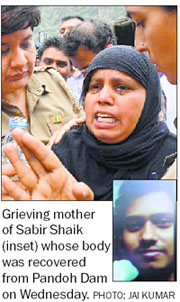 Pandoh (Mandi), June 11
The rescue and search team today extricated the body of an engineering student from Pandoh Dam, taking the number of bodies fished out of the river to six. As many as 24 students were swept away in the gushing waters in Beas late on Sunday.
Mother of Md Sabir Hussain Shaik, an engineering student from VNR Vignana Jyothi College of Engineering and Technology, Hyderabad, camping here for the past two days was inconsolable on seeing her son's body with multiple injuries.
Meanwhile, Mandi police have started investigations after registering an FIR against the management of Larji Dam for its callousness in releasing water in Beas without issuing warning signal leading to the washing away of 24 students.
SP Mandi, RS Negi, said, "The details of the case can't be divulged at this stage but we have started investigations. We have questioned certain officials after registering a case under section 304 and 336 of IPC."
"A case has been registered against unknown officials. Nothing more can be said at this stage," he said.
Divisional Commissioner Mandi, Onkar Sharma, has also started a preliminary inquiry. The probe had been ordered by the state government.
Sharma said, "I am gathering relevant information and will submit my report about the mishap within 15 days. I can only say that guilty will not be spared."
The ongoing rescue and search operation to locate the remaining 18 students was hampered today after several hours of rain in the area. The operation has been suspended.
DC Mandi Devesh Kumar said, "The rain would not affect the search operation as it does not affect divers from venturing into water."