Living a stage
Hours before staging the play, Mahendra Kumar rechecks the 'to-do' list he has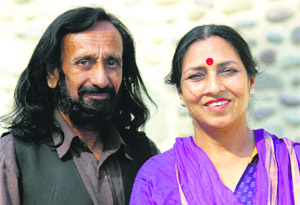 been following since the morning. In between the excitement and anxiety, the two emotions he is primarily going through, he misses a few things and heads out straight to buy them himself! That he can instruct one of his student actors to fetch them for him doesn't cross his mind, "Theatre is a way of life for me and doing anything related to it is not work, but mere living. It's like breathing in and out," says the renowned thespian and co-founder of the Department of Indian Theatre, Panjab University.
play act: Mahendra Kumar and Shveta

Catching up!
One of the male leads showing off his chiselled eight-packs abs, the heroine walking out of the sea in a bikini, a movie set largely in Pattaya City, Alisha Chenoy lending her voice, two games on it — Pollywood is fast catching up with the ways of Bollywood!
show time:

The cast and crew of Yaaran Da Katchup PHOTO: S Chandan
Nurturing dreams
An interesting anecdote, a funny joke or a heart-warming story; the thing that touches is that they not only just pull the right strings but also bring along a strong desire to share them. Besides a passion for film-making, it was the urge to share that kept Shirin Anandita go ahead with the film Ho Javey Je Pyaar. So much so that she ended up not just penning it but producing it as well.
Game on
Technology has sure added a notch to the entertainment quotient with so many video games at our disposal, which have evolved from the good old Mario era to play stations and now cinema. At Elante, Chandigarh, the Hyper X Cinemas brings to all you gaming junkies an altogether new experience as it introduces the 9Di gaming movies, which includes 3D glasses, rain, wind, snow, lightning, smoke, bubbles, a moving chair and a gun!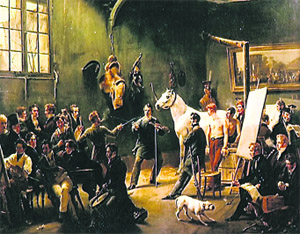 COMING SOON
A date with masters
The Chandigarh Lalit Kala Akademi, in collaboration with Alliance Française Le Corbusier de Chandigarh, is organising the screening of three films, directed by Alain Jaubert. The duration of the films is of thirty minutes each. The films, based on the European masters, will be screened on June 15 at the auditorium of Government Museum and Art Gallery, Sector 10 C, Chandigarh from 5.30 pm onwards. Entry is free.


Gericault's work

CELEB POINT


The present is a gift
It is never the destination…it's always the journey. When we were young, we heard a lot of grown-up people talk about goals and how to achieve them. We heard people landing with good jobs and saying — 'Now since I have achieved this, I am sorted.' But the fact is they were not! Once the job is there, the hunt for something else begins…just in the quest to get 'sorted'. The quest is unending, but the point is at what cost? For that future, don't we forget the present?
green thumb
Plant a future

Let the metrological predictions go on, we all know the monsoon is round the corner! And that is the time to plant trees and shrubs. In an effort to make the planet green, many organisations contribute through plantation drives that also involve people. Furthermore, there are those who start giving plants free of cost from various sources such as petrol pump, hospitals, banks, clubs or institutions like the department of forests and horticulture, to count a few. It is good to do something for humanity, but let us do it in a scientific way.
TRENDSETTER
Wear your attitude
Fashion, they say, keeps changing but style is eternal and sometimes, quite personal. In conversation with Navdeep Kaur, 24, an assistant accounts manager in a private firm, we stand acquainted with yet another definition of style as she says that it is something you are born with. "You cannot imitate another person's sense of style, define your personality," she says, "I am a trendsetter, not a follower,"
Spring in step
The Chandigarh Dance Academy and OXL School of Multimedia will soon hold a solo dance competition, the audition for which will be held on June 15 at the OXL School of Multimedia, Sector 34, Chandigarh.
star track
Special invitation
American director Brett Ratner invited Shah Rukh Khan to attend the premiere of his upcoming film Hercules. He also said that he wants to work with him."Please come for my premiere for @HerculesMovie to Hollywood?" Ratner tweeted. Shah Rukh was quick to reply: "would love to. I am a huge fan of your work. Will be an honour. All the best for Hercules." The film will release on July 25.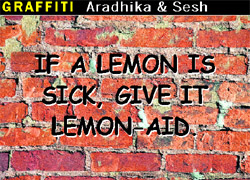 In the league of stars


Ladies first


Koffee with Karan, on the big screen


Mind over matter


Switch over


Alia's royal snub


A family vacation


Back on screen


All well at the box-office


For the wrestling mania
chatter box
Together they ink
The upcoming episode of Entertainment Ke Liye Kuch Bhi Karega will see the trio of Saif Ali Khan, Riteish Deshmukh and Sajid Khan making an appearance to promote their upcoming movie Humshakals. A splendid mirror act by H Boy's group left the crowd amazed. But what the group did after their act surprised Saif Ali Khan. The group members showed their tattoo of Kareena Kapoor's name on their arms.



A bond that matters


Working round the clock


Lucky strike


Marking a presence


Third time lucky!


Knot the affair


Aadesh gets a meaty role