Vishal Sikka is new Infosys CEO; Murthy to step down
Shubhadeep Choudhury
Tribune News Service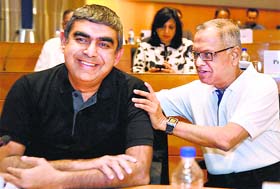 NR Narayana Murthy with newly appointed CEO & MD of Infosys Vishal Sikka in Bengaluru on Thursday. PTI
Bangalore, June 12
India's second largest software services exporter, Infosys, on Thursday announced Vishal Sikka as its new CEO. The announcement came two days before the company's annual general meeting (AGM) on June 14. Following the appointment of a new CEO, it is now expected that the AGM would be be a smooth affair. Anxiety had gripped the company's shareholders in the wake of a series of exits by high-level executives recently.
Sikka (47), born in Rajkot in Gujarat to Punjabi parents, will be the first CEO of Infosys who is not a co-founder of the company. During its 33 years of existence, Infosys has always been headed by one of the four co-founders of the company, including SD Shibulal, the incumbent CEO. Sikka is also the first non-Indian CEO to head the iconic Bangalore-based Indian company. Sikka, a US citizen, said that he would continue to live in California where his family is based. However, he will spend a significant amount of time in India to fulfil his responsibilities with the Infosys, said Sikka.
Sikka's appointment was accompanied by a number of other structural changes in the Infosys including stepping down of executive chairman NR Narayana Murthy by drastically cutting short his second innings at the helm of the company he had co-founded. Along with Murthy, another co-founder S Gopalkrishnan also stepped down from the executive vice-chairman's post. Their resignations will come into effect from June 14, The duo will continue on the board of the company in non executive positions till October 10 to facilitate smooth transition of responsibilities. KV Kamath, reputed banker and independent director on the Infosys board, will become non-executive chairman of the board on October 11.
Murthy will once again become Chairman Emeritus. While Shibulal will step down as CEO and M of Infosys on July 31, Sikka will take over as CEO and MD the following day (August 1).
Murthy's office, in which he had somewhat controversially had inducted his Harvard-educated son Rohan Murty as executive assistant, would be dissolved with effect from June 14.
While Rohan Murty's appointment will come to end on that day, remaining members of the executive chairman's office will be given other responsibilities in the company.
Infosys Board also elevated U B Praveen Rao, president and whole-time director as chief operation officer.
Murthy said that two things the board had asked him was to assist them in finding a successor to Shibulal and to create a strong foundation for the future growth of the company. He said that while in Vishal Sikka a suitable leader for the company could be found, he had also initiated various measures to strengthen the company in sales, cost optimisation and other areas.
He said he would elaborate more on the issue of strengthening the company in his speech in the AGM tomorrow.