Get, set...go
There is an old school of thought that labels the journey just as beautiful as the destination. Then there is the other school of thought, where you need to get away and even get back by the end of the weekend! All you need is an instant escape followed by weekend escapades, sans the rigmarole of travelling. For those who would rather skip the packing, check-in and immigration, here's mapping a couple of places around Chandigarh and starting from the very near to a little far!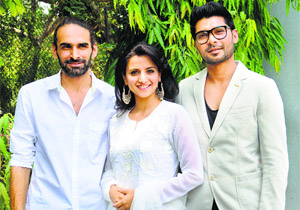 A message within
Yet another Punjabi movie…it's a deluge of films being announced in the industry, some going on floors and some more moving over to post-production. Except for a few saving graces recently, every process of film-making takes time except the film's fate at the ticket counters!



MOVIE ZONE: (L-R) Jaivi Dhanda, Kulraj Randhawa and Inder Bhandal

Master Chef
Smooth smoothie
In this heat, a cool smoothie is a great idea. It takes simple ingredients from your fridge and a fruit bowl. Make a smoothie according to your fruit preference and experiment with a pinch of cinnamon one day and rock salt on another.

Doc Talk
Grab a mouthful!
Do you know certain foods naturally cleanse your teeth as you eat them? In addition to great nutrition, nuts and seeds 'scrub' the teeth while you chew. Oral health sure thrives on healthy diet. Here are some food items that keep your smile in top shape!
A shining jewel
Swarnanjali, a Jaipur-based jewellery brand, on Thursday inaugurated its first showroom in the Tri-city. It marks the beginning of the company's legacy in Northern India. Swarnanjali is a collection of very special designs inspired by Indian classical abstraction offering a unique blend of Indian and contemporary styling. The designs are fine creations by the best craftsmen of Jaipur, Surat, Calcutta and Southern India.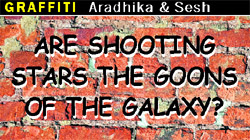 Fast track
With the football season kicking off, Microsoft Devices on Thursday announced an engaging on-ground experience for the football enthusiasts in the country - Fastest Finger Football - that gives you a chance to win a trip to Spain and watch a FC Barcelona match live. As many as five winners will get to go to the Camp Noufootball stadium in Barcelona to watch FCB play.
STAR TRACK
The FIFA craze in Bollywood
Bollywood stars love football and are gearing up to watch the World Cup, even if they can't go to Brazil. Here are their plans…



Clash of the titans


Parenthood can wait


Dual celebration for the Shroffs


Step out in style


Living on a budget


Name game


Justin Bieber calls love with Selena unconditional
chatter box
A heart of gold
It's endearing to see reel life love between a mother and daughter translating into real life. Such was the case on the sets of Zee TV's popular show Kumkum Bhagya, where actress Mrunal Thakur (who plays Bulbul) fell ill right in the middle of a gruelling shoot and her on-screen mother Supriya Shukla (Sarla Arora in the show) took care of her just like her real mother would have. Recently, Mrunal was running high fever and was advised bed-rest.



Leap of faith
New Releases
Fugly
Producer: Akshay Kumar, Ashwini Yardi
Director: Kabir Sadanand
Grazing Goat Productions highly-anticipated movie Fugly releases this Friday. Produced by Akshay Kumar and Ashvini Yardi and directed by Kabir Sadanand, the film stars Jimmy Shergill, Vijender Singh, Kiara Advani and Anil Kapoor's nephew Mohit Marwah. Jimmy Shergill will be seen playing SHO Chautala, a mean and evil police officer. Anshuman Jha will be playing the drug mafia leader of Delhi.