ARTS
Freedom fighter who died unsung
Dr Atamjit Singh's latest play Mungu Comrade chronicles the life and struggle of Makhan Singh, Kenya's trade union activist
Nonika Singh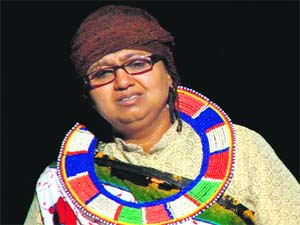 The recital of the play Mungu Comrade received tremendous response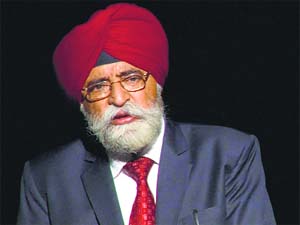 Dr Atamjit Singh
LIKE life, history, too, can play favourites and be kind to some and not so generous to others. In the last century lived a Punjabi, a Sikh who fought for the Kenyan freedom struggle and is considered as the founder of Kenya's trade union movement. Makhan Singh, the freedom fighter died unsung and would have been at best a footnote in history if Zarina Patel had not cared to write the book Unquiet: The Life and Times of Makhan Singh.
Of course, when noted playwright Dr Atamjit Singh chanced upon the book, he was struck by both remorse and shame. He says, "Here was a Sikh hero whose tale needed to be told and retold. Yet I, a proud Punjabi and a writer with reasonable knowledge of history knew nothing about him." Out of this self-incrimination emerged a resolve to write a play much against the sane advice of dear friends like well-known poet Amarjit Chandan. Chandan's contention was simple; how can a story so linear lend itself to dramatic interpretation? But Dr Atamjit was adamant and wondered - can Makhan Singh's infallibility be held against him? Besides, he found the dramatic tension by pitching Makhan Singh's ideology of non-violence against those who followed the path of violence.
Today the play Mungu Comrade, chronicling the life and struggle of Makhan Singh, is not just another addition in the long list of plays like Mein Taan Ek Sarangi Haan, Panchnad Da Paani, etc. that have flown from Dr Atamjit's pen. Rather Mungu Comrade has become his cause celebre as he is determined to spread his inspirational tale. He has recently returned from Nairobi after enacting out the recital of the play Mungu Comrade and is overwhelmed by the response. After the play was recited (neither a reading nor a performance but a rendering with proper lighting and blocking) in the presence of bigwigs like the High Commissioner of India to Kenya as well as Pakistan's High Commissioner, the need to remember and laud such heroes was felt very strongly. The elite members of Kenyan society such as Willy Mutunga, Chief Justice of Supreme Court, Kenya, felt that their country singularly lacks such inspirational role models, who can motivate the youth. Kenya's acclaimed photographer Sir Mohinder Dhillon was so impressed by the play that he organised a special meeting with filmmakers so as to facilitate the making of a film on him and other freedom fighters. Yashpal Ghai, a legal luminary yet another Punjabi settled in Kenya, strongly felt that the play should be performed in English. And editor of national daily Sudhir Vidyarthi even promised to translate it in both English and Swahili. The word Mungu has been taken from Swahili language and means God.
Indeed, weaving the highs and lows of Makhan Singh's life wasn't easy. For one, his story had no drama, no sensational moments, no spicy trivia that one could play up and no grey zones to provide conflict. Dr Atamjit not only had to take artistic liberty but also employ theatrical devices to make the tale engaging. For instance, he has used the ploy of planting an actor among the audience as well as coining a maskhara kind of character to add humor and provide insights into a host of related concerns. Besides he had to ensure that the play did not end up becoming a larger-than-life reflection of Makhan Singh whom he compares to national heroes of India. He reasons, "If in my endeavour to bring him out of the pages of obscurity, he would become an icon the youth couldn't relate to, my purpose would have been defeated."
Then there were family pressures to be dealt with. Makhan Singh's sons and daughter initially didn't agree to the romantic twist in the tale. Dr Atamjit had introduced the fictional element only to incorporate Mau Mau movement, without which any talk of freedom struggle of Kenya is incomplete. But finally Dr Atamjit did manage to prevail over the reservations of family members.
As he is all set to turn the play into a mammoth production, he is facing another kind of dilemma. Should the play be in Punjabi or Hindi? Once again well-wishers are advising him to do it in English. But acutely aware of his strengths, he knows the director in him cannot do justice to the written word if the chosen language is not the one he is comfortable with. So Queen's English is out for the moment.
However, Makhan Singh's heroic deeds, his selfless passion, his long incarceration in jail continue to both haunt and inspire Dr Atamjit. As a rule after writing the play, he moves on to fresher pastures but with Mungu Comrade the cause has become bigger than creative satisfaction. As the artist in Dr Atamjit takes a backseat, he is more elated by the possibility that he could be a significant catalyst for a greater purpose. In fact, he intends to do all that it takes to make Kenya and India sit up and pay attention to the forgotten hero whom he hails as a symbol of global solidarity.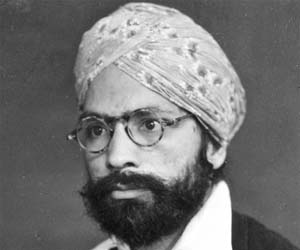 Down history lane
Makhan Singh (1913 Gharjakh, Gujranwala — 1973 Nairobi) was not just another freedom fighter. Father of labour movement in East Africa, he is credited with forming the Labour Trade Union of Kenya. He didn't just fight for his own community but for Africans at large.
In his struggle for independence for Kenya, he fought against British imperialism. When his dream to see Kenya freed of colonial rule was realised, he had been forgotten. Today, except for a street named after him, there is very little to commemorate his contribution.
Makhan Singh