Swami in Sonepat
Reviewed by Rajnish Wattas
Champs of Devgarh
by Ajay Sharma
Puffin. Pages 202. Rs 199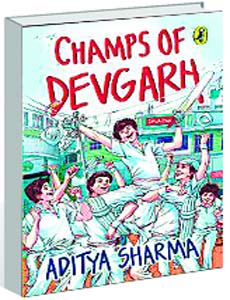 R K Narayan's lovable, impish, school boy in Swami and Friends lingers on in the hearts of his large legion of fans. Aditya Sharma is obviously one of them. His own Narayansque small-town tale of school boys and their tryst with the national passion of cricket in Champs of Devgarh echoes a similar strand. Another influence at play is Ruskin Bond, with his simple, lucid boyhood stories told with dew-fresh innocence and puckish humour. Other inspirations are at work too-- Lagaan like triumph of the underdogs, roping in of a Chak de! India remodelled reluctant, but brilliant coach to prepare the fledgling team for the crunch match etc.
Sharma's first novel crafted in a similar genre, portrays with great feel and authenticity the heart of the small time India's bye-lanes, people, culture and institutions. True-to-life nuances and everyday minutiae of schoolboy existence, with undying ambitions for cricketing glory, come alive in this engrossing tale.
Set in the fictional town of Devgarh (read Sonepat, Sharma's hometown), it's quintessentially the story of the Star Eleven cricket team studying in the Holy Mission School, desperately wanting to vanquish reigning champions the mighty Lajpat Rai Sports School Team. But the goal looks formidable. The various odds — poor sports kit, lack of coaching and funds, parental pressure to focus more on academics than waste time on sports; and above all the rivals' dirty tricks' department that includes sledging and unethical practices, loom large. Though, the captain of the Star Eleven is Ajay, the real rock star is Aakash the vice-captain, fondly nicknamed Marshall after the West-Indian fast bowler. Every schoolboy can easily identify with this rakish, spunky classmate who with his dare-devilry, emerges as his hero of his peer group. Aakash is the flamboyant risk-taker; whether playing cricket or pulling off dangerous pranks like bursting fire-crackers in the school or running away with the motor bike of a tormenting teacher, who has caught him cheating in the exams. Another character who is most endearing and easy to identify with is 'Gupta Uncle,' the middle-aged banker. He is the gentle guardian angel of the team who helps out in times of distress, whether through finances or faking as Aakash's repentant father, while appearing before the school principal to save him sure expulsion. Gupta Uncle's own unfulfilled and failed boyhood ambitions as cricketer, are now vicariously fulfilled through the Star Eleven team's escapades.
Sharma displays amazing memory in recreating the minutiae of schoolboy dreams, their fantasies, squabbles, bullying and scrapes with teachers. His authentically recreated dialogues are something to watch for — not easy for an debut book writer. There is also a Billu Barber-like retelling of the visit of the local city boy turned Bollywood star on a home town visit, leaving the entire town and the school all agog with excitement and frenzy. The climax of the book is the blow by blow, cliff-hanger hard fought sweet victory in the mother of all matches, the final of the much-coveted RP Memorial Trophy. Sharma's first-hand deep knowledge of the game acquired through his own cricketing days in Sonepat, comes handy in recreating the charged atmospherics of the grudge match.
One only wishes that Sharma, or the book editor, had avoided the use of a few clumsy words in sentences like, "after a three-hour ordeal, the class ten students emerged from examinations ....their fingers were numb and their brains fried"
The book should make for delightful summer vacations reading list for schoolboys, and for adults too, as an innocent boy always lurks around in us. Even if Aditya Sharma has some way to go in refinement and maturity of writing, he has it in him. As a straight-from-the-heart story-teller he is a writer of promise.