ENTERTAINMENT
Making her mark
Swara Bhaskar, the perky actor of films like Tanu Weds Manu and Raanjhanaa, is not just another chip of the block. The actor is back with another unconventional role in her latest movie Machhli Jal Ki Rani Hai, a paranormal thriller
Nonika Singh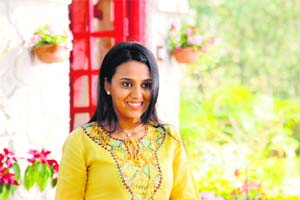 Swara Bhaskar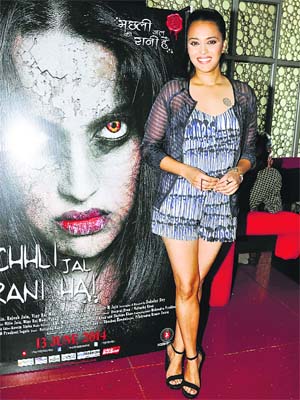 Swara Bhaskar promotes her latest film Machhli Jal Ki Rani Hai
IN an industry bustling with glamour pusses, wannabes ready to shed clothes at the drop of a hat in a bid to climb the ladder of success, Swara Bhaskar strikes a note that is as refreshing as distinctive. All set to make her mark yet again in a paranormal thriller Machhli Jal Ki Rani Hai, hereís an actor with a difference. So horror may not be her genre, she finds her act in the film that is more than just chills and thrills her most challenging till date. She quips, "Inhabiting that space where I play a woman possessed was both eerie and exciting."
As an actor she not only refuses to be typecast but also has the ability to rise from supporting actor parts to lead ones. Those who have seen her in films like Tanu weds Manu and Raanjhanaa know too well she is an actor with substance. Only she is as much a woman with sharp intelligence and a mind of her own. So when the whole nation was celebrating BJPs victory under Narendra Modi, she had the dare to question what the fuss was all about. Hate tweets that followed notwithstanding, the courage to speak her mind, to call spade a spade, her courage comes from her upbringing, background and leftist leanings. Her father is a naval officer and her mother has been teaching cinema studies at JNU.
However, her love for cinema has little to do with her motherís association with the world of arc lights. Back in childhood, she was smitten by the good old Chitrahaar. The actor in her found wings in N K Sharmaís Act One theatre group. Today this postgraduate in sociology might often wonder as to why and what an educated girl like her is doing in Bollywood. But then as she puts it, "The actor that I am is because of the person in me and the varying influences."
Wasnít she apprehensive when she said yes to the supporting actor parts? She replies, "Tanu Weds Manu is a very special film for it established me in the film industry. As for Raanjhana, I simply fell in love with the character Bindiya and there was no way I could have said no to such an endearing role."
Machhli Jal Ki Rani Hai is not her first film as a lead. She has films like Listen Amaya up her sleeve too. Talking of the meaningful film immediately brings up fond memories of Farooq Sheikh, her co-actor in the film. She remembers Farooq as an incredible human being. Yet another stalwart, she goes ga ga over is Shyam Benegal for whose show The Story of the Making of the Constitution of India ó Samvidhaan, she has stepped into the shoes of an anchor.
About the legendary maker, she says, "He is a tough taskmaster, expects his actors to do their homework before they come on the sets. An encyclopaedia on virtually all subjects ó be it politics or social concerns, itís a treat listening to him. Besides, he is a thorough gentleman."
No wonder she remains enchanted by tinseltown. Bollywood, she asserts, is more than welcoming and itís just the right time for talented actors to be in the industry. Sure had she been a star kid, her journey would have been markedly different. Yet so what if she couldnít debut opposite Salman Khan, she has picked up a part as his sister in the forthcoming film Prem Ratan Dhan Payo. Then there is Mango and Sabki Bajegi Band.
Outsider or not, as films, awards (she has two supporting actor trophies on her shelf) and critical acclaim knock at her doorstep, Swara has every reason to be on a song. But as she says, "Good actors are also greedy ones," she has big dreams in her eyes and ambition in her heart. Watch out for her.