Forlorn fortifications
Weather-beaten citadels and moat-girded forts in Punjab, unkempt and neglected, are visible reminders of the state's heritage
Puneetinder Kaur Sidhu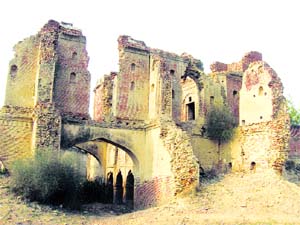 THE fact that undivided Punjab was well-located on the inroad to Hindustan left many an invader chuffed. Rulers at the receiving end began building citadels of varying sizes and strategic needs. The landscape was studded with impregnable edifices whence the potentate in residence defended his moat-girded abode from behind ramparts and lofty barbicans. Over time, with the advent of modern warfare, they were rendered obsolete.
---
ArtS
Freedom fighter who died unsung
Dr Atamjit Singh's latest play Mungu Comrade chronicles the life and struggle of Makhan Singh, Kenya's trade union activist
Nonika Singh
LIKE life, history, too, can play favourites and be kind to some and not so generous to others. In the last century lived a Punjabi, a Sikh who fought for the Kenyan freedom struggle and is considered as the founder of Kenya's trade union movement. Makhan Singh, the freedom fighter died unsung and would have been at best a footnote in history if Zarina Patel had not cared to write the book Unquiet: The Life and Times of Makhan Singh.

Broad brush
---
Fitness
good health
Smart swaps
Enjoy your favourite foods without compromising on taste. The key lies in substitutes that are tasty as well as healthy
Naini Setalvad
India is a foodie's paradise. Our faces light up when we add some 'good food' to our regular mundane days. From our weddings to our meals, we believe in a simple saying, the bigger the better. For us a good meal is incomplete without the strong aromas and fiery taste of our ingredients. Sweet, salty, spicy and tangy, our taste buds get satisfied only when one or more of these masalas tickle our palates.
Unlucky stones
Pregnancy can be a beautiful time for a woman but it needs careful monitoring
Dr Bhim Sen Bansal
Urolithiasis (urinary stone) is the most common reason for non-obstetrical abdominal pain in pregnant women. This occurs in almost one in 1,500 pregnant women. The stones occur in the ureter twice as often as in the kidney and affect both ureters in equal frequency. Almost 80 to 90 per cent urinary stones are diagnosed after the first trimester.
Don't drink during pregnancy
Dr Swapna Misra
FOR decades, researchers have known that moderate to heavy drinking during pregnancy can cause birth defects. Even small amount of alcohol can harm a developing baby. A recent study by the Centers for Disease Control and Prevention (CDC) has found that about one in eight pregnant women in the US report drinking at least one alcoholic beverage in a month.
---
Society
Meet the man of many words
Suparna-Saraswati Puri
BORN in the idyllic environs of Siliguri, the Dhiren Bhagat and Chevening Young Print Journalist, who dodged school books for playing badminton, ran the course of an enthused media aspirant with national dailies. He established his credentials as an academic with a Masters in Anthropology of the Media and a doctorate from SOAS, London, it is Somnath Batabyal's dexterity to traverse media, scholastic expanse and fiction writing that lends him a distinguished mien.

SOUL TALK
---
Travel
A Utopian getaway
White sands, warm waters of the Indian Ocean, picture-perfect sunlit days, breezy nights, balmy mornings and iridescent sunsets — the coral islands of Maldives provide an ideal escape
Anand and Madhura Katti
Beautiful necklace of emerald gems lying on the blue velvet of the Indian Ocean is aptly called Maladiv, 'garland of islands' (in Sanskrit). The archipelago of 1,200 circular, oblong and crescent-shaped coral islands are scattered across the ocean. A quarter of these are either inhabited or house tourist resorts. Male International Airport is exclusive to Hulhule Island.

GLOBETROTTING
---
Entertainment
A tale of triumph and hope
Gautam Bose's 52-minute documentary Come With Me celebrates the lives of four women, located in different geographical, social and economic spaces, who were once labelled as patients with mental disorders
Shoma A. Chatterji
IN a patriarchal world, women often find themselves labelled as mental patients trapped within institutions without their illness having been diagnosed before institutionalising them. Come with Me is a revealing 52-minute documentary that celebrates the triumph and hope of women who were once thought of being patients with mental disorders.
Making her mark
Swara Bhaskar, the perky actor of films like Tanu Weds Manu and Raanjhanaa, is not just another chip of the block. The actor is back with another unconventional role in her latest movie Machhli Jal Ki Rani Hai, a paranormal thriller
Nonika Singh
IN an industry bustling with glamour pusses, wannabes ready to shed clothes at the drop of a hat in a bid to climb the ladder of success, Swara Bhaskar strikes a note that is as refreshing as distinctive. All set to make her mark yet again in a paranormal thriller Machhli Jal Ki Rani Hai, here's an actor with a difference.
---