SOCIETY
Meet the man of many words
Suparna-Saraswati Puri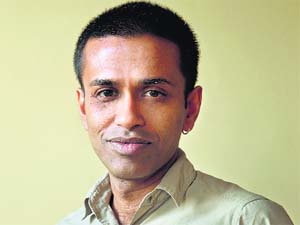 BORN in the idyllic environs of Siliguri, the Dhiren Bhagat and Chevening Young Print Journalist, who dodged school books for playing badminton, ran the course of an enthused media aspirant with national dailies. He established his credentials as an academic with a Masters in Anthropology of the Media and a doctorate from SOAS, London, it is Somnath Batabyal's dexterity to traverse media, scholastic expanse and fiction writing that lends him a distinguished mien. The author of The Price You Pay hailed as an "unputdownable crime thriller", engages his time and interest with varied forums of writings that include his weekly column titled Nomad Notes in The Sunday Guardian, blogging for Sacred Media Cow (an online collective of media theorists) and lecturing at SOAS, while conceiving his next work of fiction. In an exclusive interview, author Somnath Batabyal reflects upon his appetite for crime and his first novel.
What fascinates you about crime?
It is the sociology of crime and around a particular act of crime that is fascinating. Imagine the victim of a chain snatching, an upper-class lady eating parantha in Old Delhi. The horrifying moment when she discovers her fake necklace is stolen and the indignant fashion she goes and berates the poor cop at a ramshackle police station. The cop hasn't gone home in 72 hours, stays in the barracks and his son is taking exams next week. He has been called in for a disciplinary hearing for asking for a bribe from a local businessman who informed the Anti-Corruption Bureau. This policeman knows that the DCP of the Bureau is one of the most corrupt policeman in the city. And it is this man that will hear him. Meanwhile, the chain snatcher is being thrashed by the area dada for not being able to discern between real and fake jewellery.
I imagine these characters, their settings, and their psychology. Even in the novel, when I have written about a particularly horrifying incident, the incident itself is never described in detail. It is the gloating policeman at the press conference who has solved the case that is my focus. And later, the criminal's small-town background, his immigrant status, and my hero, an outsider too, meeting him in a small police cell for an interview that he is not prepared for.
What led you to write your first novel?
A combination of factors. Anurag Kashyap had asked me to write something for him years back and that had been playing in my head. The story came in a rush. In about 10 days, in bus stops around London, in cafes, I scribbled an outline. I came to India in 2010 with the story idea and hired a graphic artist, explained the story to him and he did a few sketches for me. With these, I landed up in Jaipur where I was to meet V Karthika of HarperCollins for another book; A non-fiction. At the festival's sidelines, while having tea with Vikram Seth (whom I was interviewing) I showed the sketches. He said something innocuous and I left it that. The next day, Karthika and I met. One of the first things she asked was "I hear you have a story for me." Vikram had told her about the sketches and that he loved the outline. Karthika looked at the sketches for a while and told me, "look there is a fantastic novel here". By the end of the evening, I was on board.
What do you think makes or contributes towards a good work of crime fiction?
It is no different (or shouldn't be any different) from other works of writing. Except that, when you write genre fiction, you better know what you are talking about. Depending on your subject, forensics, detection, psychology, the police procedures, these are all very important to understand. But after all that, it is really good writing that will mark you out. And I don't buy that argument that I sell 100,000 copies and, therefore, I must be a better writer than you. Archie Comics sell more than Salman Rushdie.
Is there a character etched in your memory?
Though I have written a novel that is being marketed as a literary crime fiction, I am not a serious reader of the same. Crime, mysteries, these have always fascinated me. Growing up with the Blyton, Hardy Boys and Nancy Drew stories and then graduating to Holmes, Christie and later P D James, I have read what most of us do. Now I use the crime or thriller genre to get back in the habit of reading, if for some reason, I have been away from it a while. Just the other day, I finished Martin Amis's Night Train. The character of the detective was absolutely marvellous. And the twist at the end is what we call "redefining the genre."
What is in the offing from author Somnath?
The next novel, I guess. There is no getting away from it once you catch the germ. I have an outline. I have done a few months of intensive research. I am taking about four months of this year to flesh out the characters and plots and hopefully get writing by next year. I won't give the plot away but it is as removed from a regular crime novel that is possible. Spans about 40 years of independent India, travels to London, involves three close friends; well, no, not giving any more away. You will read it in four years. Hopefully.