TRAVEL
A Utopian getaway
White sands, warm waters of the Indian Ocean, picture-perfect sunlit days, breezy nights, balmy mornings and iridescent sunsets — the coral islands of Maldives provide an ideal escape
Anand and Madhura Katti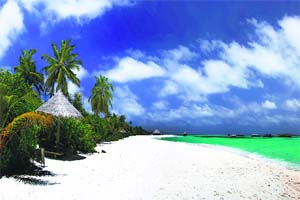 An unspoilt beach on one of the islands



Water bungalows are a popular choice among tourists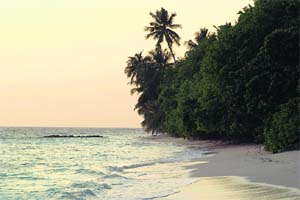 Most resort islands in the Baa atoll are connected to Male International Airport through amphibian seaplanes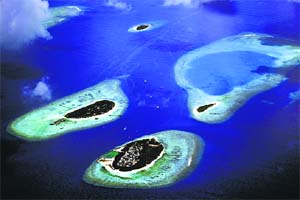 An aerial view of islands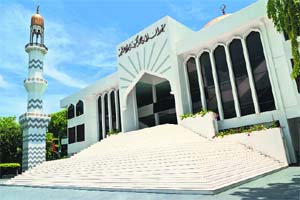 A mosque in Male
Beautiful necklace of emerald gems lying on the blue velvet of the Indian Ocean is aptly called Maladiv, 'garland of islands' (in Sanskrit). The archipelago of 1,200 circular, oblong and crescent-shaped coral islands are scattered across the ocean. A quarter of these are either inhabited or house tourist resorts. Male International Airport is exclusive to Hulhule Island.
The Maldivian government guards its endangered treasure islands fiercely with policy guidelines. This has ensured that private resort operators like Soneva Fushi Resort and Spa have set global benchmarks on eco-friendliness. Only one resort exists on each island.
EhereeEtha, literally meaning 'it is there' in local Dhivehi language is the favourite phrase at Soneva Fushi (island). These words on directional signboards on the paths at Kunfunadhoo Island leads to reception, the nerve center of all activities at the island resort.
The unofficial dress code is shorts and a T-shirt with no footwear. Being barefoot is quite convenient to ride the bicycle, the only mode of transport on the island and to walk on pure white sand and into the clear turquoise waters of the sea.
Amphibian seaplanes connect most resort islands in the Baa atoll (group of Islands) to Male International Airport. Exciting journey on the small plane unfolds gem like islands in the ocean deep below. Seaplanes land on water near the island and a dhoani takes guests further to the jetty at Soneva Fushi. An exclusive back-to-nature experience with simple sophistication and sensitivity to appreciate basic things awaits at Soneva.
Luxuries here came with a natural, local feel in design, architecture and service. Each villa has its own stretch of beach. Dense vegetation of the patio separates neighboring villas. A by-lane to each room ensures privacy from trespassers.
Lying on the beach sofas staring at the ocean and its horizon becomes a favorite pastime. Swimming and snorkeling to observe beautiful coral formations in the shallow lagoons of the sea is a thrilling experience. Walking back into the open-air private bathroom at the villa and plunging into the bath (tub) at the backyard garden is a sheer luxury.
Small organic garden, heli-pad, another jetty and Soleni diving school can all be explored on foot or on a bicycle. Environment friendly measures at the island include usage of discarded sleepers from railway tracks in England for staircases in the villas and used and discarded telegraphic poles from Indonesia forming the pillars for the bar.
Magnificent palm-shrouded islands with their silver beaches and fascinating lagoons make Maldives a paradise for underwater diving, fishing and water-sports.
A private shallow lagoon enclosed by a coral reef surrounds Kunfunadhoo and makes for an ideal snorkeling, diving and water sports venue. Learners and novices get the help of professional instructors at the PADI diving school.
With no other engagements to distract, indulging in food becomes a favorite pastime. Choice of indoor seating on neatly cut logs or outdoor lunch service under a canopy of casuarinas trees extends the feel of the beachfront. Dinners turn exotic whether at the open air dining, at a seaside moonlit barbecue or at an intimate meal by lantern on a private beach served by traditionally dressed waiters.
Charm and sophistication in a delightfully understated way at Soneva Fushi makes for a lifetime memory.
Local people don't live on the resort Island as a norm, thus guarding their privacy and traditions.
Local islanders
A cultural excursion to nearby village on Eydha Fushi, gives a peek into the local culture. It is self-contained village with a hospital, school and a mosque for its 2,500 people. Small stores sell imported utility items and clothes. Buildings painted in white look bright with reflection of the blue-green sea water. Some old houses are built of corals, usage of which is now banned. One can watch traditional experts' build dhoanis by mixing local phune wood with some imported wood.
Malé
Intriguing small capital city of Male can't be missed. Most of its 65,000 people are migratory workers from other islands. Fisheries and tourism form main occupations here. Contrary to resort islands, activities here are restricted to land as there are no beaches owing to its reclamation.
The main mosque, Presidents Palace, fish, fruit and vegetable markets are some interesting sights here. Business and shopping streets are all near the main jetty off Bouthakurufaanu Magu (street).
The peace and serenity, the anonymity, coral reefs and clear turquoise water of Maldives leave a lasting memory.
Getting there: Air India operates scheduled direct flights from Thiruvanathapuram and Bengaluru to Male. Alternatively, one can fly via Colombo on Srilankan Airlines to Male. Male is five-minute boat ride away from the airport island. Soneva Fushi is 25 minutes away on a sea plane.
Visa: Indian nationals are given visa on arrival.
Best time to visit: Maldives is a year-round destination. Prices at resorts between May and November (except August) are relatively cheaper. Visibility for diving is good on the western side from May to November and from the eastern side of any atoll December to April. Resorts can be chosen accordingly by diving enthusiasts.
Where to stay: Three-night stay packages with food and return transfers from Male Airport at luxury island resorts like Vivanta by Tajand Soneva Fushi Resort and Spa are priced from Rs 2,50,000 to Rs 4,58,000. Mid-range resorts of Holiday Island and Royal Island Resort and Spa charge Rs 70,000 to Rs 90,000. Same package at budget hotels Fun Island Resort and Paradise Island cost between Rs 40,000 to Rs 50,000.
Where to eat: Sala and Thai Wok are good restaurants in Male.
What to buy: Jewellery made from corals, shells, fish skeletons, items depicting ocean life and beach clothes.
Dress code: Swimsuits and beach ware are forbidden on inhabited islands. No restrictions on resort islands.
Reservations: Bookings at all resorts have to be made in advance.
Emergency helpline: 119
Useful websites:
www.tourism.gov.mv,
www.sixsenses.com,
www.srilankan.com,
www.airindia.com