Daddy cool


Mere pass maa hai…probably remains the most dramatic and oft-quoted dialogue in Bollywood…but why are we talking of maa on Father's Day? There is a reason. While parents play more or less an equal role in bringing up children, somehow mothers take away the cake when it comes to celebrations. Even surveys point out that spending on Father's Day is considerably less (thirty per cent) than on Mother's Day. Is motherhood exaggerated in our real lives as well as reel lives? We explore.
Gift a surprise
He has given his time, energy and worldly possessions to you all these years…today is the day to reciprocate not all, but bit of what he has showered on you without expecting much back. So spare some time, make an effort and reach out for the most important man in your life this Father's Day. Here's our quick guide for those who were waiting till the last moment to make their Father's Day extra special.
Following a star
He is a true follower of filmstar Govinda; so much so that his Govinda 'act' has got him an entry in Entertainment Ke Liye Kuch Bhi Karega! Naveen Arya, self-taught choreographer, learnt dance while watching his favourite star on TV, YouTube and some workshops.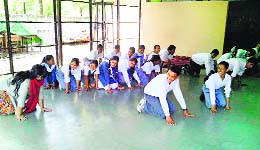 A look within
Purple Mangoes, New Delhi, is holding a 'Let Yourself Go' theatre art workshop for adults and children in Chandigarh. The workshop is about taking a journey that enables one to look within — a process of finding one's inner self; the part that is without masks, identities and the walls we build around ourselves.
Children at the theatre workshop

Safe & sound
A beast of a car boasts of a beauty unparalleled in the automobile sector, but luxury and looks come second…Thomas Andersson, vice president, international, Volvo Cars, opens the first chapter of his experience of twenty years in the automobile industry. "Nothing precedes safety, be it in India or Sweden," he says.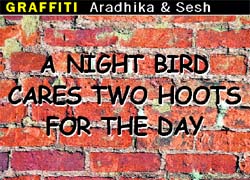 Sweet hug!
With its inception in Ludhiana two years ago, hug! has quickly grown from a single dessert outlet to a full-blown dessert brand. And now it is making its presence felt in the City Beautiful as well.
STAR TRACK
Filling in for Britney
Actress Keira Knightley has revealed that she is often mistaken for Britney Spears and plays along and pretends to be the singer.



An honorary dame


Love birds in Barcelona


Kareena needs career advice


A couple of differences


An incredible proposal


Of Bombay and Sri Lanka!


Asin's ironical situation


Yet another try


Sunny Leone turns a princess


Too much of a good thing
chatter box
To pa, with love…
Once again, it's time to pamper your dad by gifting him something special. On Father's Day, we ask these actors about their plans. Here's what they say...



Sing and dance along


What's on your plate!