Humble bicycle goes fast forward
As cycling becomes a passion for an increasing number of fitness enthusiasts, Indian and overseas bicycle manufacturers are flooding the market with an array of high-performance bikes
A Subodh Samuel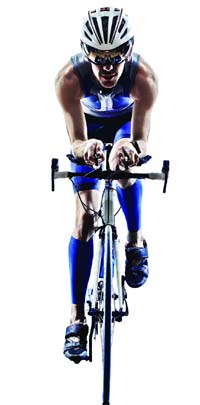 All you gym rats take note. Cross-trainers, treadmills and multi-gyms maybe fashionable fitness mantras but don't ignore the good old bicycle — simply because it is one of the most potent fitness tools. Don't believe it? Ask Reena Mathews, a Delhi-based environmentalist, who is on her bicycle at 6 am every morning and heads for India Gate from her Green Park residence — a distance of around 8 km — along with two cycling buddies. En route none of the three talk. With pulsating music reverberating in their ears and their bodies bent over, they pedal away to their destination and back in a little over an hour.
Pedal fitness
Welcome to the world of cycling. Today trainers the world over are again promoting this time-tested regimen where people pedal their way to fitness. "Between the three of us, we try and keep the levels of enthusiasm and energy high. We start by pedalling at light resistance levels and then raise speed levels till you can almost hear your heartbeat," says Reena. The exciting hour-long ride to India Gate and back brings in all elements of a cardio rush. Fitness experts will tell you that there's no better way than riding a bike to get your body into peak form. Which explains why cycling is becoming a passion for an increasing number of people.
As if responding to the rising demand, a number of Indian and overseas bicycle manufacturers are flooding the market with a mindboggling array of bikes that not just address fitness needs but also stoke people's adventurous spirit. The all-terrain bikes, for example, are not just good for the city but also offer thrills on hilly tracks. Though there are some inexpensive variants in the market, most high-performance bikes are not cheap by any stretch of imagination. Though Indian racing bikes from companies like Hero, TI Cycles and Atlas can range between Rs 10,000 and Rs 45,000 but imported bikes made of carbon fibre with gearshifts, brakes on the handlebars and lightweight aerodynamic wheels can cost a lot more.
Daunting price tags
A specialised tarmac mid-compact bike, for example will set you back by more than a lakh rupees, the Bianchi Vertigo 105 can cost upwards of Rs 1.25 lakh, a Planet X N2a SRAM will come for no less that Rs 2.5 lakh and if you think of buying a Scott's Plasma Premium, make sure you have more than Rs 5.5 lakh in your bank account! If you think some of these prices are daunting, then you haven't taken into consideration bikes made by leading automobile companies of the world. The Colnago Ferrari CF8 can cost upwards of Rs 10 lakh and the BMC Impec Lamborghini bike comes for a whopping Rs 19.50 lakh.
Though the Indian market is flooded with imported cycles, fitness experts say that there is no need to bust a bank for a bike. Any good performance bike like the India-made Hercules Rydes Neo or the Hero Octane Estes will give as effective a workout as bikes with eye-watering price tags. But there are a few things one has to consider while going in for a professional bicycle. Though most top-end professional bikers use carbon fibre, fitness specialists say there is no harm in switching to the slightly heavier aluminum frames. These are equally durable, resistant to corrosion, offer exceptional damping against road vibration and are a lot cheaper without compromising on performance.
It is well known in biking circles that tyres can make or mar a cycling experience. Experts say that even if you have an old bike, make sure you have the best tyres attached to it. Quality tyres will make a big difference in rolling resistance and traction of the bike, bettering the performance considerably.
Points to consider
There are many other points to consider before buying a bicycle. The most important one is to select a bicycle that fits your body type. This will not only enhance your biking experience but also make the ride smooth and comfortable. According to experts, you should take a test ride and see if the bike measures up to your pedalling stroke and your knees move properly without grazing the sides.
It is also important to check the handlebar height, width, stem length and seat height. If there is anything out of place, it is better to get it adjusted before buying it. If that is not possible, then go in for another model. It may be more expensive but a 'well-fitting' bike will add quality to your regimen by keeping you happier and in the saddle longer.
Most of the Indian bike enthusiasts usually consider these points even as Indians take to serious biking. The increasing interest in cycling can be gauged from the fact that much like the Tour de France, India now has its own version called Tour de India, which is a three-city cycling event. When the event began in 2012, it was held in Delhi, Mumbai and Srinagar. In 2013, while Delhi and Mumbai remained unchanged, Srinagar was replaced by Jaipur. The event was endorsed by Salman Khan in 2012 and John Abraham in 2013. Such has been the popularity that last year it attracted more than 200 participants from 40 countries apart from hundreds of cycling enthusiasts from India. This year the event — to be held in December — is expecting a much bigger participation even as more and more Indians get hooked to the joys of cycling.
Premium Indian bikes
Though India is the second largest producer of bicycles in the world, it mainly specialises in the mass market segment. However, of late, some leading manufacturers have started making high performance bikes, which have seen a spike in demand in the last few years.
Leading the premium bike segment is Hero Cycles with its Urban Trail series in a price range starting from Rs 10,000 to around Rs 43,000 a bike. The other big player in the luxury brand is TI Cycles makers of the BSA SLR. The company is now producing the Montra range of bicycles with prices starting at around Rs 17,500 a bike. Sonepat-based Atlas Cycles, too, manufactures high-end bikes like the D/Shox, Yoyo IBC and the Storm series ranging between Rs 3,000 and Rs 9,000.
Health benefits of cycling
Being fit is in. And there's no better way than cycling to get your body into peak form. The following are some of the health advantages of cycling:
Banishes stress
Cycling is addictive. It produces endorphins in the body, which banish stress and usher in a sense of well-being.
Cardio benefits
According to doctors, cycling is a great cardio-vascular exercise as it improves blood circulation and breathing.
Body toning
Studies have shown that a person can lose up to 5 kg and have a toned body in a year with half hour of brisk cycling daily.
Coordination & balance
Cycling improves coordination and body balance which prevents falls and tumbles, especially in older people.
Boosts stamina
Cycling does wonders to your stamina. Long distance cyclists are known to have amazing strength and endurance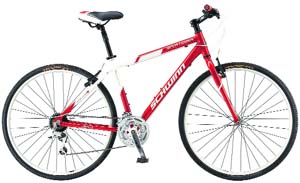 Schwinn Sporterra Sport
The Schwinn 2010 Sporterra Sport is a bicycle built for riders seeking a sporty design on a lightweight and ergonomic frame. Its lightweight aluminium alloy frame and triple crank makes it an eminently ergonomic bicycle, which is an optimal solution for both serious and casual riders.
Price: Rs 29,250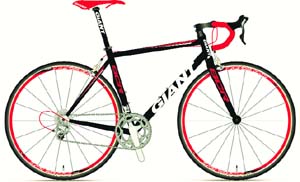 Giant Scr-2
The SCR 2 bicycle is Taiwan-based world bicycle leader Giant's entry level road machine. The bicycle is ideal for fitness, training and the long rides. It is built around an aluminum frame and is equipped with a front and rear derailleur, shifters and powerful brakes. It comes with high performance tyres and saddle.
Price: Rs 36,000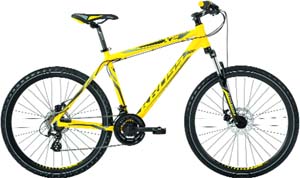 Kross Hexagon X2
Though primarily a mountain bike, the Kross Hexagon X2 is excellent for any terrain. Because of its easy maneuverability, the bike can be used by both men and women. The pedals are crafted from high-quality plastic that makes these durable and the frame is made of aluminum for a super smooth ride.
Price: Rs 24,500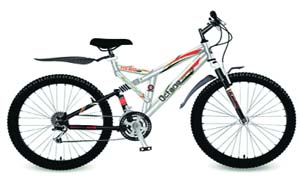 Hero Octane Estes
Stylishly designed lightweight adventure bike, it has a two-piece design frame with maintenance-free full suspension system. Built from high strength aluminum alloy that is made with special heat treatment for strength and flexural rigidity. A very efficient bike for entry-level enthusiasts.
Price: Rs 11,000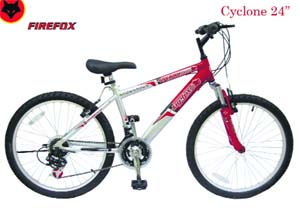 Firefox Cyclone
Cyclone is one of the most popular models of Firefox. It is a hard-tail bike designed for city and adventure trails. It performs extremely well even on dirt trails or on other unpaved surfaces. It comes with alloy body frame with shifters and 7-speed gears. It is available in white and red colours.
Price: Rs 14,000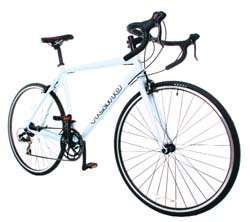 Vilano Shadow
The Vilano Shadow is one of the most versatile bikes well-suited for commuting as well as a means of exercise and fitness. It has a lightweight aluminium frame with an integrated headset and free pedals and also precise and controllable braking and shifting making it ideal both for the amateur and the professional rider.
Price: Rs 39,000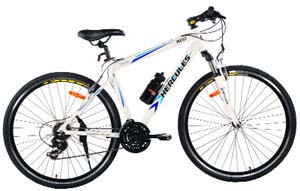 Hercules Rydes Neo
The Rydes Neo is Hercules' entry level Indian hybrid bicycle. It comes with an alloy hard-tail frame and is available in white and blue colours. It is equipped with derailleurs, shifters and hybrid tyres and has alloy handlebar, stem and seat-post and a steel crank making it a great bike for enthusiasts.
Price: Rs 14,100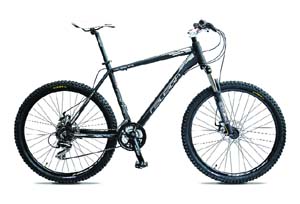 Raleigh AT-10
The new all-terrain Raleigh-10 supports a powerful frame along with the alloy tubing, with terrain soaking forks. It uses a Raleigh-designed aluminum and has 21-speed gears to keep you rolling on the lightweight alloy wheels fitted with puncture proof tyres that will fend off thorns and other obstructions.
Price: Rs 19,250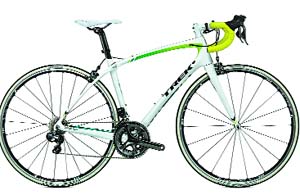 Trek Slique S
SL
One of the leading American bicycle companies, Trek makes a series of adventure-oriented bikes. Among its best is the Slique SSL model for women which comes fitted with an innovative decoupler and a ride-tuned frame that delivers the perfect balance of smoothness and power. For those who like adventure, this is a great bike to ride fast, climb high, and go the distance.
Price: Rs 3.96 lakh