Art & Soul
Early photographs from Mewar
The photographs of royalty in a new publication take us into the world of early photography in the state of Mewar, besides archiving the period


B.N.goswamy
Documentation and preservation, it would seem, are on my mind these days. Just a fortnight ago, I spoke of the desperate need for it, recalling the credo of a great anthropologist-teacher like Alfred Buehler, who had worked in India. And now I am back with the theme, speaking of it against the background of a fresh new publication that takes us into the world of early photography in the state of Mewar. But then it seems to depend at least partly on where I have been recently, or what I am reading. I was in Udaipur a few days ago for my own research, and had been at the same time going through Long Exposure, a volume put together by Pramod Kumar KG and his Eka team on The Camera at Udaipur. A connection was, therefore, naturally made.
For the volume, filled as it is with an inviting range of photographs taken of the royalty and others — involving antique processes like albumen, platinum and gelatin silver prints — by different photographers speaks of far more than processes and techniques: it speaks of documentation. And evokes for us a picture of the social and cultural context — 'a complex world of hierarchy, power, symbolism, and pride', as the authors say — to which these photographs belonged.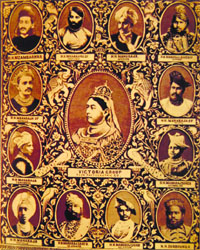 Victoria Group.From an album of the royalty of India from the Bombay Presidency. Albumen print, ca. 1887. Attributed to the Poona Photographic Company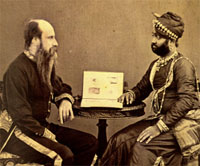 Maharana Shambhu Singh of Mewar with the British Resident, Major Nixon. Albumen print, ca. 1865. By an unidentified photographer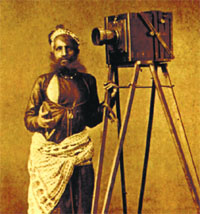 Unidentified Photographer standing by his camera. Albumen print, ca. 1875. Probably by Mohan Lal, photographer, or by Seth Kanak Mal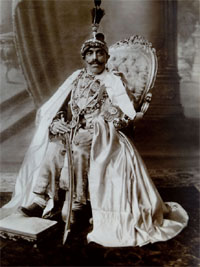 Maharana Bhupal Singh of Mewar wearing the mantle collar and insignia of the GCSI. Gelatin silver print, ca. 1931. Devare & Co. photographers
There in this volume they all are: members of the ruling dynasty of Mewar from Maharana Swarup Singh (ruled 1842-1861) all the way down to Maharana Bhupal Singh, who was on the gaddi during the stirring days of India's freedom in 1947; British residents and visiting dignitaries; princesses and courtesans; names of famous photographic firms like Bourne & Shepherd, Johnston & Hoffman, Ritter & Molkenteller; pioneering local Indian photographers like Mohan Lal and Seth Kanak Mal. But they are not here by chance or accident. It is because so much of the work at Udaipur was documented, visually and verbally. When the team that has put together this volume, and the exhibition to which it serves as a catalogue, began their work, they came upon "several boxes full of photographs" in the City Palace Museum of Udaipur. Several thousand loose photographs, folios, and framed images lay there: "cartes-de-visite, glass-plate negatives, card photographs, prints made using different processes, panoramas, Stevengraphs, stereographs, platinum prints, painted photographs, photomontages, and collages …"
There also were old cameras and photographic equipment used by early court photographers. Clearly, rich if fading material was around. Upon searching, the team also discovered entries in the daily diaries kept at the court — the haqiqat bahidas, as they are locally called — that touched upon photographic activity. The length and the texture of these entries naturally varied.
Examples? A one-line note, recording the date, according to the Vikrami calendar then in use as "V.S.1919, Magsar v(adi) 2", saying: "Agent Eden, a doctor and a photographer: visited." But also, on V.S. 1925, Sawan v(adi) 2: "A picture was taken in Khush Mahal, then a picture was taken astride the horse 'Sovan Kalas'; then a picture was taken seated on a throne inside Khush Mahal, and then seated on a chair." All these relate to the reign of Maharana Shambhu Singh (ruled 1861-1874). From a bahida kept during the reign of Maharana Fateh Singh (ruled 1884-1930), some entries were of even added interest, for they spoke of the visit of Raja Ravi Verma, the celebrated painter and photographer from Kerala, to the palace. On V.S. 1957 (which works out to 1900 CE), chaitra v(adi) 13, thus, the following entry was made: "Artist Ravi Verma from Travancore came with his brother and son. Touched feet of Maharana Fateh Singh". And on V.S. 1957, Asarh s(hudi) 5: "Painter Ravi Verma was given farewell. Was presented with a sarpao of Rs. 50 and a necklace (kanthi) of Rs.250. His brother and son were presented with sarpao of Rs 40."
There is texture in this information, and in entries of this nature. But what makes one stop and stare at the same time are the riches of photographs in the volume. Ruler after powerful ruler looks directly back at us, dressed in regalia, seated in state; a British resident sits across the table from a Maharana with an album of photographs between them, as if discussing images or personalities; a Maharani stands — surprisingly, one must say — gun in hand, towering above a tiger that she has shot; courtesans of different hues and strata pose in front of the camera, hands confidently resting on backs of easy chairs or fake studio pillars; princes from neighbouring states show up, holding flamboyant swords, flanked by attendants.
Several things stand out from these images, some of them bearing the unforgiving marks of time or neglect: tears, scratches, fading, and all. One, that in the portraits nearly everyone, even including a celebrated state poet/historian like Kaviraj Shyamaldas, who wrote the classic Vira Vinoda, seems to strike a studied pose, designed to reflect, whether seated or standing, pride and self-assurance, if not actually hubris. Two, that everyone, or nearly everyone, wears something close to a scowl on the face. At any rate, no one seems to smile. This could, of course, be due to the long exposures that those old cameras required, but the fact stands out. Three, that the shadow of 'the Empire' looms over so many of these images, evidently because the coming of photography to India close to 1840 coincided with British dominance over our land. But it is all fascinating in the extreme. A period springs to life.
On the cover is what can be called an 'iconic' picture: a photographer of typical Mewari dress and appearance — flowing beard, short turban, long jama-like gown worn over tight pyjamas, slip-on shoes and a loose sheet worn around the waist like a cummerbund — standing next to a tall tripod on which a large old camera is mounted and which he is steadying with one hand. It is all in ageing sepia, but perfectly clear. What is not clear is whether this is the portrait of a locally known photographer, Mohan Lal, whose name appeared on a descriptive label but was then crossed out. Uncertainty hangs in the air: we know something but there are gaps in our information. But then, one supposes, that is in the very nature of documentation.