A spiffy take on the life of a phenomenon
Reviewed by M. Rajiv Lochan
MGR A Biography
by Shrikanth Veeravalli Rainlight, Rupa.
Pages Rs 295.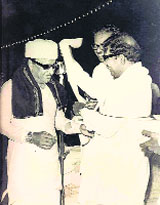 MGR with his friend Karunanidhi. A file photograph
M G Ramachandran. Most people in North India born in the past three decades would not know anything of this wonderful man. Son of a Malayali magistrate, born in Sri Lanka, Ramachandran lost his father at the age of two. Driven away, his widowed mother worked as a housemaid at Kumbakonam. Ramachandran was educated in theatrics because that was the one big opportunity for his mother to ensure that he and his older brother managed to get three square meals a day working as apprentices with a theatre company. There were two great qualities about this young boy who did not have anything going for him in the world.
One, he was a great maker and keeper of friends. Two, he was extraordinarily devoted to the work at hand. Both qualities came in handy for doing great things in life. The one thing that he wanted to do in his teens was to become a hero. In that he succeeded magnificently simply because of his knack of being able to influence people and win friends. Of course, the fact that he could essay complex roles so easily also helped.
He joined politics simply because his friends were in politics too and that seemed to be the only solution for the kinds of problem that he faced when young. It was a matter of chance that he ended with the Dravida movement. Once in, he gave himself wholly to the movement even while not being able to fully follow the rather aggressive and rigorously ascetic and atheistic Dravida ideology propagated by its founder, E V Ramasamy Naicker.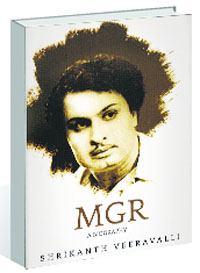 This book provides a quick view of the wondrous phenomenon that was MGR. The story of MGR is told with a flourish as befits the man who won the hearts of millions of Tamils and continues to have a place of honour in Tamil memories. Often critics have wondered how a mere film actor, howsoever popular, could hold the people thus. What they forget is that MGR was someone who did a lot of things for publicity. However, even his severest of critics conceded that throughout his life, everyday, he was also helping someone without making it public. There were enough people in Tamil Nadu who could vouchsafe for this man being a good and helpful man. For North Indian readers this sensitively done book is also a great introduction to the manner in which the society in the south is organised, the caste system in Kerala, the manner in which drama troupes were assembled and above all, the matriarchal system which means that the 'M' in Ramachandran's initials stood for his mother's surname-'Marudur'. The most important part of the book is its interweaving of the history of the Dravida movement with the life of M G Ramachandran.
Many of the more popular aspects of MGR's life are recollected. A passing reference is made to his numerous love interests, none of which is considered to be "immoral". If anything, the biographer tells us that despite having so many nubile ones hanging from his coat-tails, as it were, MGR was one to expressly stand for morality in public conduct as well as in private.
MGR's greatest conquest was not JJ (of whom we shall remain mum as does the author) but Karunanidhi, the journalist working with the mouth piece of the Dravida movement. MGR got him into writing scripts for films. Karunanidhi went on to become a star politician in his own rights. For a while, the two friends worked together. Then they became sworn enemies. Both of them fighting for their own version of the Tamil people. In Karunanidhi's version only Tamils mattered. MGR preferred to take everyone along and remain with the larger Indian nation. The resultant struggle shaped the future of Tamil Nadu for almost three decades. If we consider J Jayalalitha as carrying on the legacy of MGR then that path of growth continues even today, after 50 years of MGR initiating it. Written in a easy style, this book is worthy of the man whom it describes.