A dishful for vegetarians
Reviewed by Priyanka Singh
Hymns from the Soil
by Vikas Khanna. Bloomsbury India.
Pages 417. Rs 1,599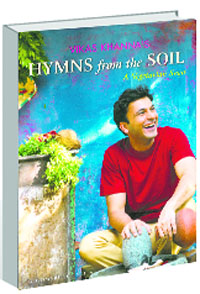 Yawn. Another cook book that promises to change your humble vegetarian world as you know it —the banal paneer, ubiquitous dal makhani, cucumber raita. After all, this is what excites vegetarians at the dining table. But what makes this book different? To begin with it has been put together by celebrity chef Vikas Khanna, who assures non-meat eaters that the choices aren't limited; that there is a culinary life beyond aloo-gobhi, bhindi, baingan. One is sceptical, but when the word comes from the Michelin-star awardee and Master Chef-fame food master, you want to sit up, and take note. (His drop-dead looks help, but that really is beside the point!)
Vikas leads the grass eaters into a different realm — a world of balmy aromas, potential variations, mixed spices and herbs. He assists a peek into paradise, away from the monotonous usual. This world is exotic, combining delightful flavours and textures that surprise the palate. The proof of the pudding is in the eating. Feeling "chef-ish", I decided to take him on his word and entered the promised world donning an apron and carrying his tome. I settled on okra (bhindi, another dearie) with yogurt garlic curry. Okra is in season and the recipe called for only a few ingredients, just right for a sample — a simple dish that can be whipped up in a few. Quick to put together and looking like a lot of labour, the dish was interesting. (A little tweaking would help those watching their calorie intake. The okra slits can be zapped in the microwave instead of being deep fried).
The world he conjures is magical; an ode to the soil. The lovely shots of vegetable vendors capture the essence of India (Michael Swamy's photography is splendid). Vikas opens his heart as he writes about his small kitchen garden, his 'temple of pearls', and his childhood experience with his Biji, his mentor. Among the drinks, "Hibiscus and vanilla iced tea", "Pomegranate honey tofu smoothie", "Winter cardamom mocha", "Lavender and cucumber crush" and "Cucumber pineapple cooler" are refreshingly novel and pack nutrition. Move away "boondi" and pineapple raita; there is a twist to the modest staple — "Crispy spinach raita with pomegranate", "Tamarind and eggplant raita", "Sprouted lentils and cumin raita".
The book is a work of love. Every section is preceded with a forward, in praise of all that lends itself to the experience of good food. The instructions are elementary which make them easy to follow. Perhaps the only oversight in an otherwise creative book is the lack of local names for vegetables in the glossary. So while one may pass up "tamarind-cumin scented colocasia root", mistaking colocasia for an exotic vegetable, it is actually the humble "arbi"; and worth experimenting with. But with Google at hand, that can be taken care of as well.
Vikas dedicates the book to his gurus "who taught me how to cook and roll breads. And most importantly they were all vegetarian. They truly showed me the power of food and love". He begins and ends the book with a tribute to motherhood. His hymn to mothers is a salutation to nature while "It takes a million hands to feed a child" is every mother's story — "That loving wrinkled hand which gently breaks away, a little piece of bread and blows cold air to make it cool". The title of the book could not have been more apt. From starters to soups, salads, mains, rice dishes, breads, chutneys, lentils and drinks, the book with over 100 recipes is worthy of adorning the kitchen shelf, making possibilities come alive as spices fuse and vegetables blend to form new delicacies fit for a king. Be careful not to stain the book with "masala" though. This one is for keeps.