food talk
Salad days are here again
Pushpesh Pant

There are some friends of ours who during the scorching summer make it a habit of sustains body and soul on a salad diet. To be honest their salads go far beyond fresh green tossed salad. As a matter of fact, quite often the greens are missing entirely and fish or fowl along with bits of cold or hot contributions from the goat family enrich their light, nutritious repast. Recently we were served an assorted salad thaali that left not much to be desired. It had adapted Russian, Hawaiian, Waldorf and Chicken salads to the Delhi palate but we aren't complaining. Do try this one out and don't hesitate to improvise.
Method:
Vegetarian salad
Put the eggs and mayonnaise in one small bowl. In another slightly larger bowl, put the apples with half the potatoes and walnut kernels along with half the yoghurt and half tsp mustard a little salt. In the third bowl mix the beetroot, the remaining potatoes, pineapple slices, pieces of cheese and the carrots. Season with salt and a little mustard.
Non-vegetarian
Heat the oil in a skillet and add the crushed cloves of garlic and stir-fry for 30 seconds, add sliced onions. Saute till golden, add liver and kidneys. Stir fry for two to three minutes and no more. Season with salt. Before removing from flame, add a tbsp of barbecue or Wooster sauce. Mix chicken with some vinegar and honey, sprinkle salt and pepper to taste. Add little yoghurt spiked with French mustard. Put different salads in a platter in different compartments. Dig in and reclaim your salad days!
Salad platter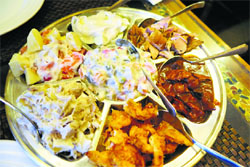 Ingredients
Potatoes (boiled, peeled and quartered) 200 g
Apples ( peeled and cut in chunks) 200 g
Beetroot ( scalded in boiling water for a couple of minutes scrapped and diced) 100 g
Pineapple tidbits or slices (cut into bite-sized pieces) 100 g
Carrots ( slightly boiled and cut in small chunks) 50 g
Sweet green peas (boiled) 50 g
Hard-boiled eggs ( shelled and quartered) 2
Walnut kernels 50 g
Processed Cheddar cheese 100 g
Boiled chicken breast ( boneless, shredded) 100 g
Liver (cut into bite-sized pieces, washed well and trimmed) 100 g
Kidneys (washed and trimmed, halved) 100 g
Salami (optional) 50 g
Medium-sized onion (sliced fine) One
Cloves garlic (crushed) Two
Mayonnaise 3 tbsp
Hung yogurt (whisked) 100ml
French Mustard 1 tsp
Olive oil 1 tsp
Barbecue sauce 1tsp
Vinegar (malt preferred) 1 tsp
Honey 1tsp
Oil 1 tbsp
Salt to taste