Reel vs real Punjab
What Punjabi films have been doing is either representing the ultra-rich class and projecting an unrealistic, shining image of Punjab by making comedy and romantic films or imitating Hindi films
Gagandeep Singh

The period of turmoil in Punjab in the 1980s and early 1990s damaged Punjabi cinema severely. The industry was revived in 2002 with Jee Aayan Nu directed by Manmohan Singh. A huge success to the film brought a new life to dying Punjabi cinema. As a result, 24 films were released only in 2012; whereas the number of releases surged to 42 in the 2013. Meanwhile, the Punjabi film industry seems to have become one of the most lucrative film industries in India.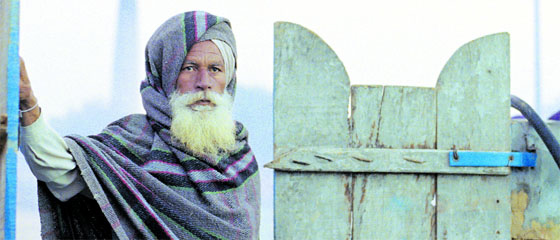 Left and below: Stills from Anhe Ghode Da Daan
---
Art & Soul
Early photographs from Mewar
The photographs of royalty in a new publication take us into the world of early photography in the state of Mewar, besides archiving the period
B.N.goswamy
Documentation and preservation, it would seem, are on my mind these days. Just a fortnight ago, I spoke of the desperate need for it, recalling the credo of a great anthropologist-teacher like Alfred Buehler, who had worked in India.

Broad brush
---
Fitness
good health
Brace-up to beat the blues
Depression is usually caused by some chemical-imbalance in the brain. However, some digestive disorders, nutritional deficiencies, thyroid disorders can also cause this malady
Mickey Mehta
Depression is defined as a clinical ailment which needs treatment by medical experts and proper medication. It is not something that one should take lightly; rather it is a matter of concern. Patients who suffer from depression may have suicidal tendency, can be extremely moody and/or can suffer from delusions.
---
Society
Better holidays without camps
More and more parents are realising the importance of the summer break as an opportunity to spend both quality and quantity time with their children. Bonding with family is more beneficial than summer camps
Aditi Garg
What do you relate summer to? It appears, it depends a lot on how old you are! If you grew up in the 1980s and 1990s, it was a time to look forward to a long break spent eating dozens of mangoes with the whole family every afternoon, a time to look forward to the annual family vacation, sleepovers, getting up really late and, borrowing and reading all the comics available at the local book store.
---
Travel
A road to serenity
Jageshwar in Uttarakhand has around 100 temples dated between the ninth and the 13th century
Niku Sidhu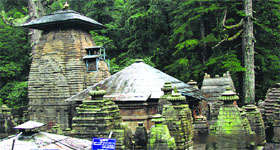 Jageshwar Temples stand out as a unique cluster for more reasons than one. Set among the intimidating evergreen deodars of the Kumaon hills, the approach is peaceful and smooth, unlike the burgeoning masses one encounters en route to other pilgrimage hot spots. The road that forks off the state highway sets your mind space into meditative mode.

Most of these temples are maintained by the Archaeological Survey of India


GLOBETROTTING
---
Entertainment
Big is better
Many small screen actors have
re-invented success on the big screen and have moved smoothly from television to cinema
Shoma A. Chatterji
How many Indians remember that Vidya Balan, who is now one of the top star actresses began her career with Hum Paanch on a satellite channel? But if one has to scan history, Shah Rukh Khan remains the biggest Indian star ever to have emerged from television. His first serial for Doordarshan was in Fauji followed by Circus.
New voice in Bollywood
With many hit numbers under her belt, the talented India-born Canadian playback singer Jonita Gandhi has achieved much despite the fact she entered the film industry just a year ago
Surekha Kadapa-Bose
She is on a roll. And she is just a-year-old in the Hindi film industry. Four songs in a year for the legendary composer A. R. Rahman — even veteran singers dare not dream of getting it. But this young India-born Canadian girl, Jonita Gandhi has achieved it.
---