SOCIETY
Better holidays without camps
More and more parents are realising the importance of the summer break as an opportunity to spend both quality and quantity time with their children. Bonding with family is more beneficial than summer camps
Aditi Garg
What do you relate summer to? It appears, it depends a lot on how old you are! If you grew up in the 1980s and 1990s, it was a time to look forward to a long break spent eating dozens of mangoes with the whole family every afternoon, a time to look forward to the annual family vacation, sleepovers, getting up really late and, borrowing and reading all the comics available at the local book store. For the current generation, things are a lot different and summers are not a break anymore but a time to put in extra effort to get ahead in the race to perform better in studies, sports and art, aiming for perfection and not enjoyment.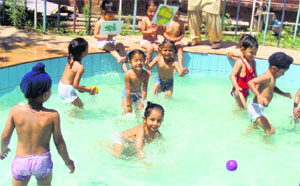 Summer camps are okay but children should be given an oppurtunity for free play. Tribune photo: Nitin Mittal
The time for summer camps is here and it is ready to turn everything into learning and learning into a nightmare, with performance being the only aspect worth considering. By taking the fun out of learning and reducing the time for free play and discovering by self to nil, kids are gaining in terms of skills required for good marks but losing out on a precious thing that will run out before you realise it — childhood.
Summer of content
An increasing number of parents are realising the importance of the summer break as an opportunity to spend quality and quantity time together. Divya Jaggi, mother of a nine-year-old girl and a 10-year-old boy from Panchkula, says, "I look forward to the summer break and so do my kids. It is the time when all our long awaited projects take shape. From making beautiful envelops to creating bookmarks and paintings, there is plenty of time to indulge. It gives us a sense of being close like nothing else does." She also invites her friends' children to be a part of the fun and they too await this experience. Having studied fine arts makes her projects stand out from the routine stuff the kids do at the summer camps.
Time to do hands-on work
Nidhi Kansal has two sons who are a bundle of energy and in order to put this to best use, she keeps them engaged in a number of activities. For one, instead of handing over the projects that they get from school to outsiders, they search the internet and come up with ideas to make them truly unique. Not only does it take care of the ample free time but also, being involved hands-on in the work gives them a sense of achievement and teaches them a lot of values like patience and team work. She says, "My kids and their friends get together most days and tinker with tools and create different things. Or they get busy with a game of soccer or cricket which gives them the much-needed exercise during the holidays. Anything that will keep them off the numerous gadgets makes me happy." And while they are busy, she makes sure they have enough delicious sandwiches and juices to keep junk food out of mind. Shikha Suri from Jalandhar goes a step further and gets her boys and their friends busy in the kitchen making pasta and cakes. Not only do the kids love it, the mothers are happy that they are learning to lend a hand in the kitchen.
While packing and sending your kids off to summer camps may be convenient and not a bad idea for they do learn worthwhile things there, these should not be seen as places where you can dump your kids so that they do not bother you. Answering a hundred questions, doing different things and playing with them may not seem like a fun idea to you but all those who give it a sincere try are converts and start looking forward to the time they spend with their kids.
Tips to keeps your kids busy & happy
Pay heed to their interest: This is the time to let them pursue different activities that they are interested in. Teach them how to make a friendship band, create papier-mâché jewellery, play the guitar and even make different types of paper planes with Youtube or books from a library as the teacher.
Splash time: This is the perfect time to take out the inflatable pools and let the kids wallow in water. It entails endless hours of fun and is very relaxing too.
Forge friendships: Invite their friends over to the house for a play date. Don't go overboard with the preparations and let the kids join in in the preparation of food and think up new games.
Be city wise: Don't fret if you are not going for a vacation. Take them to places around town that you have not visited before (you will surprised how many there are). Kids just want a change and their exuberance is infectious and you too will feel better.