Landmark collection

Lotus blooms and calligraphic prints depicted Korea blunt and point blank in Carolina Herrera's spring summer collection for the year of 2011. Same season, Vera Wang showed a Samurai meets Matrix in her outfits, which were a clear inspiration from sumo wrestler ropes, Kimono blouses, Eastern silks and Oriental flowers. Shanghai it was.

animal instinct : Farah Sanjana reflects the colours of flamingos from France.

Raw desire
Fresh, cool, crunchy and healthy is all you want to dig in on a scorching summer day. The season comes with its share of troubles but also plenty of fruit provided by mother earth to cool it down. Make most of the long days to make these quick, easy salads that require little or no cooking and add colour and taste on to lunch/dinner spread…
An Oriental affair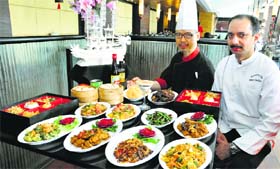 To explain the first two words of the Golden Dragon Food Festival, it is a menu tossed with the most popular dishes from Hong Kong. Although what is served on the plate looks so Chinese, at best Oriental, the chef at Black Lotus, The Taj, informs the palate only borrows influences from the Chinese cuisine.


platter full: The lavish affair at the Taj Photo: Parvesh Chauhan
green thumb
Bite into the delicious litchi
It's my favourite…litchi time! I am lured by the very sight of the fruit that is red with blush. But for God's sake, don't make the blush the colour of 'blood' seeing some of the reports in daily vernaculars where the death of a few children have been associated with litchi. Consider these news items as too premature and so far unfounded. Remember, a few months back flu had wrongly been associated with 'New Delhi'. It immensely affected our tourism.
Hope sustains life
A short film Ek Asha was released in Chandigarh on Friday. The film has been produced by Life Imaginers, written and directed by Shyam Juneja, and presented by Aashray, a NGO in Panchkula. The story of the film Ek Asha is about children begging.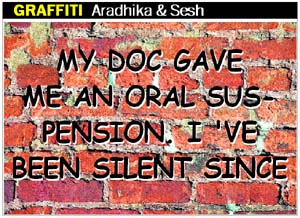 Master Chef
Terrific Tofu
Tofu is the latest food that is grabbing attention because of its nutritive value and versatility, especially due to the Chinese cuisine, but somehow we in the north of the country are addicted to our cottage cheese — the wonderful paneer! Here is a recipe that will make you like Tofu and leave you asking for more.
TROUBLE SHOOTER
Instil confidence
My 24-year-old daughter has self-esteem issues. Lately, she has become very conscious of her diet. What can I do to increase her self-confidence?
STAR TRACK


Nothing negative about Arjan


When Richa Chadda was detained


Amit teams up with Navy band


For a cup of tea!


Fitness freak
chatter box


Adaa turns positive!


Undetected move


Right in the act


Bad times