M A I N N E W S
Two border posts, 2 towns fall to advancing militants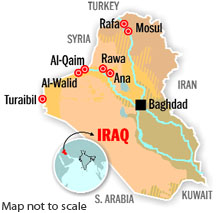 Baghdad, June 22
Sunni militants today captured two border crossings, one along the frontier with Jordan and the other with Syria, security and military officials said.
The capture of the two crossings follows the fall of four towns of Qaim, Rawah, Anah and Rutba. They are all in the Sunni dominated Anbar province.
The fall of the two fresh crossings dealt Iraq's embattled PM Nouri al-Maliki a further blow and brought the war to the doorstep of Jordan, a key ally of the US that also borders embattled Syria to its north. The blitz by the Islamic State of Iraq and the Levant in Iraq's vast western desert take the al-Qaeda-breakaway group closer to its dream of carving out a purist Islamic state straddling both Syria and Iraq.
If they succeed in their quest, they could further unsettle the already volatile Middle East and serve as a magnet for Jihadists from across the world - much like al-Qaeda attracted extremists in Taliban-ruled Afghanistan.

The Union Government has started a 24x7 helpline for the stranded Indians in Iraq. The Baghdad helpline numbers are 009647704444899 and 009647704843247.



The email ID is amb.baghdad@mea.gov.in



The Delhi helpline numbers are 011-23012113, 23014104, 23017905.



The emails can be sent to controlroom@mea.gov.in
— Agencies