Scope for Economics students
Profitable Economics
We all have unlimited wants, needs and desires and the means to fulfill these are limited. If you want to strike a balance between your unlimited wants and limited resources, then economics is a subject that would make you cruise through the fundamentals of resource planning and management. Resources can be human or other living and nonliving things in the environment. Economics is a vast area of study that explains how economies interact and work. The subject focuses on all walks of life irrespective of business and finance. Along with these aspects, it also focuses on family, crime, politics, and so on.
Cool Counsel
Art of making your goal smart
With the results of different exams already out, it is time for youngsters to decide their future goals and make efforts to achieve them. Robert Half gives a timely advice: "Laziness is the secret ingredient that goes into failure, but it's only kept a secret from the man who fails." Yes, there are many who don't seem to get anywhere worthwhile, even though they work hard. The key reason is that such people are lethargic and do not give enough time to attain their goals. Though goal setting is a powerful, ideal and motivating factor. It can enable you to realise what you really want to achieve, and where to concentrate. Goal setting enables one to spot distractions that can lead them astray. But just setting a goal is not enough, one has to back it up with diligence and sincerity.
admission scene in amritsar
Slew of new courses & opportunities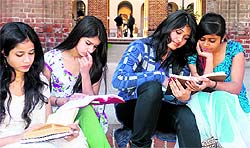 Students getting into college in Amritsar have a range of new courses to choose from as several institutes have introduced new courses. With private, government and charitable societies-run colleges competing with one other to attract maximum number of students, there is a visible spate of new courses.
first person
Serving Grace
Housekeeping is commonly referred to as 'the heart of the hotelas it has a direct and critical impact on a hotel's operations. Good Housekeeping enhances the guest experience. Although the staff providing this service does not necessarily interact directly with guests, the quality of their work is critical in shaping guests' memories. Housekeeping is no more limited to cleaning; it has much more wider spectrum now. Executive Housekeeper or Housekeeping managers have a tough job of maintaning the highest standards at all times besides handling the staff's training and motivation levels. Rachita Sood, Rooms Division Manager, JW Marriott, Chandigarh talks about the challenges of this profession.
work station
Make the best of a bad day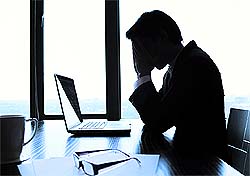 Everyone has had one of those days when nothing seems to be going your way and you feel that the whole world is against you. But a bad day at work is only going to get worse if you don't at least try and do something about it. How we respond to a bad day can just be the difference between a quick recovery and lasting damage. It may be tempting to just write off such a day from one's memory, but it's better to take action that can turn things around or at least stop them from getting worse.
smart strategy: how to impress senior management personnel
Impression that counts
You may love it or hate it, it's for real that senior management incumbents are hard pressed for time and tend to make a quick first impression. I have noticed many a times that these one-of interactions are remembered for years and may make or mar the destiny of an employee. Remember — "You never get a second chance to make a first impression, never let them see you sweat."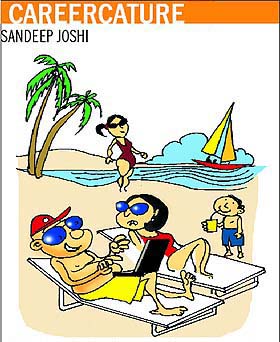 Sir, Kindly extend my leave by one week as I am trying to gauge the full extent of the ill-effects of global warming.
Hiring scene
Hiring scales maintain stability
While the overall hiring activity remained stable in May, the IT and ITES sector saw double digit growth in hiring numbers. The Naukri Job Speak Index for the month of May 2014 was at 1,600 indicating a stable hiring scenario when compared to April 2014. Yearly comparison shows a 14 per cent increase in hiring activity. According to Hitesh Oberoi, Managing Director and CEO Info Edge (India) Ltd., "Hiring activity is seeing a period of stability.