Delhi to Dhaka: Will address Teesta concerns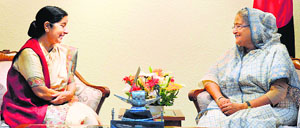 External Affairs Minister Sushma Swaraj with Bangladesh PM Sheikh Hasina in Dhaka on Thursday. PTI
Dhaka, June 26
Carrying a "message of friendship and goodwill" from the newly-elected Indian government, External Affairs Minister Sushma Swaraj today gave a commitment to address Bangladesh's concerns over sharing of Teesta waters and implementation of the Land Boundary Agreement (LBA) "in a manner that improves the welfare and well-being of people".
Assuring Bangladesh that she was aware of its concerns over these two issues, as also better border management which remain unresolved, Swaraj said the Indian government was committed to address them.
Swaraj's public statement on these contentious issues came during an address to the Bangladesh Institute of International and Strategic Studies at the end of hectic parleys with country's top leadership, including Prime Minister Sheikh Hasina and her counterpart Abul Hassan Mahmood Ali.
Her talks were described as constructive and productive. Swaraj, who chose Bangladesh for her first stand-alone visit since assuming office a month ago, told its leadership that efforts were on to evolve a national consensus on the contentious Teesta river water sharing deal. On LBA, the External Affairs Minister told her counterpart that the matter was before a Parliamentary Committee and will be given "due consideration". Swaraj informed the Bangladeshi side of India's decision to ease tourist visa norms for Bangladeshi nationals under the age of 13 and above 65 years. They will be now given multiple entry visa for five years instead of one year.
India has also decided to give additional 100 megawatts power to Bangladesh from the gas-based power project at Palatana in Tripura.
The two sides also talked about extradition of criminals and prisoners in each other's captivity and in this regard, cases of ULFA leader Anoop Chetia and Bangladeshi suspect Nur Hossain, wanted in Bangladesh for killing seven people in Dhaka's satellite city Narayanganj about two months ago were also discussed. Swaraj also announced a grant of Rs 60 crore for implementation of various small development projects in Bangladesh in the current financial year. During the meeting, Swaraj invited Ali to India to hold the next round of Joint Consultative Commission (JCC) meeting. — PTI