Be appy
From choosing a song to wake us up every morning to taking care of our nutritional diet, our day now revolves around a number of apps aimed to bring order and control in our lives
Aditi Garg


Like a genie that grants your wishes at the snap of fingers, mobile apps offer to resolve most of worries at the swipe of a finger. It is surprising how much power a small gadget, full of a variety of apps, wields over every aspect of our lives. From choosing a song to wake us up every morning to taking care of your nutritional diet, our day now revolves around a number of apps aimed to bring order and a higher degree of control in our lives. Flurry Analytics has found that the of time spent browsing on mobile phones, just 14 per cent is on the mobile browser and a whopping 86 per cent is spent on apps. If you are not already using some good apps to micromanage your routine, its time you try them out.
Home work

Most women are great at multitasking but that does not mean they would not appreciate some help at streamlining their tasks. Anyone who has tried their hand at juggling various things knows that even the best of intentions are laid to rest when you forget some important errand. Finally, there is a slew of apps that will do just this; organise, prioritise and schedule your household chores according to your preferences. These will make your to-do lists, add errands that you wish to run at a particular time every week, set reminders for important tasks. So worry no more.
Vandana Bagchi works at a leading departmental store as a manager. She is usually at her wits end by the time she reaches home. That does not stop her from being fussy about the way her house is run by her domestic help. She says, "I have downloaded Clear app on my iPhone. Although it cost me a bit of money, it is worth much more. I keep adding things to my shopping list. It sets reminders for various tasks and even my kids' after-school schedule so that I can remind my driver and maid to keep the household working like clockwork. I even set reminders for stuff that I need to pick up on my way back home. It has been truly a blessing."
Body basics
Wouldn't it be nice if someone was there to remind you to do the things that help you to be healthy. Statista, a portal for statistics, has studied the median number of apps used by Asian countries. It says Indian smartphone users clock in about 15 regularly used apps. With such an array, all kind of wishful thinking is turning into apps. There are many apps that will help you with managing your water intake, tracking your periods and ovulation and even manage your diabetes and hypertension. Enter the intervals at which you want to be reminded to have water, the date of your last period and the history of your sugar and blood pressure levels to get steady inputs about your level of hydration, your cycle of ovulation, suggestions to manage your exercise schedule and diet to keep your weight in control.
For those who have trouble falling asleep, there are plenty of apps that will help you doze off. Choose from a variety of white noise, a combination or another kind of background. Complaints about smartphones keeping you awake by constantly presenting stimulating content will no longer hold water as it can just as easily send you to your dreamland. Another app developed by Simon Fraser University researcher Luc Beaudoin, mySleepButton, uses the power of imagination by showing a series of random pictures to make you feel sleepy.
Out and about
Has it ever happened to you that after reaching the mall, you forget where you parked your car in the huge parking lot? Fret not; there are apps to remember the location of your car. While some connect to the bluetooth device of the car and remember the place where you parked, even when you forget to activate the app, and point it out on a map; others show you the direction in which your car is parked.
Safety matters
Another matter of grave concern is safety, especially for women. The increasing incidence of crime has spawned a new set of apps dedicated to security. Time spent on finding an app that keeps you safe is indeed time well spent. Through these apps you can have a text message designed by you to reach a set number of pre-selected contacts in case of an emergency which can be activated with a tap, a swipe or another simple gesture. Other apps send your location and keep refreshing your location every few minutes after the app has been activated or they act as a silent panic button for when you do not want to alert your attacker.
No kidding around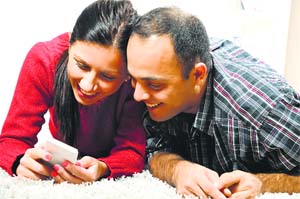 Apps are adding value to every aspect of our life be it safety, health, time management and many more
Parents these days are a paranoid lot and rightly so. They want to know about everything the child is doing at school and by connecting directly with the school. Apps come to the rescue of parents who complain about lost circulars or lack of knowledge about test dates, among other issues. A lot of schools have customised apps to connect the parents to their kids' and keep them in the loop regarding their progress. St Anne's Convent School and Vivek High School, Chandigarh and Oakridge School, Mohali are already using apps to apprise parents of their wards' performance. Divya Manocha, mother of a girl at St Anne's Convent School says, "Our school has started 'One School', an app that informs us about our child's monthly attendance, results and more, it is a great way to stay connected. Some parents did have trouble accessing the app initially but overall it has been a good experience."
Research has proved that children whose parents were involved in their education performed better than those whose parents were indifferent or not as interested. Hence, more awareness regarding the ongoing activities in school prepare parents to help their children better.

Home is where the gym is
A home gym is ideal for those who want to incorporate fitness into their day-to-day routine without stepping out of their house
Subodh Samuel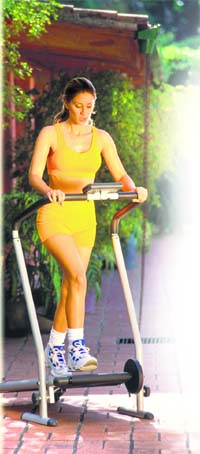 As a vice-president of an international tour operating agency Amisha Sabharwal keeps a hectic schedule. Starting work at 8 am, she virtually slogs 12 hours a day, and on returning home is ready to hit the sack. Such long and strenuous hours should have had a deleterious effect on her health and fitness. But no. The 42-year-old is slim and fit and has the energy of a person half her age. Her secret of good health? Workouts at home every morning.
Like Amisha, an increasing number of young executives are stepping on to cardio machines, elliptical trainers, stair-masters and stationary bikes to stay fighting fit. But given their tight schedule, how do they find the time to go to a gym? They don't. The gym just arrived at their home!
New-age equipment
Thanks to companies like Reebok, Nike, Adidas, Puma, Cosco, Tanturi and a host of others, the fitness market is seeing a flood of new-age equipment suited for home use. These devices, which are, sometimes, portable and, at other times, foldable and have been redesigned to fit into the home environment. Like the commercial gym equipment, the home gym contraptions, too, promise to build your abs, biceps, triceps and tone up other muscles of the body.
Last year, Indians spent more than Rs 2,000 crore on equipment like ellipticals, treadmills, abs crunchers, kettle bells, balance balls, free weights and a host of other stuff to set up their own gyms in spare bedrooms, basements and garages.
"It's a win-win situation," says Amisha. "I don't have to get dressed every morning and drive to a gym. I have the choice of working out any time of the day or night and my entire family can benefit from it." A home gym is ideal for those who want to incorporate fitness into their day-to-day routine without stepping out of their house. They can exercise at whatever time suits them and the benefits will soon start showing. The main advantage is that home gyms mean your workout will fit your schedule instead of someone else's.
In a recent study on the benefits of a home gym by the Michigan University School of Public Health, a group of 300 women over the age of 60 suffering from a variety of problems ranging from diabetes and blood pressure to arthritis and osteoporosis were given a treadmill and a few weights for home use and asked to walk for half an hour daily, do some basic weight training and avoid eating junk food.
Amazing results
At the end of six months the results were amazing. More than 80 per cent lost 3-5 kg and most women had greatly improved levels of diabetes and blood pressure with some even reporting normal readings. With the strengthening of bones through weight-training, there was significant improvement in arthritis and osteoporosis and walking did wonders to the body balance of all women, which otherwise can result in falls and injuries in elderly people.
Walking and weight training are two of the simplest exercises one can do in home gyms, which produce brilliant results over a period of time. Doctors say it is never too late to start improving your health and lifting your spirits.
So when is the right time to plan a home gym? The answer is right now. "We should adopt daily workouts as a way of life," says Manisha Malik, who runs a fitness centre in Delhi exclusively for women called Diva Fitness. "We all need a healthy exercise regimen to boost our strength and stamina."
Ideally, says Manisha, your home exercise routine should be divided into three parts — aerobics, weight training and stretching. Aerobics like walking or cycling strengthen the heart and help people live a long and healthy life, weights tone the muscles and raise basal metabolism and stretching improves circulation and body balance thereby reducing risk of injury. Ideally, a home gym must incorporate all this equipment. However, first things first. It would be advisable to measure the space you have to set up a home gym. It must have electrical outlets and a good ventilation system. Once you have done that, it would be best to consult a trainer before buying the stuff.
With treadmills and ellipticals ranging from say Rs 7,500 to Rs 60,000, it is difficult for people to know what they need. That's because there is a mind-boggling variety in the market and professional help is always welcome.
Basic requirements
According to fitness experts, there are some basic gadgets that you will need to set up a home gym that's both inviting and effective. A treadmill and a stationary bike are ideal for aerobic exercises. Other equipment can include a skipping rope, hand gripper, resistance band, stability ball, multi-purpose bench and a floor exercise mat. A fully-equipped top quality gym like this can cost you around Rs 75,000 with the treadmill and the bike accounting for a large chunk of the cost. For those on a budget, it will be a good strategy to spend effectively and buy one solid aerobic training piece, say a treadmill or a stationary bicycle and build around it with inexpensive strength-training equipment such as resistance tubing, dumbbells and other small gadgets, which are available in abundance to workout different muscles in the body. Such a gym can be achieved in under Rs 25,000.
However, there is another vital ingredient for a home gym to succeed. Studies show that exercise adherence is lowest in people who exercise all alone at home. It would be best to get a gym buddy — your spouse if you are married or a friend who too shares his or her love for exercise. A television set and a music system, too, can be powerful motivational tools for a great workout. Once you've set the home gym, all you've got to do is to slip into a tracksuit and jogging shoes and work your way on a treadmill listening to Olivia Newton John belt out Let's Get Physical!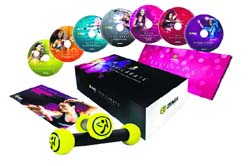 Zumba body shaping DVD set
Bigger, bolder, and edgier, the Zumba Fitness Exhilarate Seven DVD Collection Set is an amazing way to enhance your at-home fitness experience by combining raw energy with cutting-edge design, lights and sounds. It will take you on an unforgettable, exhilarating journey to a healthy and happy lifestyle. In short, party yourself to fitness.
Price: Rs 8,000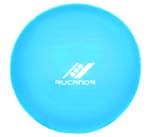 Stability ball
The inflatable plastic ball variously known as the Swiss ball, gym ball or stability ball has become de rigueur work-out equipment. It is great for curl-ups, reverse curls, ab rollers and supine leg lowering exercises. In short, a fabulous way to tone the complete body. Choose from brands like Reebok, Adidas, Nike, Vector X, Tunturi or Nivia.
Price: Ranging between Rs750 and Rs3,000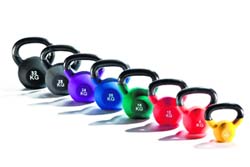 Kettlebells
Kettlebells are ideal for ramping up your functional strength, power, endurance, muscle tone, core stability and balance whilst increasing calorie burn. Though these are a total training tool and work out the entire body, these are most ideal for biceps and shoulder muscles. Some popular brands include Reebok, USI, Co-Fit, Iso and Aquafit.
Price: Range between Rs 800 and Rs 4,000

Pilates perfect
The Aero Pilates Arc is a traditional piece of equipment designed to add variety, support and challenge to your workout. The Arc features a gentle, padded curve that can be used to either increase or decrease the challenge of the exercise. It can also be utilised for body stretching exercises. Stamina is one of the top brands making the arc.
Price: Around Rs 10,000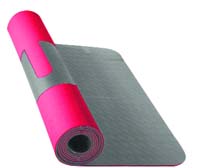 Floor exercise mat
One of the perquisites of stretching and floor exercises is a mat. This is usually a cushioned training mat, which is especially designed with thick foam that gives a comfortable surface for a complete workout of the body and eliminates risk of injury. Most leading brands like Nike, Adidas, Reebok, Harbinger, etc. make excellent mats.
Price: Ranging between Rs750 and Rs2,500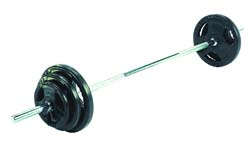 MUSCLE CRUNCHING BARBELLS
Enjoy the versatility of gym equipment from the comfort of your own home with the barbell set. Equipped with four one-kilo plates, four 2-kilo plates with two handles and collars, the set allows you to work with a variety of interchangeable weights in one easy-to-use set. These feature ergonomic grips, comfort handles, and rubber trim collars.
Price: Rs 3,000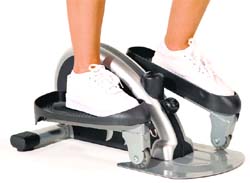 Stamina in-motion elliptical trainer
You can enjoy a full cardio workout in the comfort of your home or office with the stamina in-motion elliptical trainer. Unlike full-size ellipticals, this trainer doesn't have arms or a front console. Instead, it is essentially a pair of foot pedals with a chassis that's small enough to store under a desk or in a cupboard and a great exerciser.
Price: Rs 7,500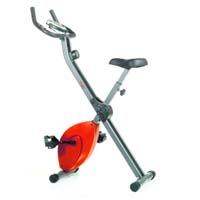 Stationary exerciser bike
Ideal for a home gym, the stationary exercise bike is a great way to keep fit as it provides excellent aerobics. The bike is equipped to provide feedback on distance, time, speed, calories burnt and heart rate that can be measured using built-in handlebar sensors. You can choose from brands like Lifeline, Kamachi, Nova Fit, and Domyos.
Price: Range between Rs5,000 and Rs 20,000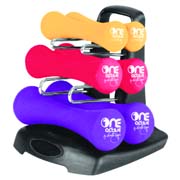 Free weight dumbbells
A free-weight dumbbell set is a great addition to any home gym and will help sculpt and tone your body from head to toe. These also help you lose unwanted fat and build up your muscles. Dumbbells ranging from one to 10 kg suit multiple fitness needs. You can choose from brands like Reebok, Viva Sports, Nivia, Turbuster and Neoprene.
Price: Range between Rs 1,000
and Rs 2,000 for a set of two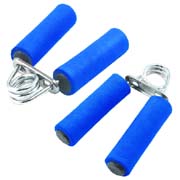 Hand grippers
Hand grippers are ideal for building your muscles around the hand and wrist area. These are particularly good in strengthening forearm muscularity and strengthening hands. These handy grippers can be used anywhere and anytime and are ideal for strengthening your grip. Popular brands include Adidas, Reebok, Lonsdale, Ecowellness and Aerofit.
Price: Ranging between Rs 350 and Rs 700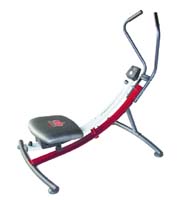 Abs cruncher
Though more suited for hardcore fitness fans, the Abs crunching machine utiliSes specific movements to target abs and obliques. In many machines, the seat slides front-to- back and side-to-side for the ultimate combination movement to give you a six-pack. Choose from brands like Proform Ab Glider, Cosco, Tanturi, Ab King Pro and Co-Fit.
Price: Between Rs 1,200 for basic cruncher an Rs 13,000 for professional model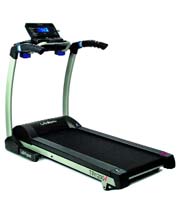 Treadmill fitness
A treadmill is one of the best fitness machines that helps you walk, jog and run in the comfort of your own home. Its handlebars let you control your speed and incline without the fear of losing your concentration or balance while adjusting your pace. Choose from a variety of brands, including Lifespan, Lifeline, Toppro, Cardiotech, Pro Fit and more.
Price: Ranging between Rs7,500 and Rs60,000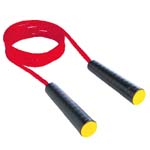 Skipping rope
A skipping rope is not just for kids. It is a great way to get fit and have fun at the same time. It is a must-have workout equipment for those seeking enhanced endurance, quick weight loss, body toning and balance. Its use keeps you physically fit and mentally alert. Go for a branded rope from Adidas, Reebok, Nike, Kaizen, Vector X or Grandslam.
Price: Ranging between Rs110 and Rs750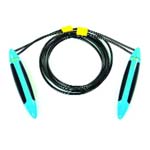 Weighted pro speed rope
The Weighted Pro Speed Rope helps you burn those unwanted calories and tone the body so that you'll work all major muscle groups in both the upper and lower body. Made of nylon with weighted handles, the speed rope makes an ideal addition to your home training routine without taking much space. Choose from Reebok, Nike or Adidas.
Price: Around Rs 2,000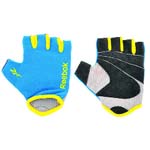 Weight training gloves
Fitness gloves are ideal for general training. These feature a stretch 'ventilator' mesh material with anti-slip surface and also incorporate wrap-around finger protection against abrasions. These are particularly designed for protecting your hands during weight training. Choose from Nike, Adidas, Reebok, Nivia, Zenith and Muscleblaze.
Price: Ranging between Rs300 and Rs1,000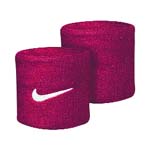 Wrist bands
Enhance your exercise experience with stylish and useful wristbands. These make the ideal sporting accessory. These are usually made from cotton and nylon for absolute durability, sweat protection and comfort. The bands are elasticated to sit snug around the wrists without causing irritation.
Top brands include Puma, Nike, Adidas and Reebok.
Price: Ranging between Rs300 and Rs800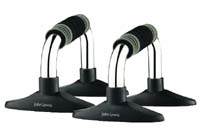 Push-up grips
Energise and intensify your workout with the Nike Push-Up Grips. With the elevated handles, you can add more strength and can exercise your chest, biceps and triceps effectively. The contoured handles have been ergonomically designed to reduce strain on your wrist. Other brands include Reebok, Adidas, Cofit, Nivia and Ecowellness.
Price: Ranging between Rs750 and Rs1,450

An agent of social change
A champion of the masses, Rashi Anand has made helping the underprivileged her life's mission. Her NGO supports women's and children's causes
Swati Rai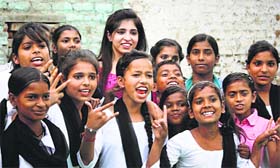 Youth icon: The young social worker has won many awards for her work
Twenty-eight-year-old Rashi Anand may look petite but she packs in quite a punch when it comes to fighting for social causes. The founder of the NGO, Lakshyam which since its birth in 2005, has been engaged in areas like child's welfare, education, health, empowerment (women in particular) and promoting practical, effective and innovative solutions to improve lives of underprivileged communities.
Winner of many awards such as the youngest social worker Nari Sashaktikaran Award, in 2013 by Navratan Foundation, the "Social Entrepreneur of the Year' by Entrepreneur India Summit 2013, the Jharkhand Ratan Award in 2012, Rashi was also the winner of the Bindaas UTV channel, B the Change campaign, Changemaker Award.
Anand talks about her journey, "I have grown up seeing my mother help the downtrodden in areas as remote as the Naxal-infested tribal parts of Jharkhand. Earlier, it was difficult convincing people that I am serious about my career choice and choice of the mission but now people have come to take the endeavour as a serious commitment to service to society." She adds, "In all our endeavours we have had like-minded people joining the cause. We have put in a lot of effort towards empowering women through life-skills courses, with emphasis on building self-confidence."
Over the years, Lakshyam has expanded its scope of activities and enhanced its efforts towards such improvement by initiating various camps, workshops and programmes like "Saksham" child-welfare programme and "Lakshyam Toy Library," with need-based approach." Lakshyam is committed to the pursuit of effective solutions to enhance the lives of underprivileged children and women and to work as credible, transparent and accountable organisation. Anand explains, "We started this programme after seeing the plight of street children playing with empty bottles, tyres and trash. We want to give the opportunity to play with toys that children from privileged households play with. We have received support from corporate houses as well as individuals." Lakshyam runs other programmes such as Butterfly to provide basic education to slum children. Anand has worked in Gujarat Environmental and Ecological Research Foundation as a programme coordinator for environmental research. She also runs Rooh, a programme to make women self-reliant. "In many communities women never belong to themselves. Their well-being and security is not in their own control. That is why I started this."

WATCH FOR THE ROLLING STONES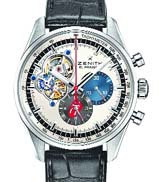 It's an unlikely anniversary tribute to one of the legendary bands of our times by an iconic watch maker. Swiss luxury watch company Zenith has re-launched its 1969 masterpiece El Primero Chronomaster as a tribute to the Rolling Stones. Inspired by the original design of the 1969 El Primero model, the new watch mimics the navy blue and grey theme, but is outfitted with updated accents and the Rolling Stones tongue-wagging logo. The dial of the watch---limited to 250 pieces --holds the Rolling Stones symbol. While it may not be noticeable from across the room, true fans of the Stones will love this unusual mixture of modern and retro design elements, stirred up with the addition of one of the world's instantly recognizable symbols of rock and roll.
Price: Rs 5.88 lakhs ($9,800)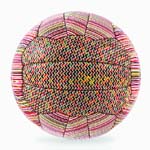 THE DESIGNER KICK-OFF
Even as the crescendo of the Soccer World Cup reaches fever pitch, British designer Sir Paul Smith has kicked off his own sporty season by launching the Signature Football in multi-coloured printed stripe motif. Limited to only 250 pieces, the leather football is set to become a collector's item as it features a mash-up of chevron and striped prints in popular Paul Smith colours making it one of the most resplendent pieces of soccer equipment matching in popularity the original Brazilian futeball. But be warned. You can't play with this football since any rough use will damage the printed leather. Exclusivity extracts its own Price!
Price: Rs 20,400 ($340)
A SUPERCAR NAMED Desire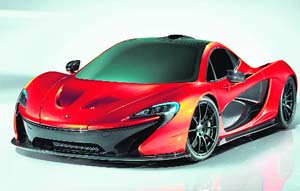 It's news many hardcore Formula One fans have been waiting for with baited breath. British high performance automobile company McLaren is unveiling its much awaited P1 Supercar at the Paris Motor Show later this year. Most car aficionados who've seen the pre-launch design aver that this is by far the best looking car in the world with a 3.8-litre twin-turbo V8 engine which would give the supercar an astounding 750 horsepower and a top speed of over 320 kmph. The car which is a result of 50 years of racing may not necessarily be the fastest in the world but it will surely be a road car with the killer looks.
Price: Expected to be around Rs 8 crore (£800,000)
IS IT TIME FOR THE iWATCH?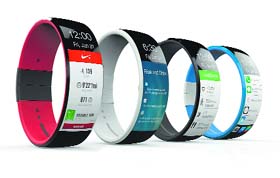 With companies like Sony and Qualcomm already in the market with smart watches, the world is now awaiting Apple's iWatch which is expected to virtually be a wearable computer with its multi-touch displays. Reports suggest Apple is planning an October launch. Made of curved glass, the iWatch will have an aluminium casing and connect to an iPhone, iPad and other Apple devices. It will answer calls that come on the user's iPhone or display SMS and E-mail messages. There will also be a built-in camera, a video-recorder and a projector to show movies on a wall. With Apple planning to make three to five million pieces a month the time seems ripe for the iWatch!
Price: Yet to be announced
HOLY SNAKES, glitter away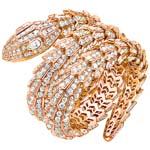 Italian jewellery and luxury goods company Bulgari has such a strong association with snakes that it has draped its flagship Fifth Avenue New York store with a giant snake. Once again emphasising its association with the crawly reptile, it has launched its Serpenti Collection in celebration of the snake-inspired jewels and watches. Comprising wrap-around bracelets, rings and necklaces, Bulgari's new Serpenti line is eye-catching and supremely elegant. The pieces in pink gold and steel are blended together in an unlikely mix that yields something both delicate and strong, while diamonds add the sparkle which Bulgari is so renowned for.
Price: Upon request
FIT FOR THE ROYAL BABY!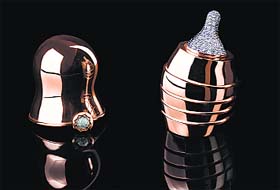 "Money, money, money, it's a rich baby's world!" If the 1980s band Abba was still singing this is how they would tweak their song if they saw creations of Spanish infant products company Suommo. The company known for its blingy kid stuff launched the most expensive baby bottle. The bottle, inspired by the Russian Matyoshka doll and clad in dazzling pink gold, is studded with the bright diamonds. The "Doll Bottle" is available in three different sizes and if you so desire the company will engrave a personal message so as to remind people that the baby was born not just with a silver spoon in his or her mouth but also studded with precious rocks.
Price From Rs 8.16 lakh to Rs 16.56 lakh ($136,000 to $276,000)
BIKER DUDE BECKHAM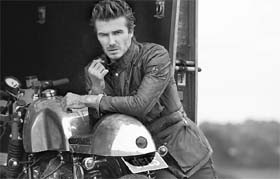 A generation ago Hollywood diva Brooke Shields made the world gasp when she delivered the infamous ad line for the Calvin Klein jeans..."Do you want to know what comes between me and my Calvins? Nothing!" Football icon David Beckham can say something similar for Belstaff, which has now reinvented itself as a British luxury label. Signing up David Beckham, a long-time biker, to star in the brand's new spring/summer 2014 menswear campaign has created waves. "My collection is a reflection of what I wear when I'm biking or relaxing. I buy a lot of vintage pieces and my collection reflects that feel." Not quite like Brooke Shields' line, but equally effective considering that the new collection is flying off the shop shelves!
Price: Rs 9,700 ($95) for T-shirt & Rs 1.17 lakhs for leather jacket ($1,950)
SLEEPING WITH THE FISH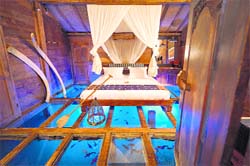 We've all heard of underwater restaurants in Stockholm, Dubai, Fiji and the Maldives, where fish swim past and air bubbles float serenely to the surface as you sip fine wine. But living with underwater creatures? That's quite another matter. Now a Bali hotel is offering an experience of the submerged kind. A part of the Bambu Inda Hotel called the Udang House is set on a freshwater shrimp pond and features a bedroom with glass flooring. Accenting the activity below is its rustic, teakwood ambience with lamps made from authentic shrimp baskets a boat paddle and fishing net by the foot of the bed. If you enjoy a seaside holiday, an underwater panorama awaits you at this unique Bali resort.
Price: Rs 13,500 per night
CHARGING GOES MOBILE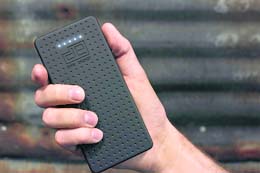 The adline says it all..."Connect with your world not with the wall." And that appropriately sums up the newly launched Dark Energy Reservoir. The slim, portable charger holds enough power to charge the smart phone for at least five times and is quicker than a wall outlet. With the ability to charge two devices at once and compatibility with any USB charging device, you'll never have to worry about running out of battery again. Whether it is a tablet or a phone, fitness band or a camera, the device is guaranteed to fit into your increasingly mobile lifestyle and expand your personal universe in more ways than one.
Price: Rs 7,800 ($130)
FLYING CHAMPAGNE
Till now we all thought drones were unmanned airborne planes extensively used in new-age warfare. They carried out missions that were deemed to be too dangerous for human pilots. But these silent flying saucers are now finding a myriad of happier uses. The Marquee Dayclub in Las Vegas, America has launched a drone for champagne delivery service for its guests. Two choice champagne bottles are fitted to the drone and delivered to guests partying at its outdoor decks. So, in case you haven't blown off all your cash in Vegas casinos, you can order Delivery by Drone. But be prepared. Though you'll be sipping the bubbly from your mouth you'll be paying through your nose!
Price: Rs 12 lakh for the full evening service ($20,000)