Where love has gone
Nirupama Dutt

The game of love continues in Bollywood with its highs and lows. Film-star romances today are making the most of it while it lasts and moving on with dignity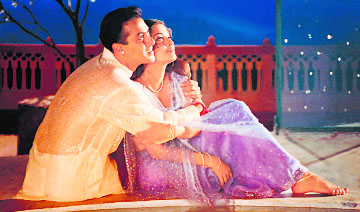 Salman Khan and Aishwarya Rai

Love anytime anywhere has always been a stormy business. In the driven, passionate and intimate tinsel world of cinema, the storms have always been aplenty. In Bollywood of the 21st century, the turbulent waves seem to be raging all around moony couples even as the life of love gets shorter and the keyword is to move on, the heart aches and breaks are not ruled out.
Of course, breaking up and starting all over again is quicker and a lot slicker than yesteryear. No more the tragic Surayias and Nandas of the one-man fame who shut out love for all times and pined their way to single existence when they did not get a Dev Anand or a Manmohan Desai. Well, Love Aaj Kal (also the name of a popular film) has to be different from what it was half a century ago with social taboos breaking and women coming out of their sexual shells. The pace is faster and the rules of the game somewhat different from yore.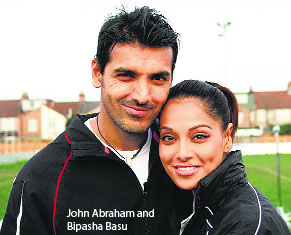 But the game of love does take its toll. Take the lovely Deepika Padukone who has been the rising star with one-hit film after another and the list of her boyfriends is a long one with Nihar Pandya of the acting school days, romances with cricketers Mahendra Singh Dhoni and Yuvraj Singh and business tycoon Sidhartha Mallya. While she left one for the other of her own choice, the recent jilting by Bollywood's whiz kid Ranbir Kapoor, her co-star in Bachna Ae Haseeno and Yeh Jawaani hai Deeewani, with the entry of Katrina Kaif in his life left her in the blues and she went on record saying how she had wept after the breakup. Deepika was smitten by Ranbir that she had RK tattooed on her back but a recent photo shoot showed that the tattoo had been removed. Wiser from experience, she has not gone to any such branding of the body with current love Ranveer Singh.
Reaffirming her faith in the four-letter word in the Karan Johar film, "If you are wondering whether the break-up put me off relationships, the answer is no."
Well said by a young star who has promises to keep. It is interesting to note film gossip columns on the Net take voyeuristic pleasure in circulating lists of lovers of famous stars. Perhaps fans want to know who is where now with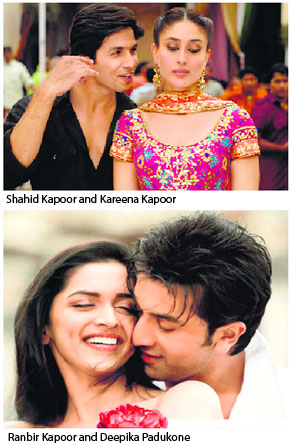 Bollywood proving to be one incestuous circle with permutations and combinations changing from time to time. But the lifetime achievement award for the longest list of broken love affairs goes to our Dabangg guy with his fatal charm. Salman Khan's romances with Sangeeta Bijlani and Somy Ali were well known. Hum Dil De Chuke Sanam (1999) was one of doomed love for Aishwarya Rai but from reel-life to real-life, they found love which ended in a disaster with Aishwarya making allegations of physical abuse and stalking and her parents slapped a police case on him. Aishwarya moved to Abhishek Bachchan, her daughter and Robert Cavalli gowns at Cannes. Salman had his share of love with Katrina Kaif, Zareen Khan, who looked like Katrina, German model Claudia Ciesla, starlet Mahek Chahel, British actor Hazel Keech and now it seems to be Romanian actor Lulia Vantur. No full stops in life of this reckless Khan.
Mention doomed love and the Shahid Kapoor and Kareena Kapoor story takes the cake with the two breaking up just when their film showing a great chemistry was released to fawning audiences — Jab We Met. Before that their kisses has been stolen on camera but the growing fascination of Kareena to Saif Ali Khan whose begum she is now and interference by mother Babita parted the Kapoor twosome. The rumour mill has it that after some more charming flings, love seems to have entered his life in the chubby frame of Sonakshi Sinha. It was giggles all the way as the two had Koffee with Karan.
The long and short of another doomed love affair: It was not Jadu hai nasha hai… all the way for Bipasha Basu and John Abraham, the Jism icons of the young film goers and long before the final break-up, the affair to remember had run into rough weather. Some blame it on Bipasha's fascination for Hollywood co-star Josh Hartnett. Bipasha, on the other hand, hinted at being cheated by him and her philosophy on Twitter is 'Love Yourself." But after Juhn's wedding to Priya Runchal, Bipasha seems to be looking the Harman Baweja way: "Stating the obvious! Yes Harman n Me r a couple :) Finally I have met a person who is a far better human being than I am. Blessed," she wrote on Twitter.
So the game of love and wedlock continues in Bollywood with its highs and lows, aches and pains but also great moments of joy and passion. So making most of it while it lasts and moving on with dignity is what the film star romances seem to be calling out for.