Writing to mould kids' lives
Vibha Sharma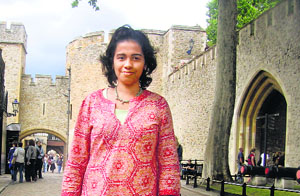 Praba Ram gets a high from weaving magic

Praba Ram is a children's writer, story-time specialist and an early literacy advocate. She started Saffron Tree — a not-for-profit, community-oriented, multi-cultural blog for showcasing eclectic children's books. In writing for children, the wonders of nature and cultural diversity inspire her the most. Her passion led her to co-author four books: Dinaben and the Lions of Gir; Subbu, the Signal; Bijoy and the Big River; and Endangered Animals of India.
How has the journey of being an author of children's books been so far?
I feel incredibly fortunate and blessed to be doing what I truly love doing – writing for children. Whenever I ponder over an idea, if the story comes to me in an almost-complete form, stemming from deep down passion for the topic coupled with a good dose of imagination, often manifested as that "recognisable eureka moment", I know that's when I'm the happiest. No doubt, bonding with children over books I write for them brings the biggest smile to my face.
How do you compare Indian kidlit with its foreign counterpart?
I'm insanely fond of picture books. So, if I have to list three things Indian kidlit have to focus on when compared to their counterparts in other countries, that would be art, art and lots of art. We have to brave new palettes in picture books, moving away from glossy presentations that are visually unappealing.
There are a couple of publishers in the South — Tara Books and Tulika Books who are unafraid to go beyond the traditional, and they've been incredible at what they do, especially in terms of art. I am proud that they're both based out of Chennai, the city I call home now.
Children are natural artists and they love to squirt, splotch, blotch and play with paints. Yes, sometimes eat them too. I can parrot slogans on the fact that there's plenty of room in the Indian kidlit scene to be more adventurous with art. We could do away with tedious, dreary narratives, and let subliminal, quieter visualisations take over. Picture books are fun for kids. Let art speak to them in a thousand different ways.
Also, there has to be a fundamental shift in the mindsets of parents and schools in India to move away from the traditional "Did-you-know?" kind of grow-your-GK books. There's no excuse not to put a beautifully crafted picture book in every child's hand. Pratham Books does some inspiring work in making picture books accessible in rural areas. I am proud that my book, Subbu, the Signal, was produced with them.
How do you zero in on a theme or topic?
Most often, a topic sets off on its journey as a spark that simply pops into my head, refusing to leave. The spark could have its source in anything – a story I made up for my kids or an article I've read, or from travel and other real-life experiences or a wild imagination. Then the idea starts to follow you everywhere like a cat, clawing on your mind. And when that happens, you know there's nothing else to do but put it down on paper, and start the groundwork needed for the creative process.
How much research goes into creating a fine and readable book?
Research is an integral part of narratives with a non-fiction heavy component. For me, research often has spill-over effects, leading me into unexplored themes. Once the theme gets established, sourcing information to support your story comes next.
The depth into which one is willing to dig for a story has to come from within. I strongly believe that stories that come from deep-down passion will steer their own direction and research and eventually reach children. All said and done, writing always takes centrestage, while research runs parallel. In my opinion, research never stops, and continues till the book goes to the press.
In which way do you want to make a difference to children's literature?
Every child needs good books to grow up with. I hope I can continue to create books that enlighten a child's mind with wonder and fun for a new place, animal, food or people.