CENTRESPREAD
Work desk gets a makeover
The desktop is smartening up. Look around, and you will see changes sweeping many posh offices. Accessories on the desk are no longer bland and pragmatic, rather have an element of fun and creativity
Divisha Saran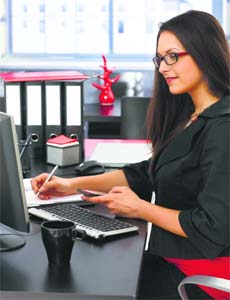 According to an old Chinese adage, a person's desktop speaks volumes of his or her personality. A neatly stacked up desk shows that the owner is organised and efficient while a cluttered one denotes disorder and confusion which could reflect in work ethics as well. Though still in its nascent stage, desk psychology in some leading organisations is now part of corporate strategy and in a small way contributes to an employee's progress. When a boss reprimands a worker for a messy desk, it shows the premium being put on orderliness in modern offices.
Trophy desks
Corporate psychologists who study the workspace say that desks can denote the position of an employee. Some bosses, for example, may have a 'trophy' desk that can include pictures of them receiving awards, their travels to foreign locales and the latest edition of cerebral journals like the Economist or the Harvard Business Review. Desk accessories may include stuff like iPads, sophisticated mobiles, digital calendars all of which indicate these are ready for the varied challenges of their job.
Lower down, employees can make do with a neat and functional desktop, which is purposeful and practical, promoting efficiency and a sense of urgency. A computer or a laptop, a penstand, notebook, table lamp and knick-knacks like a paperweight, stapler and calculator should suffice as these demonstrate a business-like attitude to work.
Interior designers say that the working area should be neat and well-organised. It should not be overloaded with stuff one may seldom use and it should certainly not have frivolous one-line stickers or fanciful accessories strewn around. Such chaos and clutter will instantly send out a wrong message of a person having a non-serious attitude to work with little or no thought for tidiness and orderliness.
Luxurious spin
So it is vital that a desk sends out the right message. These days upmarket stationery shops offer an array of accessories that not only make the desk look smart and organised but also purposeful and focussed. Many companies are also giving a luxurious spin to ordinary office implements transforming them into objects of desire and suddenly brighten up a staid workplace.
Some staplers come in the shape of alligators and other jungle animals, tape dispensers are held up by porcelain human figures, penstands are no longer just holders that look like coffee mugs without handles but are transformed into a clenched human fist which holds pens and pencils. Then, there are pencil sharpeners designed like box cameras and monitors that stare at you from smart wall mounts.
The work desk is smartening up. Look around, and you will see changes happening in many posh offices. The desk is wearing a stylish look and accessories are not just bland and pragmatic but have an element of fun and creativity.
Leading stationery companies like Staples, Levenger and Staedtler are changing the concept of common everyday office fixtures and turning these into imaginative pieces. From a paper cutter with a gold-plated handle shaped like a sword, to a porcelain pen holder studded with Swarovski.
Even leading luxury goods companies have jumped in the desk accessories space. French brand Lalique has come out with a line of crystal paperweights, each costing more than a lakh. American fashion house Ralph Lauren has launched a special desktop blotter crafted from calf hair and black leather costing around Rs 48,000.
Whopping costs
Interior designing company L'Objet's office dustbin is made from Limoges porcelain and 24-carat gold and costs a whopping Rs. 50,000. British furniture major Linley's desktop walnut pencil pot will cost you around Rs 20,000 and French home and office accessories manufacturer Christofle's 7-inch by 5-inch silver envelope tray for the office desk will set you back by around Rs 26,000.
Italian luxury goods company Paolo Guzzetta Firenze has introduced a premiere desk set collection made of full grain calf leather and ornamented with palladium. It comprises 12 exclusive pieces, including a desk pad, letter tray, double-sided picture frame, scissor and letter opener, desk clock, letter holder, tape dispenser, stapler, pencil cup, magnetic clip holder, post-it holder and business card holder costing (believe it or not) between Rs 3.54 lakh and Rs 5.7 lakh a set.
"Desk accessories are setting new trends," says Delhi-based office designer Gary Anand. "There's a growing trend to upgrade from a boring and monotonous work station to a fun and funky one. Whether it is the mouse pad, business card holder or a letter tray, every object is getting a creative makeover thanks to leading designer houses coming into the fray. They are taking boredom out of the office by introducing an element of luxury and sophistication."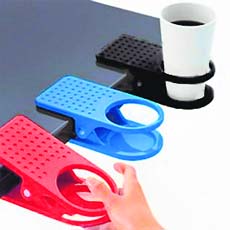 Drinklip cup holder
The Drinklip cup holder is a great space saver. Just fix it at one side of the table or desk for it to hold a range of cups or beverage cans of different shapes and sizes. It also doubles up as a multipurpose clip. It can support up to half a kilo of weight and cups or cans with a diameter up to 6.5 cm.
Price: Rs 600 for a set of four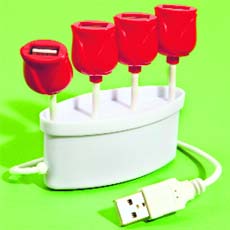 USB Tulip Hub
Turn your desk into a blooming garden with this tulip USB hub that has four high-speed ports. Each port is shaped like a colourful red flower. Compatible with USB plugs for Mac and Windows systems the hub allows simultaneous operation of up to four separate devices attached to a single USB port.
Price: Rs 2,700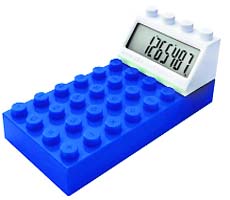 Lego calculator
Relive your childhood memories and sum up your Lego-inspired experiences with the iBrick Creative Calculator. It will infuse fun into boring calculations. It adds, subtracts, multiplies, divides and also has all kinds of memory functions. This imaginative calculator will make you feel like a kid again.
Price: Rs 1,500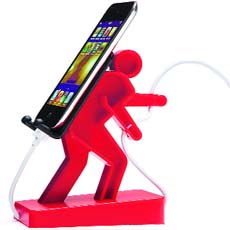 Mobile Phone Stand
The creative mobile phone desktop stand is made of plastic and soft rubber and can be used to support not just a variety of cellphones but also iPods and other handheld music players. It provides protection from scratches and scrapes and keeps the charger cable neat and tidy. Above all, it is a great desk decoration.
Price: Rs 900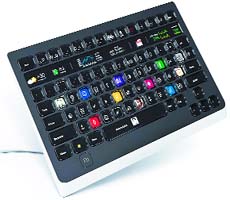 Transcendent keyboard
Believe it or not but every key on this keyboard is a 72 x 72 pixel screen that displays any image or icon for personalising shortcuts and keyboard commands. An LCD inside the keyboard converts all 77 keys into ½-inch x ½-inch displays and helps you assign an image of choice and connect to your email account.
Price: Rs 1.2 lakh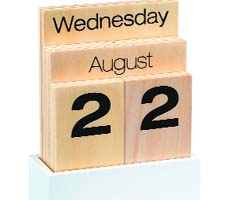 Shuffle calendar
Forget traditional wall calendars. These take up way too much space. Instead, decorate your desk with this modern shuffle calendar that literally never goes out of style and never expires. Sleek and stylish, the interactive plywood panels are arranged and rearranged to keep you up to date year after year.
Price: Rs 1,500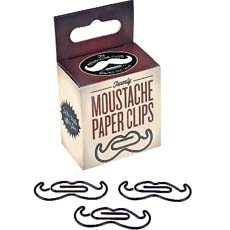 Moustache paper clips
Moustaches are no longer just grown on faces. These come in the shape of bottle-openers, key chains, necklaces, rings, bracelets, earrings, hair clips, cufflinks, footwear, bags, clocks and paper clips. These moustache-shaped paper clips will add a sophisticated touch to any book, page or magazine.
Price: Rs 400 for a box of 100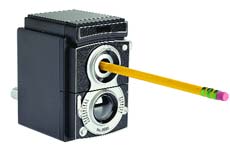 Camera pencil sharpener
Unlike traditional pencil sharpeners, this camera-shaped version sold on Snapdeal is a workspace essential you can display on your desk with pride. Insert pencil at the top, turn the handle in back and collect shavings in the lower pull-out tray. It comes with a special adjustable sharpness knob.
Price: Rs 2,125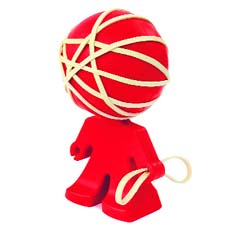 Rubber band holder
Fun and funky, this rubber band holder called Rafael is uniquely designed to be the cutest desktop accessory. This adorable rubber band holder is also a novel gift idea. Simply wrap each band around Rafael's head and in no time he'll become a multi-colour marvel and a conversation starter.
Price: Rs 900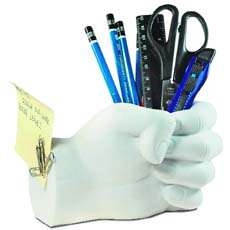 Hand Pen Holder
The hand pen holder is a very useful heavyweight pen holder that's perfect for everything from desktop supplies to knick-knacks. It has a magnetic wrist that can hold paper clips and other metallic bits and pieces. Created from a plastic and cement, it can also be used as an ideal paper weight weighing more than a kilo.
Price: Rs 1,200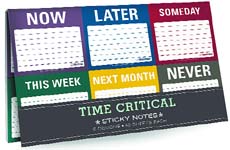 Sticky notes
No matter how much you trust your memory, ensure that even the smallest stuff gets noticed with this keep-it-simple Sticky Notes Organiser. The sticky notes can say everything you forgot to say. It also makes a great gift.
Price: Rs 250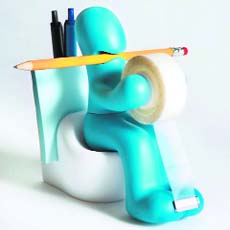 Butt Station Desk Accessory Holder
Amuse office colleagues with this playful desk organiser on sale at Amazon. The Butt Station desk accessory holder has a person perched on a toilet seat, holding a roll of tape with a tape cutter on his toes. It has a pencil in its mouth and there is more space at its back to hold more pens or a small notepad or business cards.
Price: Rs 1,200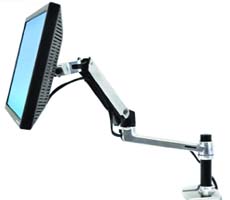 Desktop monitor mount
Sleek and streamlined, the desktop monitor mount frees up space and allows positioning of your display for greater productivity. It provides a range of up, down, forward and back movements. It routes monitor cable under the arm and increases viewing comfort. It helps reduce eye, back and neck strain.
Price: Rs 10,200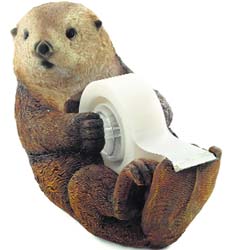 Otter-shaped tape dispenser
Your colleagues will stop to swoon over this oh-so adorable Otter-shaped tape dispenser. Lying back as if floating on water, this brown ceramic sea otter holds the adhesive roll between its clawed paws while the metal tape-cutter sits at the end of its long muscular tail. Office supplies don't get any cuter.
Price: Rs 900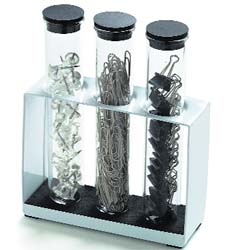 Lab-solutely organised desk supply set
Re-purpose your desk with this Lab-solutely organised desk set. It is a fun and different way to organise and store your tiny office items. In a vintage-inspired metal stand, powder-coated in white with a padded base, the 'study' set comprising three glass vials, which can be used to store paperclips and pushpins.
Price: Rs 1,500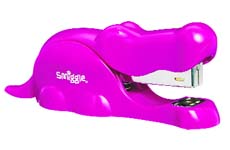 Jungle animals stapler
This cute alligator- shaped stapler from Australia-based stationery and related accessories giant Smiggle will instantly brighten up your desk space. The smooth stapler will chomp your papers together with a flourish. It has a heavy base so it sits firmly on your desk.
Price: Rs 900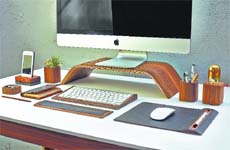 Grovemade desk collection
Most of us have monitors, keyboards, pens, and lamps on our desk. But unless purchased all at once, these all look disparate. Remedy this with the Grovemade Desk Collection, which includes a monitor stand, keyboard tray, mouse pad, ruler, pen holder, planter and lamp available in walnut or maplewood.
Price: Rs 4,800