Keeping cool, the Indian way
If we eat and dress in harmony with the natural cycle of seasons, we can beat heat and humidity. Ancient ayurvedic texts show the way in countering weather
Pushpesh Pant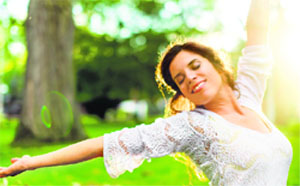 Summer holds great dread for those who love to live their lives outdoors. The sun is scorching and the hot winds that blow deter even the dour-hearted from stepping out. Staying indoors isn't any great relief either. The appetite is slack and one feels drained out throughout the day- as if some demon has sucked out all the vital energy. Truth be told, indoors are no better. This is the time when to borrow the mediaeval Hindi poet Bihari's words, "Shade yearns for some shade!" (Chhahon chahati chhahon!)
---
Art & Soul
The true blue from India
The colour indigo blue has had a pervasive presence in our culture. It is present everywhere: in paintings, textiles, and our life, in general
B.N. Goswamy
Left to myself, if I were to be asked to name a colour that comes naturally to mind as being most typical of our land, I would say 'yellow'. There obviously are different shades and hues of that colour and one sees an infinite, enticing, variety of them in our paintings, our textiles, in fact in our life in general, but 'amrasi' — colour of the juice of mango — as a single description of it covers it well perhaps. So convinced am I of this that I have suggested — unsuccessfully, I need to add — the colour yellow as a theme for doctoral research to some former students of mine; I have commended further exploration, experimentation, of it to traditional painters. But that is as far as I have gone.
Broad brush
A spectrum selection
---
FITNESS
good health
Seven stepsto health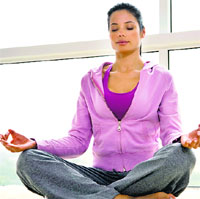 Today, we suffer more from lifestyle diseases like diabetes, cardio-vascular disease and cancer, rather than germ-based diseases. By taking charge of our health, we can take charge of life
Dr Anjali Mukerjee
GOOD health can be achieved by each and every one of us. And the means to achieve this lies within you rather than in global remedies. This is because our body has self-healing powers or 'prana' or 'bio-energy'. All that we need to do is to support the activity of this energy system by correcting our eating and living habits. As we continue to grow in technology, we create conditions that systematically interfere with our state of health.
Women more prone to chronic migraine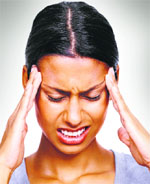 Chronic migraine affects much of the working population but 70 per cent of the sufferers are women. Hormonal changes make them more prone to the disease. However, with medication and improvement in lifestyle it can be controlled
Dr Atul Prasad
Frequent bouts of headache that often lead to vomiting, nausea, sensitivity to heat, light or sound and dizziness, migraine can be a debilitating ailment that can wreck the quality of your life, often force you to stay indoors and impact your productivity. Many people often lose out 10-15 productive hours to migraine headaches every week. Many others ignore the problem as in our general perception, it is not considered as serious as some other diseases.
---
society
Flying off the track with helicopter parenting
Aditi Garg
NANCY Arroyo Ruffin rightly said, "The best thing parents can do for their children is allow them to be who they were born to be." Every parent has the best interest of children at heart, becoming obsessive about every aspect of their performance is not justified. Sometimes they lose track and end up shielding kids not from harm but from the most important experiences of growing up and discovering the world around them.
---
TRAVEL
Changing face of Beijing
There is nothing Communist about Beijing any more when you look around. The city is comparable to any modern city in the western world
Dinesh Kumar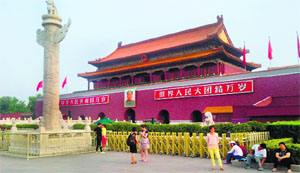 'You like lady bar?" asks the slim neatly dressed woman in broken English. "You like massage?" she persists when she gets a negative response. Both her usage of English words and the confidence with which she solicits makes it obvious that she has been doing this for some time and that there is a thriving 'market'.

A view of the entrance to the Forbidden City photo by the writer

Globetrotting
Queen's legacy
---
ENTERTAINMENT
The villain is dead! Long live the villain
With many actors readily moving on from the role of a celluloid hero to that of a villain, the true-blooded villain in Hindi cinema has all but faded away
Shoma A. Chatterji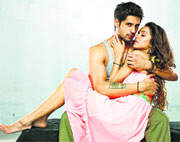 Mohit Suri's Ek Villain brings to the fore the blurring of lines between the hero and the villain in Hindi cinema. This brilliant story unfolds from the eyes of a psychopathic killer, played by Riteish Deshmukh, who kills to vent his frustration of being a complete failure and being mocked at as being worse than the xerox machine in his office.
Ek Villains
A brand of his own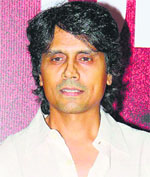 Nagesh Kukunoor, maker of films like Hyderabad Blues, Dor and Iqbal, believes that each film has its own space. His latest foray, Sapnon ki Udaan, touted as the shortest feature film and the longest brand campaign, too, tugs at our heartstrings
Nonika Singh
A brand film Sapnon ki Udaan. So, what has an independent filmmaker Nagesh Kukunoor got to do with it? After all, the man, whose distinctive voice has rung out loud and clear in films like Iqbal, Hyderabad Blues and more recently Lakshmi, can't possibly be expected to sing another man's song.
---