Field in focus: Data Analytics
Data doctors in demand
Which career is the hottest off the block at the IITs today? Which field is offering 40-50 per cent higher joining salaries to students? And, which is the exciting new field for those with a natural knack for maths and stats? The answer to all three questions is Data Analytics — "The sexiest new job of the 21st century", according to a recent report on CNBC.
Career Hotline


The road ahead to aircraft maintenance engineering


When law is on your side


Profile of a fund manager
how students of class xi can prepare themselves for the jee
Practice makes you ace JEE
The world's largest sporting carnival FIFA World Cup has just been wrapped up; it also provided some extremely insightful lessons. The people who make it on the field are case studies on their own.


CareerCature
sANDEEP jOSHI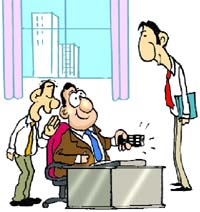 Sir, we've inserted a micro chip in his body now. He can be remotely controlled.

avenues for research-oriented people
In pursuit of perfection
It's time to deliver your promises. And the only difference between merely satisfactory delivery and great delivery is attention to detail…
career compass: jewellery designing
The jewel fuel for your career
Jewellery designing is a fascinating subject, one that makes you want to spend hours together trying to appreciate the sharp cuts of a rare gem. After all, the jewellery piece will be going to be the centre of somebody's universe.
How your social media profile affects employers
Many new generation companies are looking at the social media profiles of prospective employees and using these as a filter along with resume. Companies are especially interested in the recommendations and endorsements that candidates have on social media accounts like LinkedIn.
Cos bet on internal talent management tools
At a time when employers in India are struggling to find suitable candidates against vacant positions, HR experts are betting on internal talent management tools such as cross-functional promotions that help in resolving manpower crisis in any organisation.
Apps for positive feedback
Wondering how well things are going on the job and what your co-workers think? New apps remove the guessing game by allowing colleagues to anonymously rate each other. Knozen, a free iPhone app, allows colleagues to rate each other on traits such as assertiveness, patience, analytical ability, friendliness and skepticism.
Handling office politics important
Agility in office and surviving the politics at workplace are some of the most important factors for career success and the lack of it can put a brake on the professional career of a person even when his/her performance does not slow down, says a survey says.
bookshelf
Making the rules
This is a very accessible read for all those who are standing at crossroads of their careers and are afraid to take the next step. It compels the reader to think beyond oneself and present a newer and improved version in-front of the world. The language is simple and the logic clear.