M A I N N E W S
295 killed as Malaysian passenger plane 'shot down' over Ukraine
Was flying from Amsterdam to Kuala Lumpur; Ukrainian officials point at pro-Russian rebels
Kuala Lumpur/Kiev, July 17
All 295 people on board a Malaysia Airlines plane were killed today after the aircraft was shot down over war-torn eastern Ukraine near the Russian border, nearly four months after the mysterious disappearance of MH370 in the Indian Ocean.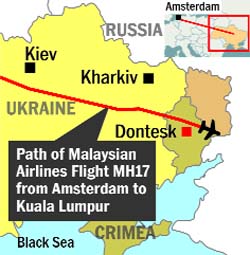 The Malaysia Airlines Boeing 777 was flying from Amsterdam to Kuala Lumpur carrying 280 passengers and 15 crew members.
"Nearly 300 persons died when a Malaysia Airlines Boeing-777 crashed in eastern Ukraine," an advisor to the Ukrainain Interior Minister, Anton Herashchenko, said.
"It was flying at the altitude of 10,000 meters. 280 passengers and 15 crew members died," he said in a Facebook post. Witnesses from the town of Torez in the rebellion-wracked Donetsk region of Ukraine told RIA Novosti news agency that the plane wreckage and dead bodies have been found in the area.
The plane disappeared from the radar and teams from the emergency services were trying to reach the scene, Russian media quoted an unnamed security source as saying. Malaysia Airlines said it lost contact with Flight MH17 at 14.15 GMT (8.45 IST).
Burning aircraft wreckage and bodies strewn on the ground were seen at the village of Grabovo, some 40 kms from the Russian border in an area where pro-Russian rebels are reportedly active.
Malaysia Airlines confirmed on Twitter, "Malaysian Airlines has lost contact of MH17 from Amsterdam. The last known position of the plane was over Ukrainian airspace". Malaysia's Star newspaper quoting sources said the plane was "shot down" while cruising at an altitude of 30,000 feet. The plane could have been brought down by a ground-to-air missile, sources said.
Ukrainian President Petro Poroshenko said: "It is not an incident, not a catastrophe, but a terrorist act… the Ukraine armed forces did not fire at any targets in the sky." — PTI
Recent crashes
July 25, 2000: Air France Concorde crashes into a Paris hotel, killing 113
July 8, 2003: A Sudan Airways Boeing 737 crashes just after takeoff, killing 116. A 3-year-old boy the only survivor
Jan 15, 2009: US Airways Flight 1549 lands in the Hudson River in New York City three minutes after takeoff. All 155 aboard survive
June 1, 2009: Air France Flight 447 from Rio de Janeiro to Paris carrying 228 passengers and crew is lost over the Atlantic.
March 8, 2014: Malaysia Airlines Flight 370 from Kuala Lumpur to Beijing loses contact with air traffic control. The flight is missing