The real world before her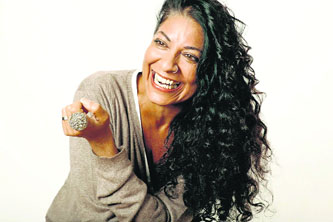 Filmmaker Nisha Pahuja's acclaimed documentary, The World Before Her, throws light on the deceptive ideas of women's emancipation through two extremes — Hindutva-driven Durga Bahini and market-driven beauty pageants
We have known, ours is a land of contradictions. Filmmaker Nisha Pahuja has picked two opposite streams modern India straddles on, for her documentary The World Before Her, to be released on Friday, July 18, at Elante Mall PVR Cinema, Chandigarh.
PHOTO: PATRICIA VON AH
In letter and spirit!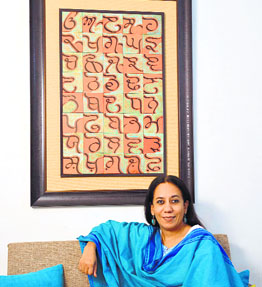 Have you ever come across udda, edda, iddi… dancing? Well, one look at calligrapher Kamaljeet Kaur's latest work and one is sure to believe that the letters can be made to follow a rhythm. Each Punjabi letter, 40 in all including the last five letters with bindi, is drawn on a 4x4-inch canvass with the delightful play of gold leaf and orange colour (or kesari, a colour revered by Sikhs) in the background. These 40 canvasses put together in a frame makes one wonder—how about unlearning the alphabet and starting fresh? Kamaljeet exhibited her works titled The Treasure (Painti Akhri) at a three-day exhibition, Opulence, in Gurgaon recently.

For Kamaljeet Kaur, Gurmukhi calligraphy is a means to connect to her roots

Stage of change
Creatively sensitising children has been his life's aim for the past two years. This weekend, Zubin Mehta, director of Wings Theatre Academy at St Kabir School, is bringing forth his annual production, an adaptation of Death of a Salesman, playwright Arthur Miller's 1949 production.
Chatter box
Up, close & personal
Mrunal Jain, who is currently seen as Akash in Uttaran, talks about his likes and dislikes.
What turns you on and puts you off as well?
Fancy cars turn me on. Mercedes and Jaguar are my favourites. Girls who are over the top and put a lot of make-up turn me off.
What attracts you in a female?
Sense of humour and beautiful eyes.
What's your alpha quality? And a girly one?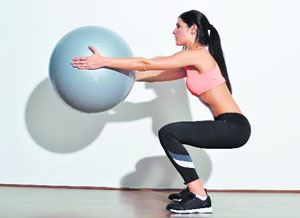 GET PHYSICAL
A leggy affair
Squats predominantly occupy the centrestage of all exercises and should be added to any kind of fitness regimen. It is not only a vital component of weight training exercises, but also an important part of interval training and core strengthening workout programme. Squats work on the lower back as well as the legs, including the buttocks.

Squats are an integral part of any itness regimen. Here are afew pros and cons…

Dhaba delight in plush ambience
Savour the original flavours of various delicacies from dhabas across the region at the Radisson Blu
The quintessential Punjabi is known for liking 'dhaba' food available at all nooks and crannies of the state and the neighbouring states as well. And to find these delicacies inside a five-star ambience is indeed a welcome surprise! 'Made in India' at the Radisson Blu is giving Ludhianvis a special treat and now we can comfortably taste a 'chicken curry Puran Singh Ambala wala style' with a Pehelwan ka Parantha inside the five-star.
Tea, on the move!
Somehow, the beverage for the takeaway has always been cold coffee. Even iced teas don't quite sound like 'grab and go' drinks. With a newly opened counter at the Elante Mall, The Bubble Tea Cafe aims to promote and associate the 'drink on the move' image with tea.
Star track
Vir's list of achievements
Actor, stand-up comedian Vir Das essays the character of a guy in quest of a perfect match in his latest film Amit Sahni Ki List. He talks to us about the film and more.
Tell us about your character.
I play a quirky character of a 28-year-old investment banker who is hunting for the girl of his dreams. He is so driven to find her that he pens down all the qualities he wants in a girl. So, in the pursuit of finding the perfect girl, you will see him with a different girl all the time. He's like a serial dater. It was a fun character to play.
New releases
Hate Story 2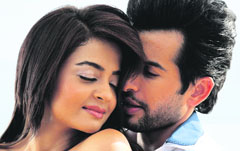 Producer: Vikram Bhatt, Bhushan Kumar
Director: Vishal Pandya
Jay Bhanushali and Surveen Chawla make a debut in Bollywood with Hate Story 2, produced by Bhushan Kumar and Vikram Bhatt. Taking the Hate Story franchise forwarded, director Vishal Pandya's movie also stars Sushant Singh and Siddharth Kher. The movie is a revenge thriller with Surveen Chawla playing the protagonist in a complete bold, sexy avatar.

A still from Hate Story 2
Astro turf
ARIES: A hazardous day. Keep your mind on the job throughout the day. Do not be tempted to day dream of what lies ahead. Be sure to get to the bank before it closes. Tarot message: Health of an elderly member will need attention.
The year ahead
If your birthday is July 18...
You'll meet people who will stimulate your creative nature and desire to show others how lively you are. You'll be an extrovert in this period and others will find your happy-go-lucky ways contagious. You'll have no inhibitions in saying what you think. The number '9' denotes mastery over all the challenges faced by the numbers preceding it. The number-9 people have an aura made up of all colours.