M A I N N E W S

Separate gurdwara panel row


Akal Takht steps in; warring Sikh groups call off conclaves
Perneet Singh
Tribune News Service

Amritsar, July 26
The warring Shiromani Akali Dal (SAD) and Haryana Sikh leaders on Saturday called off their respective conclaves in Amritsar and Karnal over separate gurdwara panel controversy.

The move came after Akal Takht, the highest temporal seat of Sikhs, stepped in to avert a possible confrontation between the two sides and directed that all conventions called by the opposing groups be called off.

Addressing a press conference in Amritsar, Akal Takht Jathedar Giani Gurbachan Singh, said; "In the prevailing circumstances, I feel that every effort should be initiated to evade a possible conflict. The latest incident in Saharanpur has added to our worries. Therefore, I direct both the parties to call off their conclaves in Amritsar and Karnal."

He said Akal Takht along with other Takht Jathedars and representatives of community will try to get the two sides on the negotiation table and find an amicable solution to the stand-off.

If the parties refuse to follow the directions, then action will be initiated against them as per Panthic traditions. He said the orders were applicable to all conclaves to be held in Amritsar tomorrow and in Karnal on July 28.

The ruling SAD responded swiftly to Jathedar's directions and said it was calling off its meeting to be held on Sunday at Gurdwara Manji Sahib Diwan Hall in the Golden Temple Complex.

Cabinet Minister and SAD Secretary Dr Daljit Singh Cheema said: "We have informed Chief Minister Parkash Singh Badal and Deputy CM Sukhbir Badal about Akal Takht's decision. They have asked us to immediately cancel the meetings in the interest of the community."

On Akal Takht's move to resolve the issue through talks, Cheema said the Akali Dal has always obeyed Takht's directives.

The SAD had called a massive congregation in Amritsar on July 27. The party had planned to launch a "Morcha" against the formation of Haryana Sikh Gurdwara management Committee. The "Morcha" was to be led by CM Badal.

Haryana Sikh leaders also cancelled their convention in Karnal.

The SGPC had made massive arrangements for the SAD conclave. It had erected huge 'pandals' outside Manji Sahib Diwan Hall and also installed LCD screens. The committee had booked around 1,500 rooms in nearby inns and hotels, besides making an arrangement for 'langar' for one lakh people. Over 5,000 policemen were deployed to take care of security arrangements.

Various bodies have hailed the Akal Takht's move to defuse tension. "It is a welcome step taken by Jathedar Giani Gurbachan Singh," SGPC member Bhai Hardeep Singh said.

Welcoming the SAD decision to call off its conclave, radical Sikh outfit Dal Khalsa said: "It will definitely reduce tension and avert a possible confrontation between the two factions."

Former DSGMC chief Harvinder Singh Sarna, Sehajdhari Sikh Party chief PS Ranu and Sikh Intellectual Council chief Dr Suba Singh also hailed the Takht's move.

Earlier, various Sikh organisations and intellectuals had asked both groups to call off their conclaves, saying it would deepen the divide within the community.

Move to defuse tension
Akal Takht ordered cancellation of conclaves on Saturday to de-escalate rising tension between SAD and Haryana Sikh leaders. Both sides are locked in a bitter stand-off over the creation of the HSGMC
While SAD had called a meeting in Amritsar on Sunday, Haryana Sikh leaders had planned an event in Karnal on Monday.
The meetings were being seen as a flashpoint between the two sides with the potential of dividing the Sikh community.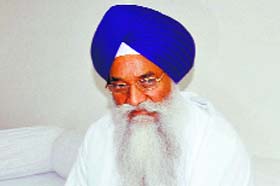 "In the prevailing circumstances, I feel that every effort should be initiated to evade a possible conflict."

Giani Gurbachan Singh, Akal takht jathedar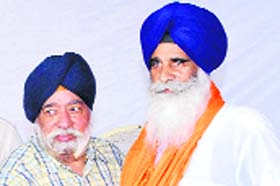 Jhinda becomes first HSGMC chief
The Haryana Sikh Gurdwara Management Committee in its first house meeting on Saturday elected Jagdish Singh Jhinda (extreme right) as its first chief. Didar Singh Nalvi and Joga Singh were elected as senior vice-president and general secretary, respectively.