M A I N N E W S
PM raises India's trade concerns with US
A day after India's veto at WTO, Modi tells Kerry not to ignore developing world's needs
Ashok Tuteja
Tribune News Service
New Delhi, August 1
In his maiden interaction with a top US official, Prime Minister Narendra Modi today told Secretary of State John Kerry that the developed world must not ignore the challenges faced by governments in developing countries while taking a stand at the international stage.
"Developed countries need to understand the challenges of poverty in developing countries and their governments' responsibilities in addressing them when discussions take place at international forums," he told the visiting US official at an hour-long meeting here.
The PM's remarks came a day after India vetoed a global trade deal at a WTO meeting in Geneva because it wasn't accompanied by a parallel agreement safeguarding food security. Kerry is believed to have told Modi that India's stance at the WTO meet had sent a wrong message.
A WTO pact to ease worldwide customs rules collapsed late on Thursday over India's demands for concessions on agricultural stockpiling.
"Failure to sign the Trade Facilitation Agreement sent a confusing signal and undermined the very image Prime Minister Modi is trying to send about India," a US State Department official said after Kerry's meeting with Modi.
Kerry, who yesterday co-chaired the 5th Indo-US strategic dialogue, was accompanied to the meeting with Modi by Secretary of Commerce Penny Pritzker. Kerry is also learnt to have delivered a letter from President Barack Obama to Modi, who is scheduled to visit Washington in late September.
According to a statement from the PMO, Kerry told Modi that President Obama attached great priority to relations with India, both for bilateral cooperation and global partnership and looked forward to a productive and fruitful summit with him in Washington to set an agenda to chart a new course in the relationship.
The PM said there was broad convergence of views and interests between the two countries. He outlined his vision for India and for the partnership between the world's two largest democracies in addressing global challenges, promoting peace and stability in the world and supporting India's own economic transformation. Modi also highlighted the opportunities for partnership in trade, investment, clean energy, innovation, education, skill development, agro-processing, youth empowerment, among others.
The PM also discussed with Kerry the regional situation, including India's engagement in Asia Pacific region; commitment to bring South Asia together in a united effort to promote regional economic development; India's commitment to continue its support to Afghanistan; and, the need to confront terrorism on the principles of "zero tolerance" for terrorism and eschewing a selective approach to terrorism.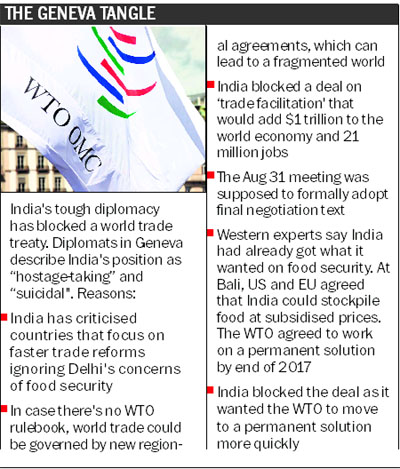 India's stand at Geneva
* The food security solution should be linked to the Trade Facilitation Agreement (TFA) ratification and the TFA must be postponed till a solution is found
* Delhi insisted that in exchange for signing the trade facilitation agreement, it must see more progress on a parallel pact giving it more freedom to subsidise and stockpile food grains than is allowed by WTO rules
* The TFA, a pact on global customs procedures, may have added $1 trillion, 21 million jobs to world economy