S. C. Vasudeva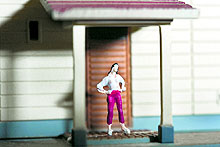 Q. My husband has inherited two residential properties — a flat and a residential plot though a registered Will made by his late father. We have a son and a daughter. My question is whether my husband can further bequeath these two properties to whomsoever he wishes through a registered Will or whether these properties are to be distributed equally among all legal heirs? Can the children of my husband's sister also claim share in these properties? — Payal
A. You have not indicated in the query whether the residential flat and the residential plot inherited by your husband from his father have been duly mutated in his name and he has become the legal owner of both the properties. Presuming that this has been done, there should not be any problem for your husband to make a Will with regard to these two properties in favour of his son. In view of the Will having been made in favour of your husband by your father-in-law, the question of distribution of these properties amongst the other legal heirs should not arise. It may not be possible for your husband's sister and her children to claim share in the properties bequeathed by your father-in-law in favour of his son unless the Will is contested by your sister-in-law/her children at the stage of mutation of the property in favour of your husband.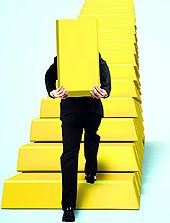 Q. What are the assets that fall within the purview of Wealth Tax? — K.L. Varma
A. Assets which are considered to be a part of the net wealth of an assessee for levy of Wealth Tax are as under:
(a) Any guest house; residential house; commercial property; and/or farm house situated within 25 km from the local limits of any municipality or a cantonment board; but excluding:
A house meant exclusively for residential purposes and which is allotted by a company to an employee or an officer or a director who is in whole-time employment, having gross annual salary of less than Rs 10,00,000,
Any residential house forming part of stock-in-trade,
Any house for commercial purposes (i.e., commercial property) which forms part of stock-in-trade.
Any house which is occupied by the assessee for the purposes of any business or profession carried on by him,
Any residential property that has been let-out for a minimum period of 300 days in the previous year; and
Any property in the nature of commercial establishments or complexes;
(b) Motor cars, other than those used in assessee's hiring business or used as stock-in-trade;
(c) Jewelry, bullion, and furniture, utensils or any other article made wholly partly of gold, silver, platinum or any other precious metal or any alloy containing one or more of such precious metals, other than those used as stock-in-trade by the assessee;
(d) Yachts, boats and aircrafts, other than those used by the assessee for commercial purposes;
(e) 'Urban land' means land situate -
(i) In any area within the jurisdiction of a municipality (whether known as a municipality, municipal corporation, notified area committee, town area committee, town committee, or by any other name) or a cantonment board and which has a population of not less than10,000; or
(ii) In any area within the distance, measured aerially;-
(I) not being more than two km from the local limits of any municipality or cantonment board referred to in sub-cause (i) and which has a population of more than ten thousand but not exceeding one lakh; or
(II) not being more than six km from the local limits of any municipality or cantonment board referred to in sub-cause (i) and which has a population of more than one lakh but not exceeding 10 lakh; or
(III) not being more than eight km from the local limits of any municipality or cantonment board referred to in sub-cause (i) and which has a population of more than 10 lakh. but does not include land classified as agricultural land in the records of the government and used for agricultural purposes or land on which construction of a building is not permissible under any law for the time being in force in the area in which such land is situated or the land occupied by any building that has been constructed with the approval of the appropriate authority or any unused land held by the assessee for industrial purposes for a period of two years from the date of its acquisition by him or any land held by the assessee as stock-in-trade for a period of 10 years from the date of its acquisition by him.
The population for the aforesaid purposes means population according to the last census of which the figures have been published before the valuation date.
(f) Cash in hand, in excess of Rs 50,000, of individuals and Hindu Undivided Families and in the case of other persons any amount not recorded in the books of account.
It may be added that there are exemptions in respect of certain assets which are contained in Section 5 of the Wealth Tax Act 1957. One of such exemptions is one house or part of a house or a plot not exceeding 500 sq. m belonging to an individual or an HUF.
The assets mentioned above except those exempted under Section 5 of the Wealth Tax Act 1957, are chargeable to Wealth Tax without any exemption. The other assets such as, shares, debentures, deposits, units, loans advanced, etc., etc. are not liable to Wealth Tax.
What are the rules on area and maintenance?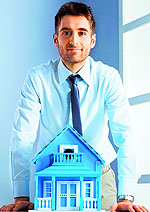 Q. My queries are as follows:
— Chander Mohan Goyal
A. Your queries are replied hereunder:
At present there are no specific rules dealing with the super area/covered area/carpet area since the government has not passed any legislation with regard to the regulation of real estate properties. The builders, therefore, have their own yardsticks for determining the super area and covered area. The carpet area of the flat is normally much less than the super area and covered area.
The builders have their own norms for the sale of the parking area. The charges for such parking area are also decided by the builders and there are no rules regulating such charges.
The clubs are generally constructed by the builders. Normally, such a club is run by a company/society. The membership of such clubs is regulated by the directors of the company or managing committee members of the society, as the case may be.
The maintenance work of flats is normally carried out by the society of residents/ flat owners which is formed by the builder for the said purpose. Here again the norms are decided by the managing committee of the society.
There are no government regulations for the issues raised by you in your query.
How can I calculate the date for LTCG?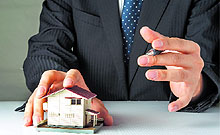 Q. I was allotted an LIG flat in Sector 29, Rohini in a DDA housing scheme in 2010. I had applied for the flat by giving Rs 1,50,000 on December 22, 10. RThe draw of lots was held on April 18, 2011. Block endorsement date and date of issue of demand letter was September 30, 2011. The date of allotment letter issued is September 16, 2011. I paid the transfer duty and stamp duty of Rs 57,549 on November 16, 2011. I paid the rest of the amount of Rs 10,92,276 on December 26, 2011. The possession letter was issued to me on February 29, 2012. I took possession on May 14,2012. The conveyance deed was completed on August 9, 2012. (Total payment Rs 13,11,425). Kindly clarify:
From which date will 36 months for making this property a long-term capital asset be calculated?
What is the tax liability if I sold the flat for Rs 30,00,000 before 36 months (if not completed)?
What is the tax liability if I sold it for Rs 30,00,000 after 36 months (LTCG).
— A reader
A. Your queries are replied hereunder:-
36 months would be reckoned from the date of taking the possession i.e May 14, 2012.
In case the flat is sold within a period of three years, any amount received in excess of Rs 13,11,425 will be treated a short-term capital gain which would be added to your other total income. Tax therefore, would be leviable on the slab rate applicable to your total income, including the short-term capital gain.
In case the flat is sold after the completion of 36 months, any profit arising on such sale (i.e. Sale price - Rs 13,11,425) would be taxable @ 20 per cent plus education cess of 3 per cent thereon. These rates are applicable for assessment year 2014-15 as well as assessment year 2015-16.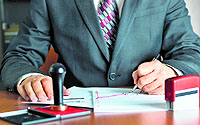 Q. I purchased a flat from Singla Builders & Promoters in SBP Homes, Sector 127, Kharar-Landran Road, district Mohali in January, 2012. This flat was purchased under a construction- linked payment plan and 90 per cent payment of the flat was paid to the developer by me before June 30, 2013 as per the agreement and the possession of the flat was to be handed over to me by the developer by June 30, 2013 failing which, interest at the prevailing rates of FDR of State Bank of India was to be paid /adjusted by the developer. However, the developer has recently offered me a possession letter (on June 26, 2014) demanding 10 per cent remaining payment along with other maintenance charges. The developer has refused to pay the interest on account of delayed possession. The clause for payment of interest by builder is clearly mentioned in the Agreement but in spite of it he is refusing to pay the same which amounts to Rs 56000 till date and may increase further in case the possession is delayed more. The flat is not ready for possession as yet due to incomplete basic work. Should I take some legal measures and demand the adjustment of interest in my full and final payment legally? Please advise. — Deepak Jjagota
A. You should refuse to take the possession in view of basic work not being complete. A detailed letter giving reasons for not taking possession as also demanding the interest due as per agreement should be sent to the builder and an acknowledgement thereof should be obtained. Thereafter, it would be advisable to take up the matter with the State Consumer Forum. The proceedings in the Consumer Forum can be initiated on the basis of a simple letter and the expenditure on court fee etc. is avoided. The matter can be argued by you personally before the forum as you have all the documents in your possession and there is no necessity to engage a lawyer for arguing the matter. It may take a little time for the matter to be taken up as normally a large number of cases are pending in the forum. However, to my knowledge the pace of proceedings is faster than the court proceedings and are also less expensive.
You also have the option to go to the competent court of jurisdiction. However, this will be an expensive proposition. It may also take considerable time on account of large pendency in the civil courts.
Can I claim rebate on loan interest before possession of flat?
Q. I had booked a flat with Army Welfare Housing Organisation in 2006 and am likely to get possession in October 2014. I had also taken a loan from PNB at the time of booking this flat. Handing over of flat delayed beyond three years by AWHO. I have been paying EMI regularly. Can I claim rebate of Rs 1.5 lakh plus 20 per cent of interest paid prior to taking over of the house. In case yes, then under what Section or rule? — Jaswant Singh Verma
A. You are entitled to claim deduction in respect of interest paid/payable on the amount borrowed for purchase/construction of an residential house to the extent of Rs 1.50 lakh in case of self-occupied property. Such deduction is available against income from house property and therefore the deduction of Rs 1.50 lakh would be admissible as and when the house is handed over to you by the Army Welfare Housing Organisation. The amount of interest paid during the construction period can also be allowed as deduction against income from house property in five equal installments beginning from the year in which the house is occupied for you. The limit of Rs 1.50 lakh is applicable up to assessment year 2014-15 (financial year 2013-14). The limit for assessment year 2015-16 (financial year 2014-15) is proposed to be raised to Rs 2,00,000 by the Finance Bill (No.2) 2014 presented on July 10, 2014 by the Finance Minister.