Ring it on
A cocktail ring is a statement piece that has a history of more than 90 years to it and is refusing to go out of fashion. Leading jewellery designers and labels are coming up with interesting versions of this beauty
Surekha Kadapa-Bose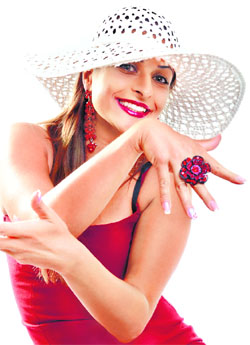 Are you in a hurry to go to office, attend meetings, lunch date, dinner party or any other event? And are you hard-pressed for time to accessorise with jewellery? Adorn a finger with a statement or a cocktail ring, and you will be all set for any event. This over-sized ring with a huge stone tucked in the centre has become a symbol of status and a permanent fixture on the red carpet. Cocktail rings are bold and the large coloured stone is often surrounded by diamonds or other coloured stones that makes it look so attractive. It is also referred to as a dinner or cluster ring.
Look at any celebrity on the red carpet — Emma Stone, Paris Hilton, Beyonce, Emma Watson, Angelina Jolie or in older times Elizabeth Taylor, Sophia Loren or back home Aishwarya Rai, Deepika Padukone, Rani Mukerji, Raveena Tandon, Vidya Balan, Yami Gautam — you will find them many a time flaunting a huge cocktail ring. The cocktail ring isn't a recently discovered element of fashion. Though it became a popular accessory in the 1950s, it entered the fashion scene somewhere in 1930s and 1940s. During the Prohibition era in the US in the 1920s, women often wore these rings at illegal cocktail parties to flaunt they were drinking in style. Then there were tailor-made rings for parties, holidays, weddings… It would also give a boost to their ego. That is how the cocktail ring came to occupy place on the right hand of a woman.
For anyone from the fashion maverick to a socialite to someone who wants to keep her style statement bold yet simple like the Queen of England or Barbara Cartland, cocktails rings became a staple accessory.
The big-sized rings add character to one's personality and set the mood for the day or the occasion. As Prernaa Makhariaa, manager, product development at Tara Jewels, says, "Every woman likes to experiment and wear something that makes her stand out in a crowd. The best part about cocktails rings is that you can wear one on formal as well as informal occasions. These are a must have in a woman's jewelry box.''
This certainly doesn't mean that these rings can't be worn by teenagers or the young. They can experiment with fashion jewellery instead of going in for expensive rings that are set with diamond, gold and other precious gems, which will suit their age and attire. Rather than matching the cocktails rings with evening gowns or saris, the young can wear them well with beaded bracelets, toe-rings or funky hair accessories. Delhi-based designer Alpana Gujaral who specialises in statement jewellery and classic designs says, "There is no such set rule for wearing the cocktail ring. Anybody can wear it with anything. It's just that one should know how to carry it."
Cocktail rings are tailor-made for occasions such as anniversary or engagements. Nowadays, cocktail rings can be worn on different occasions or even as part of a casual outfit. It can be passed on from generation to generation as an heirloom piece. It's the vintage appeal of the jewellery piece that makes it so popular. The best part of this special accessory is that one can wear it as single piece or mix it with others. At the same time, one must understand that it is a statement piece and wearing other heavy jewellery with this will reduce its appeal. In this case, less is more. It is an unsaid rule that never wear more than one cocktail ring at a time.
Pune-based designer Sumit of Apala Sumit, who specialises in silver jewellery, says, "Some outfits don't require a statement neckpiece or bold earrings. This is the time when you turn to a chunky cocktail ring to make a fashion statement. A big stone polki ring and antique silver rings are in vogue as these adds a fusion character to the look. Let your hands do the talking!"
Elaborating further Mira Gulati of House of Mirari says, "A cocktail ring is a statement piece and can be worn alone, eliminating the need of any other accessory. Alternatively, one can also pair a cocktail ring with minimal jewellery keeping the ensemble simple. In the fashion circuit, cocktail rings have become the ultimate way to make a fashion statement." So, the next time you are not too sure of how to spice up that little black dress or a red gown or a gorgeous vintage sari, add one of these coloured cocktail rings to your dressing up for a winning combination. Bold is indeed beautiful in this case.

Magic of white pearl
This timeless ring by Ghanasingh Jewellers from the Sansage collection features a stunning South Sea pearl surrounded by round, brilliant-cut diamonds in prong and channels crafted in 18k yellow gold and finished with a white rhodium polish. For any formal affair or a dinner date, you can wear it with an Indian or a western outfit.

Price: Rs 1,10,000

Animal instinct
Saint Laurent's lion ring is crafted from gold-tone brass and studded with black enamel and crystals, the embellishments spread along the band to ensure this glittering piece sparkles from every angle. A ring with animal motif always catches attention. This ring, too, will ensure that at any occassion.

Price: Rs 35,000

Say it with emerald
Make others go green with envy with this classy cocktail ring crafted in 18k yellow gold in white rhodium polish from the Sansage collection by Ghanasingh Be True. It boasts of a stunning emerald framed with round brilliant cut diamonds by Ghanasingh Jewellers. The chunky emerald will win you attention from others.

Price: Rs 1,50,000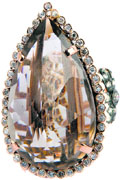 An elegant choice
The large chunky teardrop-shaped smoky topaz forming the centre is the main attraction of this cocktail ring by designer Alpana Gujral. Surrounded by white diamonds, set in yellow gold with a backdrop of oxidised silver, the antique-looking ring is for women who want to appear graceful and elegant. It can be teamed up with Indian as well as western attire.

Price: Rs 1,00,000

Fine finesse
It is a contemporary ring with the amalgamation of smoky quartz and diamond in pink gold by Sonal's Bijoux. The beauty of the ring is the smoky quartz, which is a laser-cut gem. Laser cut is a digital art of jewellery making. It is used for carving jewellery giving it a high-quality finish.

Price: Rs 78,000
Art of the matter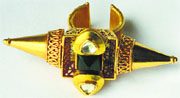 Art Deco Indian fusion ring from Apala by jewellery designer Sumit is made of sterling silver with 22k gold layering and central pyramid cut green jade. This fusion of art deco style has hand-cut geometric jali work with inward turned Indian trumpets forming the sides. It looks stylish and different from the usual.

Price: Rs 16,500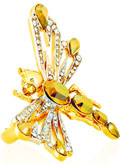 From the design house
Roberto Cavalli's gold-plated and silver-plated cocktail ring is set with sparkling Swarovski crystals, but it's the whimsical dragonfly shape that truly sets it apart. We suggest wearing this piece with a sleek black dress for any evening party or a dinner date.



Price: Rs 26,800
Dramatic appeal
Skyscraper sterling silver ring by designer duo Yunus and Eliza is a dramatic, sculptural piece and is handcrafted in their London studio. Inspired by mythology and fantasy, this skyscraper of a ring is made from sterling silver. Use it strictly as a statement piece of jewellery for maximum effect.

Price: Rs 85,000

Romance with the ruby
The central brilliant red ruby surrounded by tiny white diamonds set in rose gold is a sure winner. Red colour suits most dresses and also most occasions. Wear this open rose- shaped motif cocktail ring for a romantic dinner, a close knit family affair, or even a wedding. Flaunt it on a black dress, a ghaghra choli or a sari.

Price: Rs 1,50,000

Treasure forever
The oxidised-silver amedeo ring with the sardonyx shell and skull cameo is a witty interpretation of a traditional design. Carved from sardonyx shell and encased in a glittering border of 0.06 carat black diamonds, this precious piece will make a treasure-forever investment. Team it up with your evening wear to give an unexpected twist to your date.

Price: Rs 2,03,000

Celebration of beauty
This flower-shaped ring by OM is set in18 kt pink gold with white diamonds forming petals around a white sea-pearl, looks ethereal. It is grace personified and goes very well with Indian attire, especially saris. It is best suited for festive occasions.

Price: Rs 2,50,000

Right for all occasions
Flaunt a starfish-diamond studded, gold cocktail bridal ring with a large baroque pearl in the centre by designer Renu Oberoi. If not for the wedding ceremony, you can wear this for the reception or pre-nuptial parties. The white diamond set in yellow gold will match any attire. It is certainly worthy of becoming an heirloom piece.

Price: Rs 2,12,000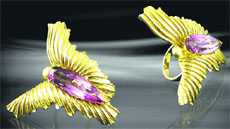 Sparkling effect
For those young at heart, this butterfly ring in 18k yellow gold with a statement amethyst stone in the centre from the House of Mirari is a must have. The long oval amethyst body surrounded by a delicate gold wing will enchant everyone. It can be worn on special occasions and can be used as daily wear.

Price: Rs 1,41,000

Keep it informal
Blue sapphires form a brilliant backdrop to the white diamond motif on this cocktail ring by Tara Jewellers. Set in yellow gold, it's a very dressy affair. It is well-suited for a formal dinner, kitty party lunch, or for any festive occasion. The sapphire and diamond combination complements all outfits.

Price: Rs 1,03,000

A dream ring
Three vinca roses studded with white diamonds and set in white, yellow and pink gold by Om Jewellers is a dream ring for any young girl. The yellow gold is known to be an auspicious metal and with diamonds set in, it will make for a beautiful piece of jewellery for a special occasion.

Price: Rs 1,30,000
When budget matters

Anything that is large, bold and attention-grabbing and worn on the forefinger of the right hand can be termed as a cocktail ring. It need not be made of precious gems set in precious metals. The segment of fashion or junk jewellery is already a hit with college students. In that case, even cocktail rings made in inexpensive material enjoy a huge demand.
Junk jewellery has a much bigger market than its expensive counterpart. As a result, cocktail rings made in wood, metal, fabric, feather, jute, paper, wood, lac, beads, crystals, colourful stones and other affordable material boast of a huge clientele. The designs range from floral, animal inspired, rodents, skull.
To hunt for these, you can visit any handicraft exhibition or roadside stalls selling trinkets. The best part about these rings is that these are very affordable and range between Rs 10 and Rs 1,000.
You don't have to follow a strict dress code to sport these. You can wear one in punk design with a tee and a pair of denims or flaunt one made in semi-precious stones at a formal occasion. The cocktail rings are showstealers for sure, so flaunt these with any attire you are comfortable in.