M A I N N E W S
English marks won't count in UPSC merit list: Govt
Candidates who took 2011 exam may get another shot in 2015
Ashok Tuteja
Tribune News Service
New Delhi, August 4
The government today sought to put an end to the language row in the UPSC examination by saying marks in English language comprehension skills in the Civil Services Aptitude Test (CSAT) would not be included in preparing the merit list.
Minister of State in the PMO Jitendra Singh also informed Parliament that candidates who had appeared in the Civil Services Examination 2011 might be allowed one more attempt in 2015. Instructions in this regard are likely to be sent to the UPSC soon.
"The government has accorded all seriousness to the issue... it has studied the matter very seriously and tried to handle it sensitively," he told agitated members in the Rajya Sabha from non Hindi-speaking states who raised a storm over the issue.
As members demanded that the question paper for the UPSC exam must be in all national languages and not in English and Hindi alone, the minister said: "I don't understand what is the confusion... we have made it (examination) language neutral."
Disputing the contention of some members that the government had only further compounded the matter by taking this decision, Singh said: "All languages in the eighth schedule are treated equally and their status remains unchanged."
There are two compulsory papers of 200 marks each in the UPSC preliminary examination. These papers are also known as CSAT I and CSAT II.
The CSAT-II paper carries questions on comprehension, interpersonal skills, communication skills, logical reasoning and analytical ability, decision-making and problem-solving, general mental ability, basic numeracy and English language comprehension skills (of class X level).
The CSAT tangle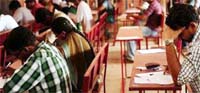 * IAS aspirants have been objecting to the level of aptitude and English language questions being asked in the Civil Services Aptitude Test (CSAT) saying these are way above the standard prescribed for the examination
* They want the aptitude test (CSAT-II) to be scrapped calling it discriminatory to those from Hindi-speaking states as well as humanities students
* The government has now clarified that marks in English language comprehension skills in CSAT will not be included in preparing the merit list