M A I N N E W S
Insurance Bill

Govt, Oppn talks inconclusive
Tribune News Service
New Delhi, August 4
Parleys between the government and the Opposition over the Insurance Bill remained unresolved today as the Congress-led Opposition, barring the Nationalist Congress Party, insisted the proposed legislation be referred to a Select Committee.
Having decided to defer the introduction today, Finance Minister Arun Jaitley and Parliamentary Affairs Minister M Venkaiah Naidu met leaders of the Opposition in the Rajya Sabha, offering to consider proposals/amendments being sought.
On his part, Jaitley contended the language and contents of the new Bill were that of the UPA and there was no major amendment to the Bill introduced by the previous government in 2008. He said most of the amendments suggested by the Standing Committee were technical, such as change of dates, etc.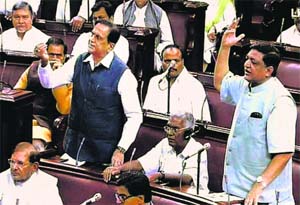 Opposition members during the Budget session in the Rajya Sabha on Monday. PTI
Congress leader Anand Sharma said his party wanted clarity on the implication of the proposed Bill on the settled definition of "Foreign Direct Investment" given the composite nature of 49 per cent FDI proposed in the insurance sector, including Foreign Institutional Investors.
Naidu suggested the Congress and other parties that had reservations about some of the proposed amendments could discuss among themselves and come up with suggestions that could be discussed at another meeting in the next one or two days.
The Modi government is keen on bringing the new Bill in the current session, a move that will send signal of its commitment to take forward the economic reforms.
But given the fact that the BJP-led NDA is in minority in the Rajya Sabha, its parliamentary managers are working for a resolution and avoid it being referred to a Select Committee.
Modi govt's dilemma
* The Modi government is keen on bringing the Bill in the current session without it having to be referred to a Select Committee, which the Opposition wants
* In case the Bill is passed by one House and rejected by the other (NDA is in minority in RS), the government can convene a joint sitting of Parliament
* But this procedure requires time and cannot fit into the current session, scheduled to end on August 14
* The Bill seeks to raise the FDI cap in insurance sector.