To hell and back
Gerrari—apparently this is the most favoured word for all Punjabi singers. The word finds a generous mention in each song. This also happens to be most adorned word for all Punjabi. And as they say, once the gerrari gets stuck, there is no way it would move easily! Gerrari Offroaders' Club from Chandigarh is stuck on winning the first edition of the Rainforest Challenge India (RFC) to be held in Goa from August 8-14.

(L-R )Ruban,Gursahib Singh,Padam,Gurmeet Virdi,Karan Bali, Kabir Waraich, Gagan Sachdeva,Tejinder,Kirpal Tung, Dushyant Khosla
Other side of the story
It is a world of animals and fairies, jungles and castles, gnomes and dwarfs, elves and clowns. Hopping onto the world of children's stories requires imagination. Where the tiger could piggy back ride to a class room and be back in his den. Where the grass and clouds could switch places and rabbits and carrots could exchange colours.
STAR TRACK
Why woman centric?
Bollywood actress Rani Mukerji thinks one should stop categorising films as male and female centric. "I think this term woman-centric is a bit strange because we don't call normal films male-centric. I think we should stop calling a film as male or female centric, it should be a good or a bad film," Rani said at the promotional event of her upcoming film Mardaani.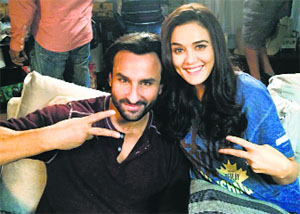 Opening Saif's ex-files
According to the latest grapevine, Kareena Kapoor Khan and Preity Zinta will be playing Saif Ali Khan's ex-girlfriends in Raj and Krishna DK's next, Happy Ending. In the film, Saif is paired with Ileana D'Cruz. Revealed a source close to the production, "The director duo was looking for actresses whose romantic camaraderie with Saif has clicked in the past.
Past magic: Saif Ali Khan and Preity Zinta

Can't take success for granted: Rohit
Filmmaker Rohit Shetty, who has delivered blockbusters galore in Bollywood and who is currently awaiting the release of Singham Returns, doesn't believe in taking success for granted and so continues to put in his "100 per cent" to his films.

Farhan reporting
Farhan Akhtar used to start his day two hours earlier than everyone else while he was shooting for Dil Dhadakne Do. Farhan had a multiple presence on the sets of DDD—as an actor, producer and a dialogue writer.
From Holiday to Entertainment business
Bollywood star Akshay Kumar, who delivered a hit with Holiday: A Soldier Is Never Off Duty, says he enjoys doing a range of movies for his fans. But he loves comedy the most. He speaks about his next release Entertainment, working with newcomers and more.
Tiger safari
Upcoming film Roar: Tigers Of The Sundarbans gives you a sneak peek into the world of the beautiful yet dangerous tigers of Sundarbans. The film takes the audience to a place where only a few men dare to enter.
Bromance in Bucharest
Arjun Kapoor is chilling in Bucharest in Romania with Ranveer Singh who is over there shooting for Dil Dhadakne Do. Arjun went after wrapping up Tevar. Ranveer said that he was admiring the beauty of Bucharest while 'baba' was admiring the beauties of Bucharest.
Par Excellence
Putting — start the ball on the intended line
As mentioned in the previous article, good putting has three basic ingredients - getting the ball rolling as soon as possible on the intended line with the correct speed. Getting the ball to start on the intended line depends on the position of the face at impact, the path of the putter and the centeredness of strike. The position of the face and the centeredness of strike are more important as compared to the path.
Gown syndrome
There's blue, orange, green, red, white, pink and of course black. And why not? We need all the colours to suit every occasion and body type. Gowns might not be an Indian silhouette, but they suit the Indian body type just fine. "Indian women are heavy on the bosom and at the bottom, and these areas are not hidden very well in jeans or skirts. Gowns easily hide all the body flaws, which is why I promote them," shares designer Priyanka Khosla, while showcasing all the possible types displayed on racks. "I started with gowns because the ones already available in the market were not up to the mark…we have bridal gowns with trails, semi-formal gowns that are as wearable as a maxi, there are some with all the different cuts for the kitties."
For the record
Adding to the array of already existing Punjabi music production companies, here's another record label that swears by its authenticity and merit to bring forth the hidden talent of Punjab. In conversation with Jacie Saini, Gurvinder Singh Happy and Bai Darshi, the owners of the company, Real Record, we stand acquainted with their prime concerns, one of which is exploring the region and discovering new talent. "Our main concern remains the singers in Punjab, who do not get the right platform to showcase their talent," says Jacie Saini, who claims to have edited and directed several Punjabi music videos.
CHATTER BOX
F.I.R. turns eight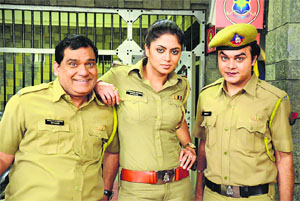 F.I.R. is a comical television series that shows lady inspector Chandramukhi Chautala and her adept team of police officers solving criminal cases with a funny twist. One of SAB TV's most loved comic series, F.I.R. completes a hugely successful stint of eight glorious years on television. This makes it one of the longest-running comedy shows in the history of Indian television industry. The show captivates its loyal audience with its different characters and their unique mannerisms. Chandramukhi's dashing style and fearless attitude coupled with Gopi's funny way of twisting English and Hindi has appealed to audiences across the length as well as breadth of the country.

Break ke baad
Achint Kaur, who wowed the audiences in shows like Kittie Party, Kyunki Saas Bhi Kabhi Bahu Thi, Kahaani Ghar Ghar Kii, is now back on television after a break of two-and-a-half years. Here she talks about her roles, new show and more.
Why did you choose this show?
The role was interesting and not a negative one, which I have done enough in the past. I play the mother-in-law Durga Devi aka DD, who has hardened over the years struggling to reach the top and is condescending towards the middle class. She is strict and arrogant, but not negative. She rules the house like a man would.
Sunny times for Daniel!
We saw adult star Sunny Leone enter Indian TV with the controversial reality show Bigg Boss 5 and now buzz is that her husband Daniel Weber might be doing the show too. He stars in the list of names along with Sunil Grover, among others. He is mulling over the offer.
The year ahead
If your birthday is August 6...
Astro Turf
ARIES: New attractions are likely to be serious. Do not hold back anything from your boss. Sportsmen: focus on exercise and diet. Talk to your counsellor before confronting your partner over joint resources.