M A I N N E W S
India, US to build hi-tech military equipment
Ajay Banerjee
Tribune News Service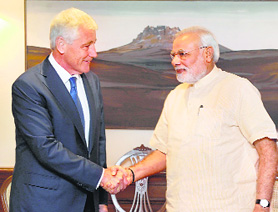 US Defence Secretary Chuck Hagel with Prime Minister Narendra Modi in New Delhi on Friday. A Tribune photo




Modi talks about Iraq
Voicing concern over deteriorating situation in Iraq, PM Narendra Modi on Friday said he looked forward to his Summit meeting with US President Barack Obama to discuss how the two countries can build a partnership for peace, stability and prosperity in the world
Modi conveyed this to visiting US Secretary of Defence Chuck Hagel
New Delhi, August 8
India and the US today moved ahead to fulfil the promise of working together to co-develop and co-produce cutting-edge military equipment.
The two sides also addressed common security concerns in Afghanistan, Iraq, Pakistan and South China Sea. It was also decided to take steps for the extension of the new framework for the US-India defence relationship, before it expires in July 2015, indicating that Defence ties would play an important role in the wider strategic partnership.
Defence Minister Arun Jaitley and his counterpart the US Secretary of Defence, Chuck Hagel, met in New Delhi and announced to take forward the Defence Technology and Trade Initiative (DTTI). The contact person from India will be the Secretary, Department of Defence Production, and the US will be represented by Frank Kendall, Under Secretary for Acquisition, Technology and Licensing at the Pentagon.
PM Narendra Modi separately told Hagel about the "importance of Defence relations in the overall strategic partnership between the two countries," a government statement said.
The two sides picked up ends of the broken thread of the September 2013 dialogue between Barack Obama and Manmohan Singh. The DTTI was announced then and appointing of contact persons is like getting down to the operational level to draw list of technologies the US can share with India. The US Department of Defence quoted Hagel as having said: "We can make some progress on getting a better understanding from Indians what specific projects they may have interest in that fit within the framework of the DTTI."
So far, India has such co-production tie-ups with Russia, France and Israel.
Jaitley talked about raising the FDI cap in the Defence sector. "The development of our own indigenous capabilities is a major objective. We have taken steps to raise the FDI cap ( to 49 per cent) in the Defence sector and look forward to working closely with the US," he said, accepting an invite to the US in October.
Hagel also called upon Modi, Sushma Swaraj and NSA Ajit Doval.