A wallet for all pockets
Starting as a pouch to carry money, the wallet now enjoys the status of an important accessory for men and is an essential part of a gentleman's wardrobe
Nutun Sehgal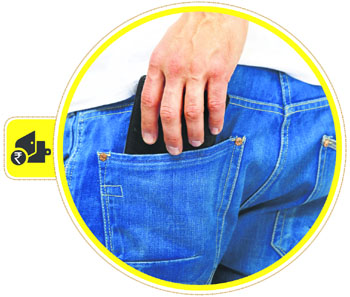 There's an old English saying that if you want to gift something to a man that he will cherish, try a smart wallet. It is one of the most important men's accessories. And with many top-of-the-line labels coming up with their version of it, the good old wallet has re-established its significance.
As the avant-garde male is becoming accessory conscious, fashion and accessory designers are giving him an array of choices, ranging from ties to belts and from watches to studs. The wallet, which has been overlooked for years as a fashion essential, is now becoming an important accessory.


Make the right choice
It is important to know how to choose the right wallet, which not just suits your needs, also enhances your style status. Here are the five points to keep in mind while picking one.
It should go with your image: If you have a sense of dressing, go for a wallet that is sporty and playful. A boring wallet will affect your bubbly image.
Choose elegance over flamboyance: Never go for an over-the-top wallet design. If you are not sure what will suit you, go for the timeless elegance of fine leather.
Keep your requirements in mind: Though in the modern world, style is supreme, you must take into consideration your requirements and the space you need in a wallet.
Craftsmanship is paramount: You can tell a sophisticated wallet from its craftsmanship. Go for a hand-made wallet that has classy hardware and the label's logo on the front.
Do not be too colourful: You might not be able to carry a very bright-coloured wallet. It is always better to go for a subtle coloured one.
Up your style quotient
The wallet is perhaps the most striking proof of the spurt in demand of accessories for men. A decade or so ago, it would have been hard to imagine the archetypal businessman selecting a matching wallet each morning as he got dressed for office. But now, fashion designers say sale of men's wallets in various sizes and colours is rising. According to them, wearing a stylish belt and shoes and sporting a designer watch doesn't complete the look till it is complemented by the right kind of wallet.
Leading designers of the West like Giorgio Armani, Tommy Hilfiger, Alexander McQueen, Jimmy Choo and others have added it to their biannual collections. Even Indian designers like Rohit Bal, Manish Malhotra and Raghvendra Rathore have given it a stylish spin. Choosing a wallet is no longer about just carrying cash, today there are many other factors at play. Much like a trendy pair of shoes or sunglasses, a man's billfold should reflect class as far as texture, colour, designing and branding go.
Unlike earlier times, the modern-day wallets come in different shapes and sizes. Besides the conventional bi-fold design, in which you can stack currency notes, coins, credit cards and a driving licence, there are tri-fold wallets, which resemble a brochure. In these, the two sides open out from the centre. The centre part is a pocket to keep paper currency and its card slots are tailored to adjust cards vertically. Some also have a coin pocket.
Design file
Over the years, different designs of wallets have entered and exited the market. Among the more popular ones is the chequebook wallet, which is designed to carry heavier documents like, as the name suggests, a cheque book or a passport or any other booklet. Then there is the accordion-style compact wallet, which has two or three zippered compartments that hold up to eight credit cards, along with cash, coins, a driving licence and a photo ID. It fits in a pocket or can be carried in the palm of the hand.
An increasing number of designers are taking a break from the usual designs and coming up with single or dual purpose wallets. The minimalist designs are meant only for currency notes and a couple of visiting cards, the money-clip or wallet-band is primarily for those who want to carry just the bare essentials—currency notes and one credit card. The latest is a wallet attached to your mobile phone. Called the card ninja, it is a slender card-and-cash pocket that holds few currency notes and a credit card. It can be attached to the back of any mobile phone and is meant for people who want to do away with the typical wallet and carry it as an adjunct to their mobile.
Leather forever
Though leather looks very elegant, these days there is a plethora of materials used in the making of wallets. The sporty ones are done in denim, nylon, twill, vinyl or rubber. Some are made in synthetic fibres like micro and microfibre.
Unlike earlier times, when there were just the black and brown variants, many wallet brands like Burberry, Comme Des Garcons, Paul Smith, Prada, Bottega Veneta, Dolce & Gabbana and Mulberry are experimenting with colours. And it is not uncommon to see wallets in outlandish colours like flaming orange, fuchsia red, ocean blue, aqua green and hot turquoise.
The prices too can swing like a pendulum. From a few hundred rupees for a branded Indian one, they can go up to thousands. In fact, some of the top brands can cost more than Rs. 25,000 also. The latest is a virtually thief-proof Dunhill Biometric wallet with a complex locking mechanism that can only be opened by the touch of the owner's finger. It can make you shell a staggering Rs.60,000. Today, men are as much worried about what's inside the wallet as they are about its looks. Style is paramount, just like the content is.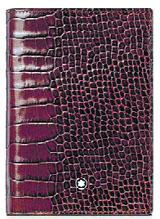 Glossy and classy
Chocolate coloured, full-grain calfskin wallet with glossy finish, the Montblanc Meisterstuck selection men's wallet, has an emblem in front with a palladium ring. The interior is made of goatskin with jacquard lining. It has 12 slots for credit cards, two pockets for banknotes and 10 additional pockets.
price: Rs 31,800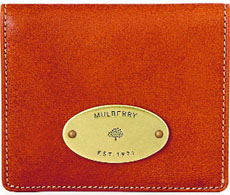 All in the right place
With ample space for all your essentials, this classic from the English luxury brand Mulberry makes for a sleek accessory or even a great gift for a friend. Keep your cards, coins and cash organised in this leather wallet that has a designer plaque, zip-fastening back pocket and golden hardware.
price: Rs 25,000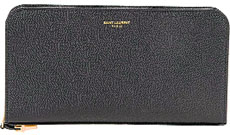 priority to Utility
Yves Saint Laurent's continental wallet is made from calf's leather and its features include a zip-fastening gold-tone hardware, multiple card slots, an internal zip fastening compartment and a small gold Yves Saint Laurent logo on the outside. Details are minimal, but style and utility are given priority.
price: Rs 34,800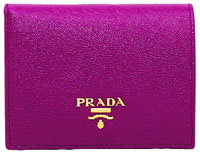 Clasp it well
It is a wallet with a classic design. The amethyst-coloured Prada Saffiano men's clasp wallet has just the right number of compartments for your essentials, like currency notes, credit and visiting cards. Made of leather with gold-tone hardware, it has a snap-button closure and Prada logo embossed on the front.
price: Rs 31,500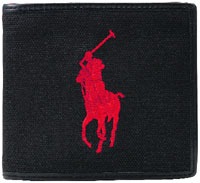 A perfect mix
This is a smart-meets-sporty wallet. This Ralph Lauren Polo Player Wallet is constructed from smooth leather. It features the logo of a polo player embroidered prominently on the front. The inside has eight slots for credit and other cards, a currency notes slot and two extra slots for receipts.
price: Rs 4,500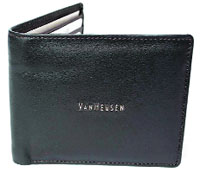 Casual yet chic
The black Van Heusen leather wallet with a hint of brown is made of high quality leather. Its interiors comprise two large compartments and eight slots for credit and visiting cards. It has a Van Heusen logo emblem in silver with threads at the corners, which gives a casual look to the wallet.
price: Rs 1,350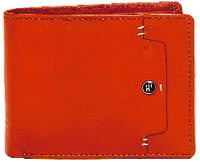 in your budget
Make your style statement with this trendy, brown, bi-fold wallet from Peter England. The ample space will help you keep all your monetary essentials in order. It has one main compartment with a slip pocket and four card holders. The name of the label is found stitched on the inside of the wallet.
price: Rs 800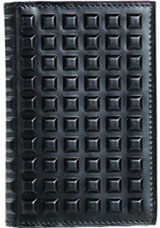 Go for the graphics
Ditch the metal, opt for the studs. The square grid embossed wallet from Balenciaga is in black colour. It has two main compartments, six card holders and two slip pockets and is made of leather. The outside is decorated with the graphic finish of a square grid that looks so stylish without going over the top.
price: Rs 12,000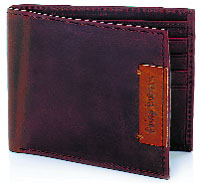 From the star's camp
Keep your money safe and organised in this men's wallet by Salman Khan's Being Human clothing. It is durable and has a simple yet trendy design. The brown leather wallet has multiple slots to carry credit cards, currency notes, business cards, driving licence and all other essentials.
price: Rs 1,499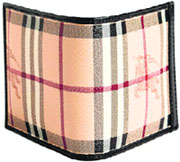 A classic to treasure
You will receive compliments when you carry this wallet by Burberry London. The check, bi-fold, made in Italy is adorned at the front and partly at the back with the equestrian logo and has eight card slots. There is a slot for bank notes and there are also two additional pockets. This spacious wallet is made of leather.
price: Rs 16,500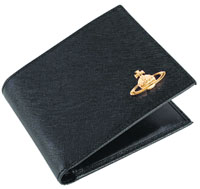 Qualitatively speaking
In classic design, this stunning saffiano bi-fold wallet from Vivienne Westwood is a great accessory for a man who follows fashion. With the trademark gold orb detailing placed on the front, it has been crafted from high-quality leather and features six card slots, a double notes compartment and comes in a gift box.
price: Rs 10,000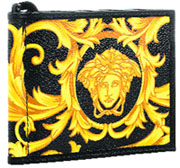 When art inspires
Statement accessories are always an elegant way to demonstrate a taste for luxury. The Versace barocco print wallet encapsulates Versace's sense of style. It is made from a gold and black baroque-inspired canvas and features four card slots and a central money clip and is small enough to slip into pocket.
price: Rs 15,000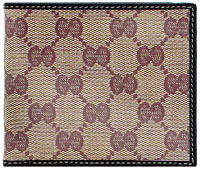 Luxury of space
This is a handsome man's wallet crafted in the signature Gucci GG crystal style. Made in canvas with rich leather trimmings, the beige, ebony and brown bi-fold wallet is water and stain resistant. It has six card slots, two currency notes compartments, two side pockets and comes in an attractive Gucci box.
price: Rs 27,600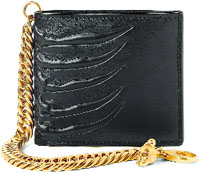 Chained to style
Just when you thought chain wallets were a thing of the past, Alexander McQueen has made them look cool again. The embossed leather-chain wallet has the label's signature skull and a skeletal rib cage. Inside are four card slots, two for currency notes, two extra slots and a coin pouch.
price: Rs 34,200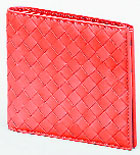 Crafted by hand and aesthetics
Compact and functional, this timeless wallet by Bottega Veneta is meticulously hand-crafted in luxurious, antique-finish ostrich leather. It has the iconic intrecciato insert and the design boasts of eight credit card slots, two currency notes compartments, two spare slots and a subtly embossed logo on the inside.
price: Rs 59,400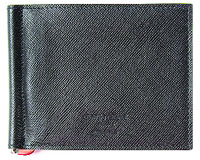 For the love of logo
The insides of the wallet from the house of Giorgio Armani will surprise you. Open up the blackish- blue calf leather bi-fold wallet and you'll find an unexpected red interior with multiple card slots and a money clip in the centre. The Armani logo is embossed on the front.
price: Rs 21,900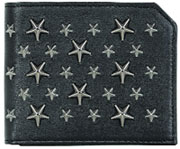 Object of desire
This stylish wallet by Jimmy Choo will certainly make it to the must-haves list of men. Made of smooth leather with silver tone hardware, the gun-metal coloured star-studded wallet features eight card slots, two currency notes slots and a dividing zipper compartment. Made of leather with lining of fabric, it also has a smart snap-button coin pocket.
price: Rs 22,200