The plot is prime
Ashwin Sanghi, author of conspiracy thrillers like The Rozabal Line, Chanakya's Chant and The Krishna Key, believes it is the pace-driven plot and not fancy writing that keeps the reader on tenterhooks
Reviewed by Nonika Singh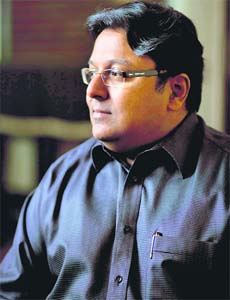 He loves to watch India TV for the sensational twist it gives to news. He creates a summary outline and plot details on excel sheet. A voracious reader, he doesn't care to read the reviews of his books. Instead, he applies the acid test — the page turning itself to his books.
All this and much more`85Ashwin Sanghi, the author of bestsellers like The Rozabal Line, Chanakya's Chant and The Krishna Key, defies notions of what a writer should and shouldn't be and what he ought to or not do. So you and I may believe bestsellers are largely a solitary exercise, he has gone ahead and teamed up with James Patterson and penned a work of fiction Private India.
Before you raise an eyebrow, he offers an explanation, "Those who have read Patterson know too well he has co-authored several books." For Sanghi, it certainly has been a first of its kind experience in which the jobs were cut and dried in the sense that the first draft came from Sanghi which was later reworked by Patterson, so on and forth. As to who had the last word, he says, "Well, till the book went into print we were making changes."
But yes, Patterson may not have had the last laugh, Sanghi learnt the most important lesson from him. Quips Sanghi, "The biggest take-away from my collaboration with Patterson has been less is more. He, a master of minimalism, not only believes in judicious use of words but also would not unnecessarily replace them with synonyms."
A good thriller, Sanghi, is adamant hinges on three things plot, plot and plot. For at the end of the day a good or a bad thriller is differentiated by a story well told or otherwise. "No amount of fancy vocabulary can hold your reader."
And by the way the plot doesn't come from imagination alone which is only part of the raw material in the making of the book. He insists that thrillers are crafted and created and not inspirational. Furthermore, he adds, "A book can't be written in a vacuum nor in a torrent at one go."
Sure, his first ten thousand words gushed forth on a weekend vacation when he first realised he could write. But that he recalls was an exercise in futility. And it was only when he delved into pages of history and mythology that The Rozabal Line found form. Originating from an outlandish idea — what if Jesus lived in India — it fleshed out into a thriller spanning centuries and continents with a generous helping of history and religion.
Till today diligent research is an integral part of his creative process. The book not only established him immediately as a thriller writer but instantly drew comparisons with Dan Brown. As he was dubbed the desi Brown by many critics, the parallel he believes actually worked to his disadvantage. He personally feels there is nothing in common with him and Brown and the unfair comparison only put the readers off. His next book Chanakya's Chant, a political thriller with roots in ancient Mauryan history that won the Crossword-Vodafone Popular Choice Award and remained on AC Nielsen's India Top-10 for over 18 months did cement his writing credentials.
Interestingly, though his books touch upon the sensitive issue of religion these haven't created a furor for as he puts it, "I approach the subject with a deep sense of respect and that reflects in my writing a reason why no-one takes an affront." He can't say whether as a society we are becoming more or less tolerant. But yes we could do with a culture of debate and discussion which could lead to a greater understanding of the subject.
However, while his books come out of a deep exploration of the subject he does not wear the halo of scholarship around his head. To enlighten while entertaining might be his mantra but he never loses focus of keeping his readers on tenterhooks. Nor does he dumb down readers and actually throws enough clues to join the dots. Romance, however, is not a part of his writing DNA and figures only as an incidental element. Why not? He replies, "For my books are like a puzzle that must be solved in the last chapter. Love, however, is a mystery that can never be explained nor solved.'' Point taken.
As he is all set to bewilder and baffle his readers once again, this time he will be fitting the jigsaw pieces of the business world in the novel Sialkot Saga. If you are marvelling at his wide range of interests, well this time he needn't search and research so much. An MBA from the Yale School of Management, he is a successful businessman who obviously knows this world of which he is an integral part. Never mind that this "entrepreneur by the day and novelist by night" turned a writer to escape the humdrum of his daily routine. Now in that world too he has found enough masala to serve a platter full of mystery.