Doctrinal challenge for the IAF
Reviewed by Vijay Mohan
Indian Air Force in Wars
by Air Vice Marshal AK Tiwary. Lancer Publishers. Pages 336. Rs 795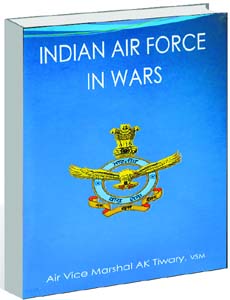 Among the major air forces of the world, few have the diversity of operational experience and expertise that the Indian Air Force, in its 82-year-old history, can boast of. From all-out wars in deserts and jungles to precision strikes on some of the highest mountain peaks to undertaking peace-keeping missions abroad and carrying out humanitarian missions in adverse climate and terrain, the IAF has done it all.
The author is a fighter pilot who served as a forward air-controller during the 1971 India-Pakistan war and later commanded a MiG 29 squadron and also held instructional tenures at the College of Air Warfare and the National Defence College. In this book, he attempts to present an analytical account of the entire operational history of the IAF — from the raising of its first squadron in 1932 till the Kargil conflict in 1999.
In 11 chapters, the author, besides covering the IAF's war experiences in World War II, the three India-Pakistan wars and the Sino-Indian conflict, also delves upon the its role during India's intervention in Sri Lanka, United Nations' peace-keeping missions and operations within the country. The last include he liberation of Hyderabad and Goa, Op Meghdoot in Siachen and counter-insurgency operations in the North-East.
The book in the author's own words, "lays emphasis on an objective analysis to reveal as true a portrayal of wars as possible." It is aimed to be a single-volume reference of the IAF's operational history for young armed forces officers in particular and also for senior officers, civil servants and those interested in military matters.
To this extent, the work is largely a factual narration of the events as and when they took place and tends to be a rich source of information. A large number of accompanying maps and tables, giving out timelines, deployments, sorties, attrition, etc. are also quite informative.
Towards the end, the author discusses the evolution of air power thought in India, pointing out that for a large part of its history, the IAF suffered from the lack of proper doctrinal development on the use of air power. He emphasises that as the IAF advances along the path of actualisation of air-power potential, it constantly needs to remember the wide spectrum of conflict against which it must apply itself. He concludes that the challenge to doctrinal development lies in the IAF learning to harness all agencies from human intelligence on the ground-to-space assets in a holistic manner.