ENTERTAINMENT
Courting drama
Most films based on the court of law offer entertainment and social awareness, earn big bucks and win acclaim
Shoma A. Chatterji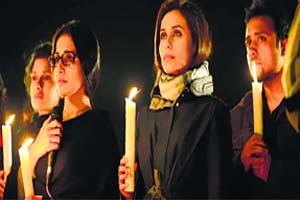 No One Killed Jessica was a celluloid portrayal of the Jessica Lall murder case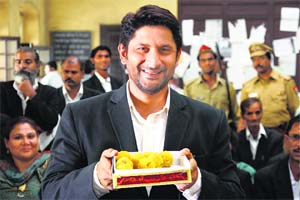 Jolly LLB was inspired by the infamous Sanjay Nanda-BMW hit-and-run case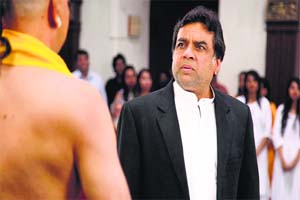 In black comedy OMG, Paresh Rawal files a case against God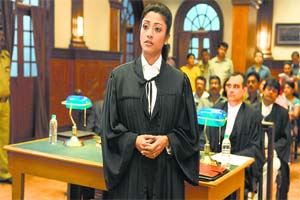 Ankur Arora Murder Case focused on medical negligence by top-class surgeons in private nursing homes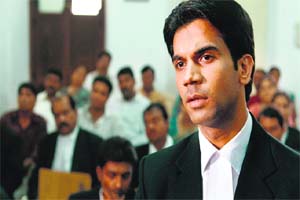 Rajkumar Rao won the National Award for Best Actor for his performance in Shahid
Courtroom dramas have cerebral storylines where much of the drama takes place within a courtroom. Courtroom dramas do not offer space for songs, item numbers, action scenes, etc. But a courtroom drama can become boring if the narrative is not tight and exciting enough to sustain the suspense.
B.R. Chopra's Kanoon (1960) is the first edge-of-the-seat suspense in Hindi cinema. Shot in black-and-white without a single song, it was a boxoffice hit bagging a Filmfare Award. Damini has one of the most electrically charged courtroom scenes in cinema. Despite the loudness and the exaggerated melodrama, Damini is immortalised by the performance of Amrish Puri as the arrogant, self-indulgent prosecution lawyer with his typical mannerism of asking the victim to repeat herself and shaking his head to put back an unmanageable lock of hair. Sunny Deol in his loud self shouts out his lines and pounds 'dhai kilo ka haath' on the table sending the theatre audience into a loud chorus of cheers and claps.
Most Bollywood courtoom dramas were almost always adapted, Indianised versions of good Hollywood films such as Kasoor (2001) from the Jagged Edge (1985), Deewangee (2002) loosely adapted from Primal Fear (1996), or Shaurya (2008), a very close adaptation of A Few Good Men (1992) are examples. Recently, filmmakers have picked real-life courtroom case histories scattered around waiting to be picked for celluloid interpretations.
Aitraaz (2004) adapted from Disclosure was so Indianised that one could not identify the original it was taken from. The courtroom scenes were enriched by the outstanding performance of Paresh Rawal as the prosecution attorney, soaked with satire and fun and the comic. This is matched with the serious approach of the two defence lawyers Annu Kapoor and Kareena Kapoor. Priyanka Chopra in a completely negative role won the BFJA Best Actress Award for her performance.
No One Killed Jessica (2011) directed by Rajkumar Gupta did not beat about the bush about being a celluloid portrayal of the infamous Jessica Lall murder case reopened after more than a decade under public pressure through millions of SMSes sent to satellite channels. Gupta has tried to show how in most cases, criminal lawyers are helped by the entire system that helps tamper original evidence in order to protect the accused, who was the son of a powerful political personality. In real life, the trial court had acquitted the killer. Rani Mukerji won four different Best Actress awards for her performance of the feisty and fiery television journalist, who investigates the truth. It also won an award for best editing.
OMG (2012), an acronym for 'Oh My God' is the most acidic and funny black comedy in recent Hindi cinema that has some of the most hilarious courtroom scenes where the protagonist (Paresh Rawal), an atheist, who makes a living out of selling idols of gods and goddesses, files a case against God because the insurance cover does not provide for natural calamities like an earthquake that has destroyed his shop, robbing him of his means of livelihood. Under this thin veil of filing a case against God, the film takes on an entire array of religious leaders such as Godmen, self-styled saints, the works whose strategy of fooling their followers is exposed. The film was based on a very popular Gujarati play called Kanji Virrudh Kanji.
Jolly LLB (2013), written and directed by Subhash Kapoor, was inspired by the real life case history of the infamous Sanjay Nanda-BMW hit-and-run case in Delhi in January 1999. The courtroom scenes are intercut with the trials and struggles of a new lawyer Jagdish Thyagi or Jolly who fights his first case against a very established and arrogant lawyer (Boman Irani) to get justice for the six pavement dwellers, who lost their lives but their killer was set scot-free by the trial court. The film won the Best Hindi Feature Film Award and the Best Supporting Actor Award for Saurabh Shukla at the National Film Awards this year.
Two more films, namely Ankur Arora Murder Case (2013) focussing on medical negligence by top-class surgeons in private nursing homes directed by Vikram Bhatt and Shahid (2013), a biographical celluloid adaptation of the crusading lawyer Shahid Azmi directed by Hansal Mehta are no-frills, hard-hitting, incisive films that shed light on little-known injustices sustaining in contemporary India, the largest democracy in the world. While the former defines a case history on how social networking was productively used as a promotional strategy, the latter essays the real-life story of the lawyer Shahid Azmi killed at the young age of 33 by Right Wing minority fundamentalists for defending poor and innocent victims of the power-politics arrested for acts of terrorism they did not commit. At the time of his death, Shahid was handling important cases such as the November 26, 2008, terror case. Rajkumar Rao won the National Award for Best Actor for his performance in the film while Hansal Mehta won the award for Best Direction.
Courtroom dramas offer exciting entertainment, education and social awareness, do reasonably good business and win both acclaim and awards. More in the genre would be welcome. The audience is changing.