ENTERTAINMENT
School spools
Teacher-student films have been many: some average, others good while a few have been outstanding
Ervell E. Menezes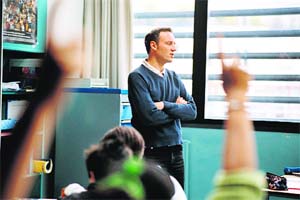 Francois Begaudeau in The Class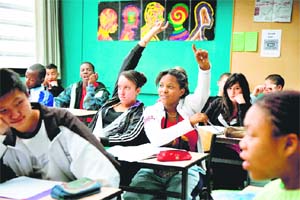 The clever kids in Merinís class give him the most trouble with their insolence and rebelliousness
Running through my spiral notebooks again brought me to the French gem The Class, which won the Golden Palm in 2008. Teacher-student films have been many, some quite average, others good but this one is outstanding. Whatís more, it has a cast of amateurs and the director Francois Begaudeau is also the hero and author of the novel Between the Walls, an incisive and heart-rending account of his experiences in a Paris suburban school.
Francois Merin (Francois Begaudeau), the new French teacher, is the new incumbent who has a hint of the shape of things to come when an exiting teacher says "Iíd like to offer my new colleague a lot of courage," the lack of which probably prompted her to quit.
Merinís class is made up of boys and girls between 13 and 14 with diverse low-income families, many of them from the colonies and itís the clever ones that give him the most trouble with their insolence and rebelliousness.
Esmeralda (Esmeralda Quertani) is of Tunisian origin and refuses to read The Dairy of Anne Frank because she finds it irrelevant. Her friend Khoumba (Rachel Reguitter) follows suit though she sees a racist angle. Souleymane (Frank Keita) is blatantly insolent and Merin even tries to get around him by getting him to pursue his painting but the effort backfires as the lad proves to be his own worst enemy. The variety is infinite, almost hand-picked.
Extremely patient, Merin delves deep into their psyches and even offers them sympathy and love. Some of them respond but it is a rough path he has to tread.
All this is carefully incorporated in an excellent screenplay by Francois Begaudeau, Robin Campillo and Laurent Cantet that covers a wide range of issues and incidents and the cameos come alive thanks to the sensitive handing of the subject by director Laurent Cantet, who steers clear of even a hint of sentimentality.
No songs like To Sir, With Love that Hollywood 1960s boxoffice hit which had its merits. Here it is hardcore pragmatism and one can the pressure Merin feels is palpable. One also enters the psyche of the "more sinned against than sinning students." This is realism at its best.
The entire film is replete with interiors on the school premises, the principalís office, the teacherís room, the playground and the canteen and cinematographer Pierre Milanís caressing camera with long takes contributes to its fluidity.
It is a commitment for Francois Begaudeau who is able to present his experiences so throbingly to life and playing no mean part in his acting debut. Cameos by Esmeralda Quertrani, Rachel Reguitter and Frank Keita are even more creditable as they are amateurs. Little wonder, it won top award at the Cannes.
As we are on a teacher-student theme we may as well stroll down memory lane, the late-1960s in particular, where there were quite a few of them like To Sir, With Love, Up the Down Staircase, and The Prime of Miss Jean Brodie.
Remember a singer named Lulu sang the theme song in To Sir, With Love but about that time the hero Sidney Poitier was criticised as a "goody-goody" black who portrayed blacks the way white wanted them to act. He was also in Guess Whoís Coming to Dinner, a similar theme but then one must remember it was a process of evolution in Hollywood as well as America.
Slowly, oh so very slowly they opened the door for the blacks. From a black face in the jury to a nanny in Gone With the Wind, it was quite noticeable. It took decades for the Spike Lees and John Singletons to emerge in cinema, and what as way it happened.
The Prime of Miss Jean Brodie featured a sharp-minded Edinburg school mistress in the 1930s on the more easily swayed pupils with her authoritarian style of functioning and it was a tad questionable but for me, it was my first look at Maggie Smith, who went on to become one of the biggest actresses in England.
In that respect Up the Down Staircase is more acceptable even though it is anti-establishment as the title suggests. It is set in one of the tough quarters of the Big Bad Apple and its heroine Sandy Dennis is just impeccable. She was also in Whoís Afraid of Virginia Woolf, where she matched her co-stars Richard Burton and Elizabeth Taylor. But quite sadly she did not stay long in films.
Much, much later in 1989 came Dead Poetís Society by Australian filmmaker Peter Weir whom I ran into in Berlin in 1978 when he came with his The Last Wave in which an Aboriginee played a major role and had Robin Williams in the lead role. It was an excellent film and Robin Williams does full justice to the lead role. But I guess its time to sign off or this might read like a bibliography.